Information Possibly Outdated
The information presented on this page was originally released on June 23, 2011. It may not be outdated, but please search our site for more current information. If you plan to quote or reference this information in a publication, please check with the Extension specialist or author before proceeding.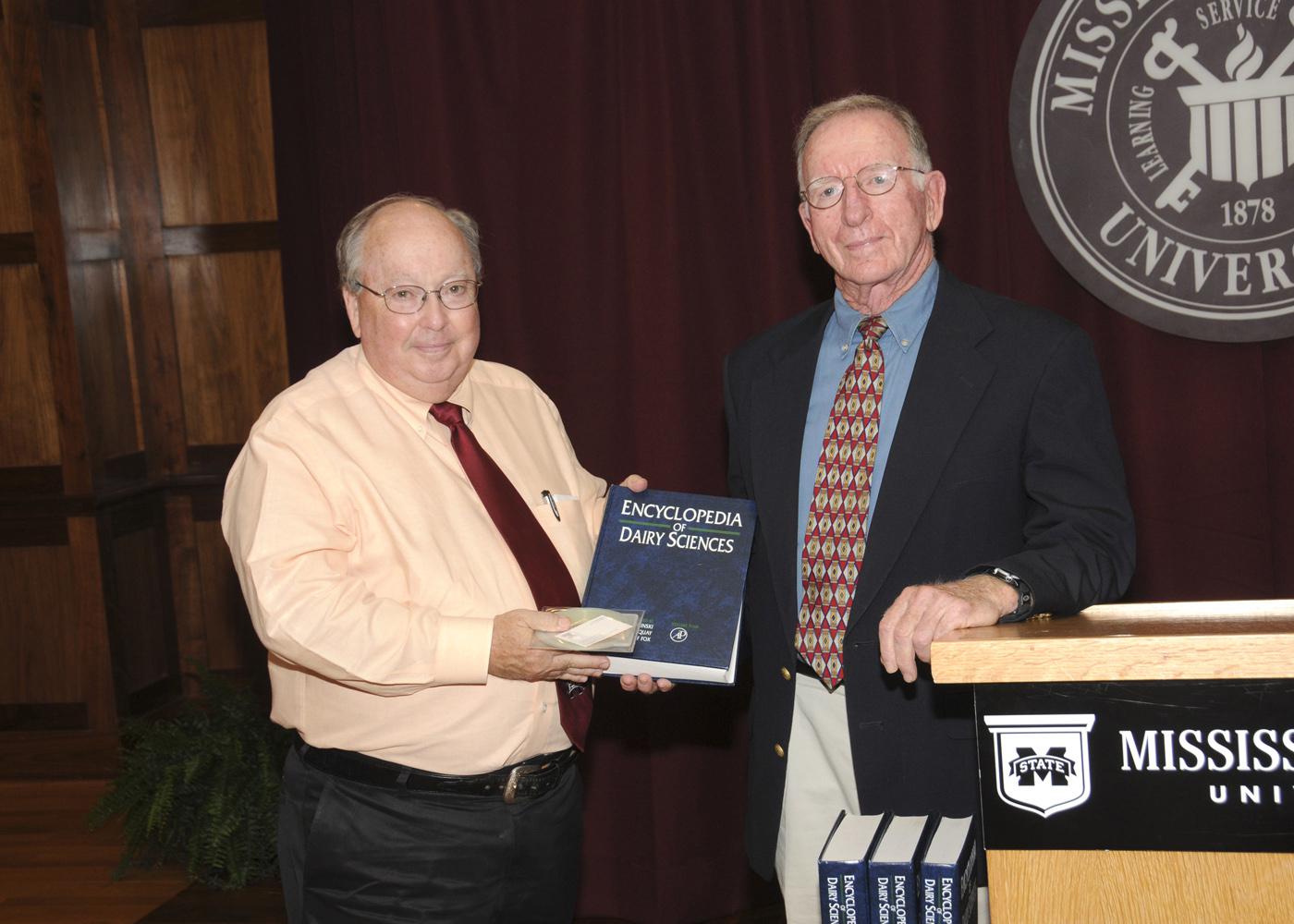 Dairy science encyclopedia guided by MSU expert
MISSISSIPPI STATE – A comprehensive reference publication on the various aspects of dairy science was recently published under the leadership of a long-time Mississippi State University professor.
John Fuquay, now professor emeritus in MSU's Department of Animal and Dairy Sciences, is editor-in-chief of the second edition of the Encyclopedia of Dairy Science. Fuquay served as the dairy production editor on the first edition and in 2008 was asked to be the primary editor of the second edition.
As editor-in-chief, Fuquay selected an editorial advisory board, identified authors, and evaluated and approved the more than 500 articles included in the encyclopedia.
The four-volume reference work serves as a complete resource guide for dairy science students, researchers, practitioners and industry personnel. Dairy cattle, their milk and milk products are the main emphases of the encyclopedia, but it also includes articles on other milk-producing animals, such as goats, sheep, horses, camels and Northern Scandinavian reindeer. There are articles specifically on economics and trade issues related to milk and milk products.
"Dr. Fuquay oversaw the publication of an extensive body of work that includes information on major dairy regions in the world, including Africa, China, southern Asia and South America," said Dr. Terry Kiser, head of MSU's Department of Animal and Dairy Sciences. "His expertise was essential in widening the scope of the articles included."
Fuquay was recently honored by his colleagues at an event celebrating the release of the new encyclopedia. At the event, Fuquay donated a copy of the first edition to MSU. Also, at his request, Elsevier, the publishing house for the second edition of the encyclopedia, donated a CD-ROM copy of the new edition to the Department of Animal and Dairy Sciences.
"Dr. Fuquay has been an outstanding teacher throughout his career," said Jerry Gilbert, MSU Provost and Executive Vice President. "His leadership on this book brings additional prestige and honor to Mississippi State."
Fuquay taught dairy science at MSU from 1969 until 1999. He received his bachelor's and master's degrees from North Carolina State University and his doctorate in dairy science from Pennsylvania State University. Fuquay has served as a consultant and lecturer internationally, in countries such as Thailand, Mexico and Nicaragua. He is coauthor of a textbook, Applied Animal Reproduction, and is author of the memoir Musings of a Depression-Era Southern Farm Boy.
Writer: Karen Templeton