Information Possibly Outdated
The information presented on this page was originally released on March 10, 2011. It may not be outdated, but please search our site for more current information. If you plan to quote or reference this information in a publication, please check with the Extension specialist or author before proceeding.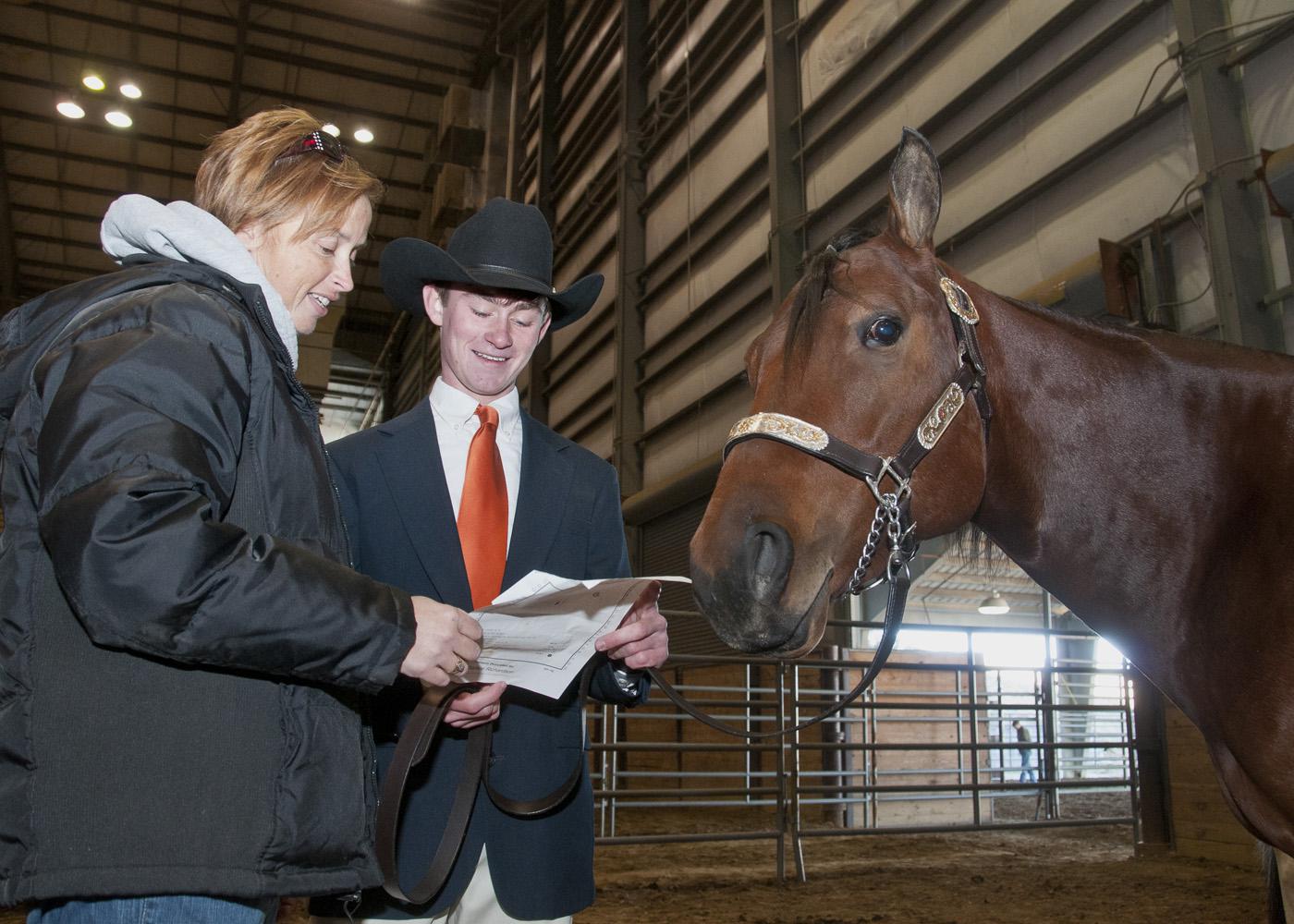 4-H horse projects maintain interest
MISSISSIPPI STATE – Mississippi's 4-H program has seen many changes in more than a century of activities, but youth maintain their interest in a tried-and-true project: horses.
"Enrollment in horse projects comes in cycles, especially in the last 20 years or so with the explosion of activities available for youth, including other 4-H programs," said Gina Wills, Union County 4-H youth agent. "We have a lot of former 4-H members returning with their children now. Horse and livestock projects always have been popular family activities."
These projects also lay a strong foundation for future careers, many well beyond those involving animals.
"Most people think horse projects lead to careers in animal science or veterinary medicine, but 4-H alumni also have gone into human medicine or law as a result of things they learned in the horse projects," Wills said. "Whether it was learning anatomy and physiology or how to defend horse-judging decisions, the projects teach a variety of important skills."
Wills said some youth involved in the horse projects do not even own a horse.
"When people are fascinated with something, they want to learn everything about it," she said. "Hippology, or the study of horses, and judging projects are some of the best things young people with an interest in horses can do. In addition to the in-depth knowledge, they gain experience with public speaking, decision making and persuasion."
Rebecca Stevens has been a volunteer leader with the Union County Horse Club for about nine years. She has seen youth blossom from the experiences they have in the activities.
"Any project that involves animals teaches responsibility. The youth learn what it takes to own and care for an animal," Stevens said. "They learn that to be successful, they have to work hard. They also learn that losing is part of the experience, and that makes them work harder."
Wendy May of Marshall County never considered 4-H horse projects for her children until a relative purchased a horse for them four years ago. Now her son and daughter have five horses and a miniature donkey.
"One of the greatest benefits is the people you meet through the 4-H events. We have all made a lot of good friends," she said. "They have become part of our extended family, and we look forward to catching up with them during the show season."
May said families are enjoying the recent addition of the Winter Classic, a series of off-season shows in north Mississippi. The shows also are providing opportunities for the riders to hone their skills and keep their horses in shape for show season.
Dean Jousan, 4-H livestock specialist with the Mississippi State University Extension Service, said local shows, such as the Winter Classic, also help keep travel costs down.
"The actual cost for entering a show is very low, but the travel costs, especially with the rise in fuel prices, can be a problem," Jousan said. "Mississippi 4-H'ers are fortunate this year to be hosting the regional show in Tunica, which will be much easier to attend than last year's regional in South Carolina."
Jousan said 4-H members' horses must first qualify in district and state competitions before advancing to the 13-state regional July 27-31.

News Story Contact
Extension 4-H Livestock Specialist
Extension 4-H Youth Agent
Your Extension Experts