Information Possibly Outdated
The information presented on this page was originally released on March 11, 2010. It may not be outdated, but please search our site for more current information. If you plan to quote or reference this information in a publication, please check with the Extension specialist or author before proceeding.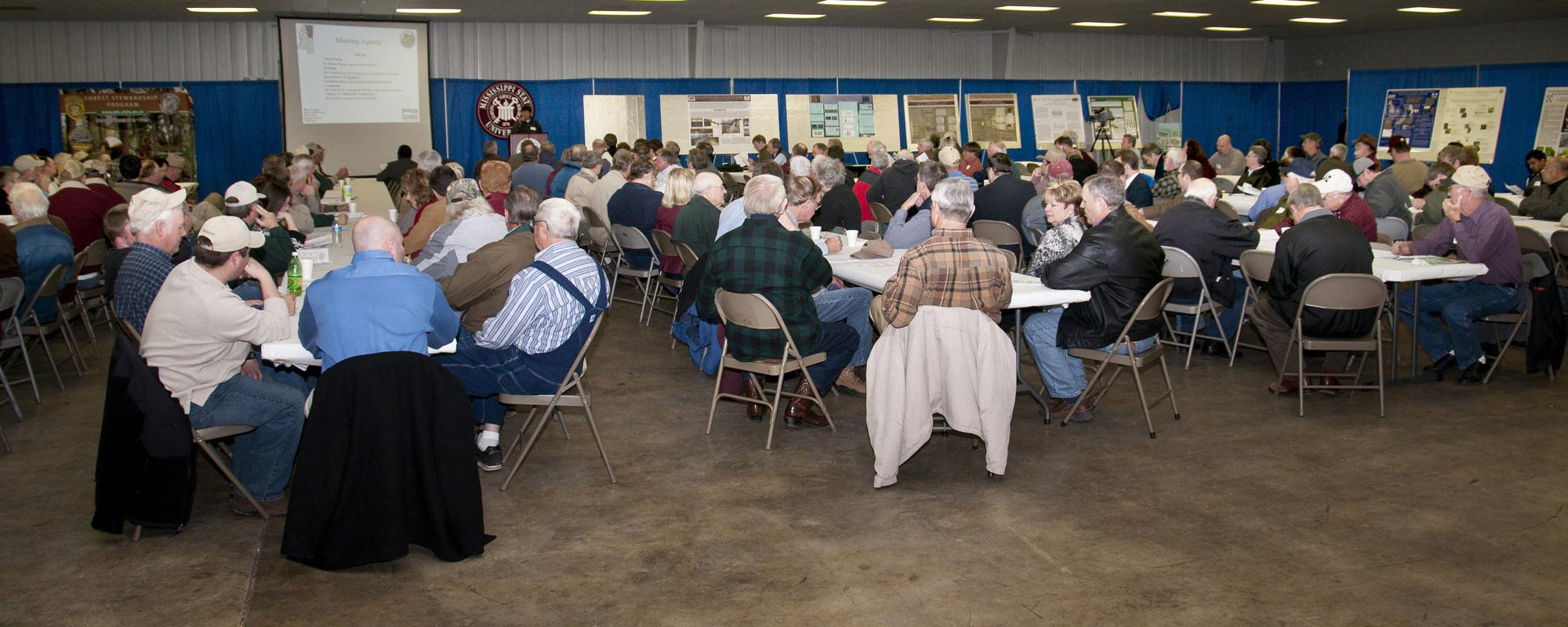 Public input helps guide MSU research, outreach
VERONA – Almost 300 producers of agricultural products ranging from goats to sweet potatoes met at the North Mississippi Research and Extension Center in Verona Feb. 18 to discuss services they need from Mississippi State University.
Each year since 1953, North Mississippi agricultural producers have come together to discuss their research and educational needs. They then report those needs to Extension Service and Mississippi Agricultural and Forestry Experiment Station administrators.
"This is one of the nation's oldest groups of its type, and this year's attendance was the largest in recent history," said Joe Street, associate director of the MSU Extension Service. "The input we get from the producers allows us to use our resources to target specific needs."
This was just the second year North Mississippi goat producers have been represented at the meeting, and their requests focused on information for new growers.
"Goat is one of the most widely consumed meats in the world because a goat thrives where a cow will not," said grower Bill Lowry of Pontotoc County. "There is not, however, a lot of information on goat production in this country because it is just now getting off the ground here, and new growers need information."
The producer group requested university help in creating a commercial goat producer's guide. They also requested research aimed at parasite control.
Training sessions on animal nutrition with an emphasis on commodity feeds were requested by the beef group. Producer Jacob Megeehee of Noxubee County said growers also discussed the use of county Extension offices and beef organizations to get accurate information on beef to the public.
Cotton producer representative Tony Campbell of Itawamba County said growers needs include new public varieties of cotton and testing of all commercial cotton varieties before they are released.
Bradley Taylor said North Mississippi dairy producers need grazing system efficiency research, as well as research with deep pack bedding for use in dairy barns.
Extension associate Adam Tullos presented the equine report, noting the need for a state horse owners' association and for an Extension equine specialist.
The discussion in the forest/wildlife group included the need for forest product market research, said Thelma Crumm of Clay County.
"We have to have economic development packages, similar to what was developed at Toyota at Blue Springs, for forest products," she said.
The grain crop growers discussed the need for university research and information on the economics of on-farm grain drying and on variety selection based on weathering and maturity, said grower Garland Anderson of Chickasaw County.
North Mississippi growers of ornamental plants need research on alternatives for extending the ornamental growing season, said Sherra Owen of Union County. The group also requested information on gardening resources and speakers.
Commercial production of peanuts is expanding in Mississippi, and growers need additional peanut research results and educational opportunities, said MSU Extension peanut specialist Mike Howell. The North Mississippi growers also discussed the need for development of equipment for their crop, including a yield monitor for peanut combines.
Sweet potato grower Jami Earp of Chickasaw County said producers need continuing research on a variety of topics, including tip rot, insect control options, new variety selection and nematode control. He said the group also discussed the need for an Extension sweet potato specialist.
The need for help developing specialty markets for pork was a topic for the swine producer group, said grower Byron Wilson of Chickasaw County. Alternative uses for empty swine facilities also were discussed.
"There are no finishing (swine) growers left in Mississippi," he said. "We need to find uses for their empty facilities."
Education of the public about effective and efficient turf-grass management is an area where the university could help the Mississippi turf industry, said grower Harry Collins of Lee County. The growers also strongly encouraged the use of MSU-patented turf grass cultivars.
Research with different types of mulches was requested by the commercial vegetable and fruit growers, said Gerald Jetton of Itawamba County. The growers also asked for the release of Mississippi pinkeye purple hull pea seed to producers.

Select Your County Office