Information Possibly Outdated
The information presented on this page was originally released on May 13, 2010. It may not be outdated, but please search our site for more current information. If you plan to quote or reference this information in a publication, please check with the Extension specialist or author before proceeding.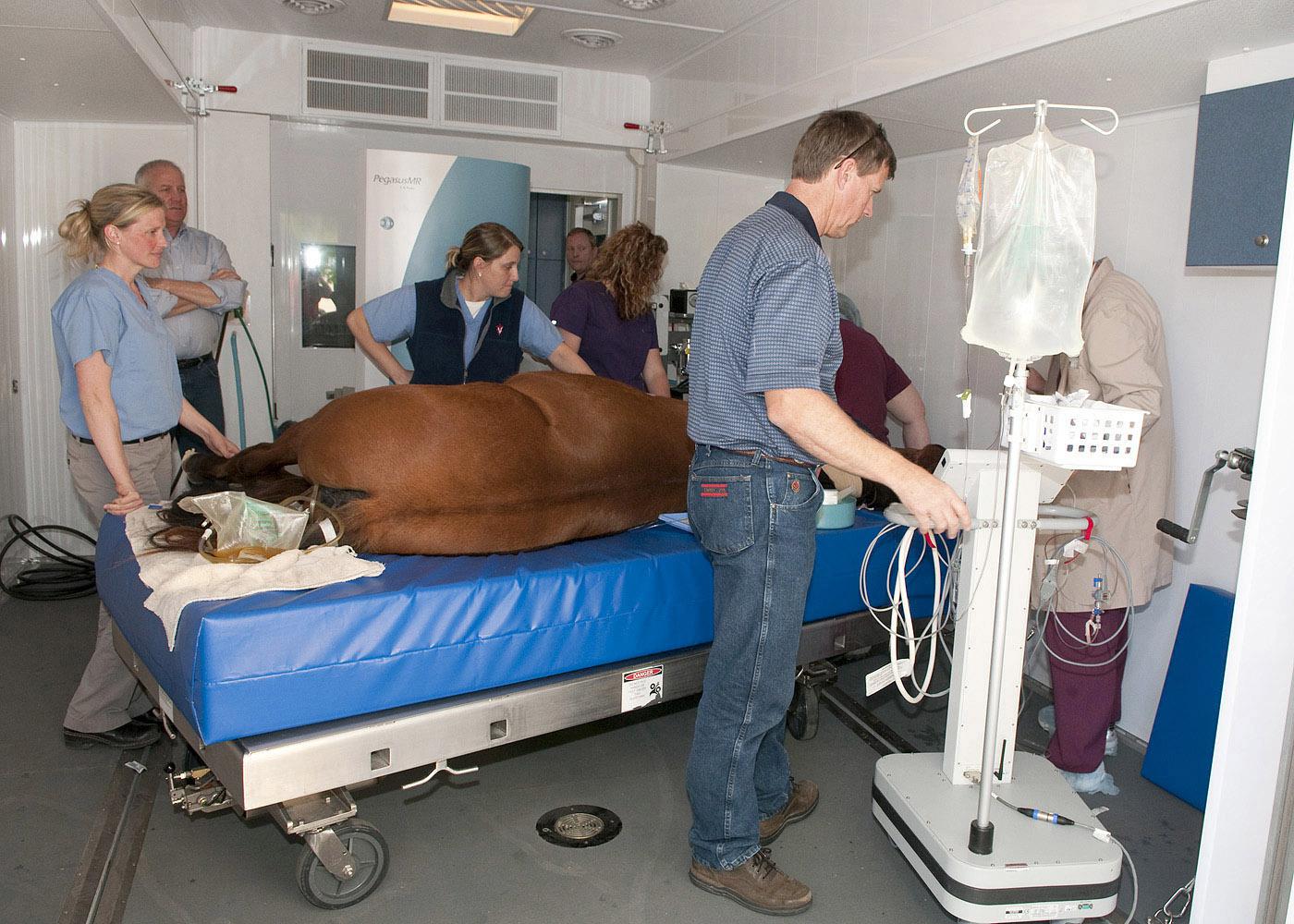 MRI machine helps vets pinpoint equine lameness
MISSISSIPPI STATE -- Veterinarians at Mississippi State University now have access to a magnetic resonance imaging unit that can help pinpoint the source of lameness in horses.
MSU's College of Veterinary Medicine has entered into an agreement with MREquine, an Idaho company that has developed the first-of-its-kind mobile veterinary imaging coach for horses. The 1.5 tesla MRI unit can image body parts up to 18 centimeters in diameter, which includes a horse's feet, fetlock, cannon bone, carpus (knee) and hock. The majority of horse lameness issues are in these areas.
Dr. Sarah Sampson, an assistant professor of equine surgery and orthopedic sports medicine at MSU, said veterinarians will turn to MRI when other diagnostic tools fall short.
"If radiographs and/or ultrasound are not able to determine the cause of lameness, MRI is the next step in diagnosis and has become the gold standard in diagnostic imaging in both humans and horses," Sampson said.
Sampson cited two additional situations that could prompt owners to seek an MRI for their horses.
"We may choose to evaluate a horse with MRI to confirm a suspected problem," she said. "MRI can provide additional information on an injury and enable veterinarians to specifically determine the severity of the injury. This information may then enable a more specific prognosis to return a horse to performance."
While not inexpensive, it costs about $2,000 for a horse to be evaluated with MRI at MSU. Sampson said the procedure is not just for valuable performance horses. Many owners with major medical insurance for their horses can use this to cover the cost of an MRI.
Other owners often choose to have an MRI performed on their horses and are willing to pay the cost because of the emotional attachment they have to these animals. An MRI also offers them peace of mind that comes from knowing the exact cause of their horse's pain and the ability to treat these horses more specifically and effectively.
Semmie Wicker, a nurse in Tupelo, opted for MRI for her 6-year-old quarter horse gelding to help determine the cause of recent lameness thought to be caused by a bone injury.
"Even with digital X-rays, we could not determine the cause of his lameness, and rest didn't seem to help completely," Wicker said. "We wanted answers, and we weren't going to get them without the MRI evaluation."
Wicker was concerned that resuming activity could cause more damage to her show horse.
"The MRI was able to rule out bone damage caused by fracture or bone bruises not visible with X-rays, as well as ligament injury that could not be identified with ultrasound," she said. "Following the MRI, it was a relief to know he could slowly resume his workouts without causing more damage."
Sampson said with the majority of horses, MRI findings change how veterinarians treat lameness. Knowing the cause of lameness can provide more specific treatment options and potentially lead to a better prognosis. For example, medications can be injected in the area most likely to help the horse, or surgery can be performed if an injury is found that could be helped by this. Owners also may use the findings from MRI to help them decide that it is time to retire a horse instead of continuing with treatments that may no longer be effective.
Sampson was involved in MRI at Washington State University for seven years before moving to Mississippi, and she has seen firsthand how MRI use has revolutionized lameness evaluation in horses.
"As veterinarians and horse owners begin to understand the benefits of MRI evaluation in the horse, this diagnostic aid will become a common part of the lameness workup in horses in this area," she said. "In places like Washington State, where MRI has been available to horses for more than 10 years, caseloads have grown steadily as the ability of MRI to provide a diagnosis and a more accurate prognosis has been recognized."
Wicker said the availability of the MRI equipment at MSU will make a difference for horse owners in the area.
"I probably would not have taken my horse to Kentucky for an MRI, and after the care my horse and I received at MSU, I would not want to go anywhere else," Wicker said. "The picture the MRI provided was impressive. It gives a much more detailed view of any damage and can change the way you treat an injured horse for years to come."
-30-
Released: May 13, 2010
Contact: Dr. Susan Seal (662) 325-3432