Information Possibly Outdated
The information presented on this page was originally released on June 19, 2008. It may not be outdated, but please search our site for more current information. If you plan to quote or reference this information in a publication, please check with the Extension specialist or author before proceeding.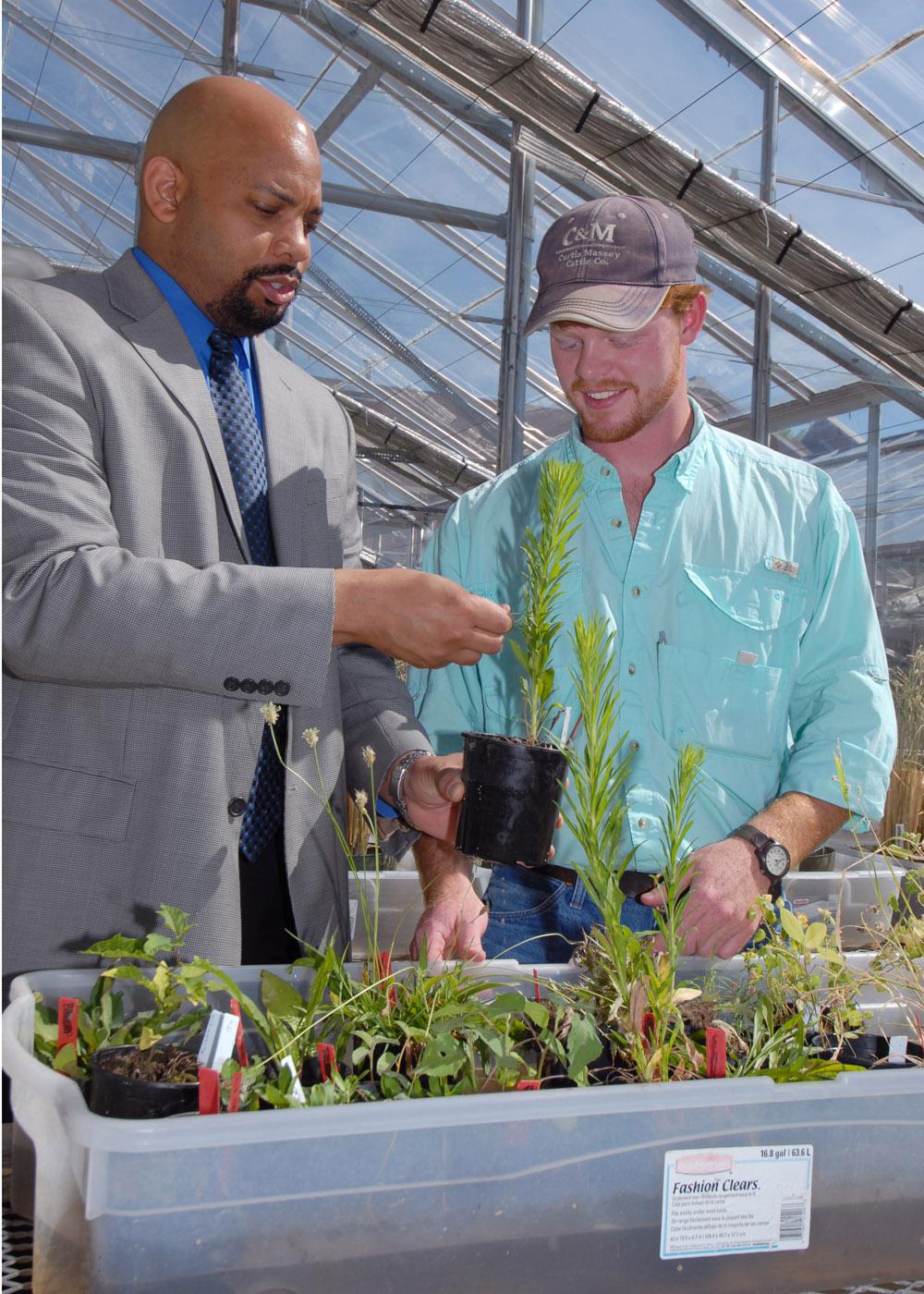 Student finds career in pest management
By Patti Drapala
MSU Ag Communications
MISSISSIPPI STATE -- James "Wes" McPherson had his mind set on veterinary school three years ago when he began his freshman year at Mississippi State University, but his heart refused to listen.
The junior from Inverness grew up tending soybeans and corn on his stepfather's farm. The more he thought about leaving the Delta behind, the more it beckoned. This soul-searching caused McPherson to face facts and examine options. At stake were scholastic success and personal satisfaction.
"I had been farming for almost 13 years," McPherson said. "When I went home that summer, I decided farming was what I wanted to do for the rest of my life."
Back at MSU, McPherson changed his major to integrated pest management, an interdisciplinary study of entomology, plant pathology and weed science. He said his choice will create opportunities to be a better farmer and to start a business as a crop consultant.
McPherson's heart is finally content.
"Since I changed my major, I have really enjoyed all my course work," he said. "I feel I have learned something from each class that I can use on the farm."
MSU began offering integrated pest management as a major within the Department of Entomology and Plant Pathology in the early 1990s as farmers sought agricultural consultants well-versed in managing a variety of pest problems.
Program coordinator Fred Musser said enrollment in the major swelled to more than 50 students at the high point of the 1990s.
The 2000s ushered in a wave of pest management tools, such as biotechnology, boll weevil eradication and remote sensing, that provide farmers with effective control against many major insects, diseases and weeds. These advances have altered some farmers' perception that consultants are needed, and student interest in the major dropped.
The good news for students pursuing an integrated pest management degree is the emergence of new pest problems and the potential for employment. Many crop consultants are close to retirement, and new people will be needed to fill those positions, Musser said.
"With this major, there are more positions to fill than there are students graduating," Musser said. "In recent years, we have had 100 percent job placement within the discipline for our graduates."
The integrated pest management curriculum offers students five areas of concentration:
Agricultural resources for crop consulting;
Agricultural business for combining pest management and business insight;
Applied precision agriculture for gaining expertise in site-specific treatments of pest management;
Environmental resources for managing natural and forested habitats; and
Urban resources for individuals managing pest problems in populated areas.
"Integrated pest management is a practical but rigorous curriculum," Musser said. "Students get a good dose of all three disciplines."
McPherson said he enjoys soaking up every scrap of knowledge within the three disciplines. One of his favorite courses in the curriculum has been "Introduction to Weed Science" taught by Alfred Rankins, associate professor of weed management with the MSU Department of Plant and Soil Sciences.
"I really liked that class because I could apply what Dr. Rankins covered to situations occurring on the farm," McPherson said.
Students majoring in integrated pest management are required to complete three internships to learn the practical side of pest management.
"Dr. Musser strongly urged me to do my summer co-op somewhere other than at home on the farm," McPherson said. "I discovered a huge opportunity in soybean consulting after I followed his advice."
With his eye on the future, McPherson has sage advice for other students.
"Do the required co-ops in different areas of agriculture," he said. "This is the best way for a student to learn how research, consulting and farming all relate within the scope of agriculture."
And as McPherson learned, go where the heart leads.
Contact: Dr. Fred Musser, (662) 325-2085