Information Possibly Outdated
The information presented on this page was originally released on May 19, 2000. It may not be outdated, but please search our site for more current information. If you plan to quote or reference this information in a publication, please check with the Extension specialist or author before proceeding.
Livestock May Depend On Summer's First Hay
MISSISSIPPI STATE -- Normally, hay growers do not get nervous about a drought until July, but this is not likely to be a normal year.
The last soaking rain is a vague memory for most growers and by mid-May, conditions were more like July.
Mitchell Roberts, superintendent for the Mississippi Agricultural and Experiment Station's Research Centers at Mississippi State University, said growers are facing a "frightening situation" as dry conditions have stopped most grass growth. MSU farm personnel, like other farmers across the state, are completing their cuttings of winter grass with hopes of two cuttings of summer grass before the next winter arrives.
"We had a mild winter that helped ryegrass growth, but used up a lot of soil moisture," Roberts said. "Now, there is very little reserve moisture to help summer grasses come along."
Jimmy Cook, MSU South Farm foreman, said the first cuttings this year had more ryegrass than normal. Although he has not sampled the quality yet, he knows the quality is down.
"It's harder to dry down ryegrass because it has a high moisture content and some was cut during cooler temperatures," Cook said. "Summer grasses are delayed because of the heavier ryegrass crop. We're hurting now, but if we don't get a rain soon, we'll be in a critical situation."
Dennis Reginelli, Noxubee County agricultural agent with MSU's Extension Service, said growers have fertilized their hay fields and pastures, but they have lacked the rain to go with it.
"Everything is getting under such stress that it is hard to have an adequate weed control program," Reginelli said. "The first cutting is usually mixed with less desirable grasses and the second cutting has the better quality. If we don't get a rain soon, the overall quality will be down this year."
With predictions for a drier-than-normal summer, prospects for adequate hay supplies throughout next winter are bleak.
"A long-term dry spell will result not only in less hay, but farmers will also have to start feeding hay earlier in the fall," Reginelli said.

Your Extension Experts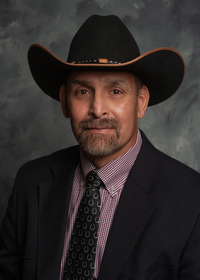 Extension/Research Professor
Assoc Ext/Res Prof & Fac Coord