Information Possibly Outdated
The information presented on this page was originally released on June 12, 2015. It may not be outdated, but please search our site for more current information. If you plan to quote or reference this information in a publication, please check with the Extension specialist or author before proceeding.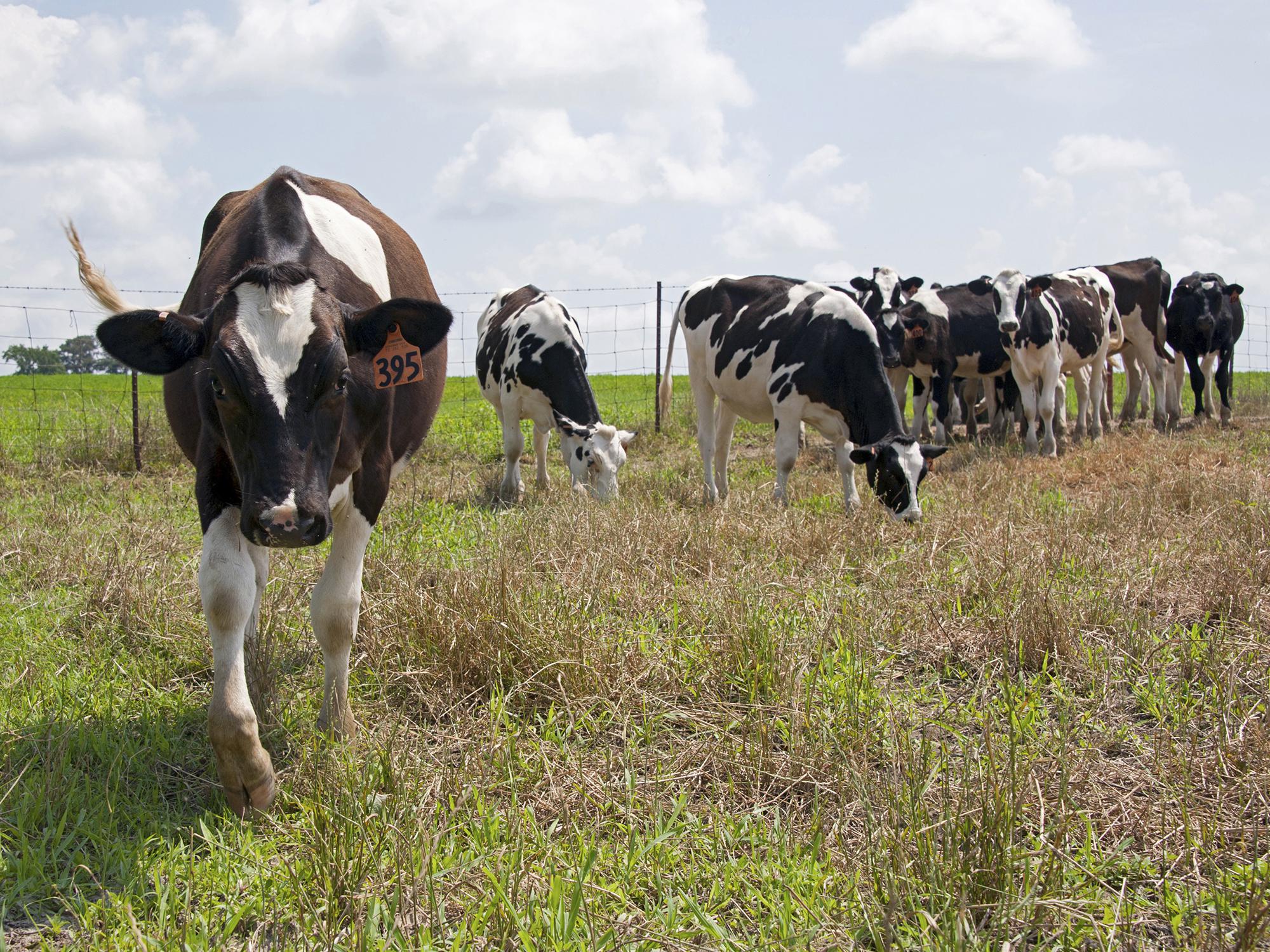 State's milk production trends up as dairy numbers decline
DECATUR, Miss. -- Max Anderson has set an auction date. Soon, he will sell all of his 150-cow dairy herd.
Anderson will then mark the end of 38 years in the dairy business after taking over his family's Newton County farm. After a widespread dairy economic crisis in 2009 that put him and many of his peers in debt, he finally bounced back after a profitable 2014.
"It would be foolish to dig that hole again," Anderson said. "No one in the next generation wants to take over the dairy, and it seems like the time is right. There are more reasons to get out than stay in."
Lamar Adams, Pike County agricultural agent with the Mississippi State University Extension Service, said Anderson is joining a growing list of dairy farmers in the state who are either retiring or leaving the business as the industry moves toward larger herds and fewer family farms. The state began 2014 with 95 dairy farms and now has 85, compared with 178 in 2007.
As dairy farmers were trying to pay down debt and restore their savings accounts, Adams said, several decided to go ahead and exit the business rather than continue the risk of lower profit margins, declining milk prices and increasing production costs.
Good news came in 2014 for those who stayed in the business. After several years of steep input costs and modest cash receipts, Mississippi producers earned a record-high annual average price of $25.87 per hundredweight for their milk. Producers banked about $48.6 million from sales of approximately 188 million pounds of milk produced by 13,500 lactating cows, besting the $40 million total reported in 2013.
Adams said producers are not getting as much as they were last year for milk, but the input costs, including feed, fertilizer, electricity and fuel, have trended down from highs registered a few years ago.
"Historically, milk prices are a roller coaster ride. They tend to drop faster than they rise," Adams said. "Fortunately, input costs have come down some, particularly the cost of corn and soybean meal feed components."
In the first quarter of 2015, Mississippi dairies produced about 53 million pounds of milk, which was up 2 percent from last year's first quarter. Extension agricultural economist Brian Williams said the increased production and international competition are bringing down prices. The current price Mississippi producers receive hovers under $20 per hundredweight.
"Earlier this year, U.S. prices were quite a bit higher than European prices," Williams said. "We've now seen them come closer to converging with international prices. Part of what's driving the increased yields is increased efficiency and constantly improving genetics through breeding programs."
Mississippi contends with the added obstacles of heat and humidity. Those factors cause considerable stress on cattle and summer pastures, resulting in lower milk production during the summer as compared with other parts of the country. The average dairy cow in Mississippi produced 14,462 pounds of milk in 2014, while the national average was 22,258 pounds per cow.
Adams said this year's wet spring has created additional challenges on many dairy farms across the state.
"Increased mud in pastures and cattle traffic areas hinders the cattle grazing and can create challenges with maintaining high milk quality," he said. "Those conditions also impede grazing and destroy grass as cattle move across pastures. The weather also forced many dairy producers to be late in harvesting their cool-season hay, and the nutritional value there is less than in a timely harvest at the proper stage of grass maturity."
While Adams said he expects production to drop in the coming months simply due to hot weather, dairy numbers will likely continue to decline as fewer young producers enter the industry. The average dairy herd size in Mississippi is 150 cows, but Adams said that number could increase to 200 as more farms close and the remaining ones purchase additional cattle.
"There will be a dairy industry in our state in some form or fashion, but there will most likely be fewer farms with larger herds in the future," he said.