Soil Testing
The Mississippi State Soil Testing Lab is an Extension unit of the Department of Plant and Soil Sciences. The mission of the Soil Testing Lab is to provide accurate analytical services in a timely manner. With the support of research conducted by MSU faculty members, the Soil Testing Lab provides unbiased nutrient management recommendations. Our lab works closely with County Extension Agents to provide outreach to all Mississippi landowners concerned with improving soil productivity.
Benefits of soil testing:
Customized fertilizer and lime recommendations take the guesswork out of application rates
Knowing the optimum rate of fertilizer/lime is more economically efficient.
Accurate recommendations prevent the over-application of fertilizer, which is detrimental to the environment.
Services Offered by the Soil Testing Lab
Soil Test
Our analysis includes pH, lime recommendation, phosphorus (P), potassium (K), calcium (Ca), magnesium (Mg), zinc (Zn), and sodium (Na). Fertilizer recommendations are customized to selected crop codes. Elemental extraction follows the Mississippi Soil Test method. Total soluble salts (TSS) are reported for all horticultural samples.
We offer organic matter percentage for an additional cost. We offer two different methods:
Loss on ignition (LOI): offered to farmers and homeowners
Total C/N analyzer via Elementar Vario Max Cube: offered to researchers
Plant Tissue Analysis
Plant tissue analysis is appropriate for situations where an elemental deficiency is suspected. It provides a more accurate estimation of essential nutrient concentrations than soil analysis. Analysis includes total nitrogen (N), phosphorus (P), potassium (K), calcium (Ca), magnesium (Mg), copper (Cu), zinc (Zn), manganese (Mn), iron (Fe), sulfur (S), and boron (B).
It does not provide analysis typically requested for forages.
Texture Analysis
Sodium hexametaphosphate is used to separate sand, silt, and clay fractions of soil samples, which are then evaluated with the hydrometer method.
Don't see a service you need?
For plant diseases/nematodes, please see the Plant Disease and Nematode Diagnostic Services page.
For fertilizer, pesticide, or forage analysis (where protein content, etc., is desired), please contact the Mississippi State Chemical Laboratory.
Researchers
Provide sample IDs in an Excel file when submitting soil samples. Email files to kkd1@msstate.edu. Please make sure the number of samples submitted corresponds to the number contained in the Excel file.
Please do not use complex codes to identify your sample (i.e., "TXW142CM, SUM196IN"). If you must use complex codes, create a master file that links the complex code to a sequential number, and provide us with the list of sequential numbers.
Contact
(662) 325-3313
Mailing address:
MSU Soil Testing Lab
P.O. Box 9610
Mississippi State, Mississippi 39762
Shipping address:
MSU Soil Testing Lab
405 E. Garrard Road
Starkville, Mississippi 39759

Publications
News
Success Stories
Agriculture, Crops, Irrigation, Remote Sensing Technology, Soils, Soil Health, Soil Testing, Healthy Soils and Water, Healthy Water Practices, Water
Brian Andrus irrigated exactly zero times on his Sunflower County farm in 2021. He didn't even turn on his well.

STEM – Science Technology Engineering and Math, Dairy, Pesticide Applicator Certification, Soil Testing, City and County Government, Mississippi Homemaker Volunteers, Natural Resources
4-H Debuts New Curriculum · Extension Develops Workforce · La-Z-Boy Donates Fabric · Stars Focus On Sustainability · Extension Directs Herbicide Training · Youth Discover Dairy Science · Soil Lab Welcomes New Manager
Watch
Tuesday, April 25, 2017 - 1:45pm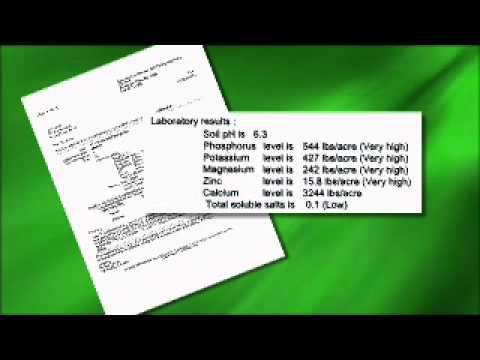 Tuesday, April 25, 2017 - 1:30pm
Listen