The Great Red Snapper Count: Project Results
Publication Number:
P3602
The Great Red Snapper Count project team estimated a population size of 118 million red snapper in the U.S. Gulf of Mexico!
In comparison, the most recent NOAA assessment estimated a biomass that would be equal to 36 million fish.
This difference was driven in part by the team's ability to survey large expanses not previously surveyed by NOAA given limited resources.
Region- and habitat-specific red snapper population estimates resulting from the Great Red Snapper Count.
Each circle contains a breakdown (in millions) of the regional estimate by habitat type.
*Previously unknown features located over open sand/mud bottom.
Graphic by Emily Seubert and Catherine Cowan, Mississippi State University.​
The project team tagged thousands of red snapper over the course of the study. Of those, an astounding 31% were recaptured by anglers:
Texas – 28% • Louisiana/Mississippi/Alabama – 28% • Florida – 43%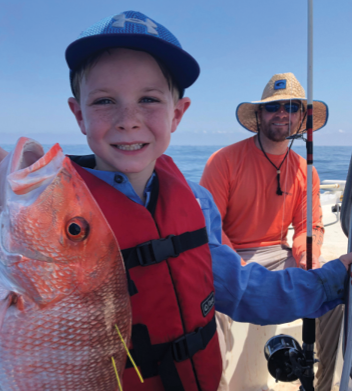 We are grateful to all the citizen scientist anglers who assisted with this red snapper abundance assessment.

The Great Red Snapper Count results will be used to enhance NOAA's upcoming red snapper assessments and will fundamentally change the way fish stocks are evaluated in the future.
This independent study was conducted by a leading team of red snapper scientists from across the Gulf of Mexico and beyond:

This publication was supported by the U.S. Department of Commerce's National Oceanic and Atmospheric Administration under NOAA Award NA16OAR4170181, the Mississippi-Alabama Sea Grant Consortium, and the Mississippi State University Extension Service. The views expressed herein do not necessarily reflect the views of any of these organizations.
Questions or comments? Contact the project team at snappercount@harteresearchinstitute.org.
For more information, visit snappercount.org.
---
Publication 3602 (POD-08-21)
MASGP-20-038
Produced by Agricultural Communications.
Mississippi State University is an equal opportunity institution. Discrimination in university employment, programs, or activities based on race, color, ethnicity, sex, pregnancy, religion, national origin, disability, age, sexual orientation, gender identity, genetic information, status as a U.S. veteran, or any other status protected by applicable law is prohibited.
Extension Service of Mississippi State University, cooperating with U.S. Department of Agriculture. Published in furtherance of Acts of Congress, May 8 and June 30, 1914. GARY B. JACKSON, Director
Department:
Coastal Marine Extension Program
The Mississippi State University Extension Service is working to ensure all web content is accessible to all users. If you need assistance accessing any of our content, please email the webteam or call 662-325-2262.