Information Possibly Outdated
The information presented on this page was originally released on May 27, 2019. It may not be outdated, but please search our site for more current information. If you plan to quote or reference this information in a publication, please check with the Extension specialist or author before proceeding.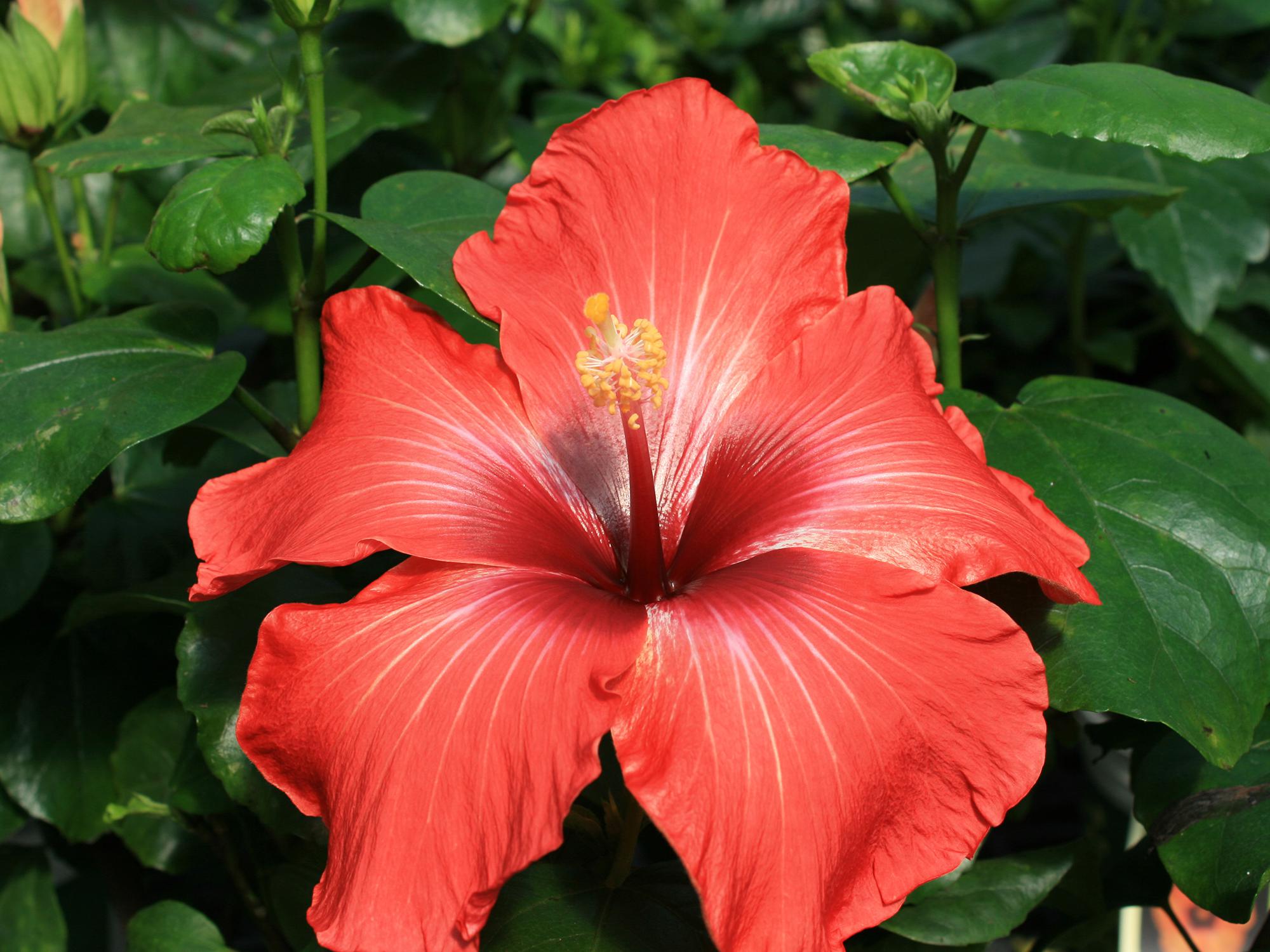 Hibiscus varieties offer tropical color
This is week two of the "Tour de Hibiscus," featuring great choices for our Mississippi gardens and landscapes. I don't know any home gardener who can resist the colorful flowers of Cajun hibiscus plants, with equally colorful names like Hoochie Papa, Peppermint Patty and Crawfish Pie.
These flowers are some of the most dazzling in my garden each year. The color combinations can seem almost impossible, but there they are, beautiful and complex, like random combinations from a box of Pantone color chips. The various selections feature bright yellows, pinks, reds and whites. Blends and those with bright-red eyes are some of the more spectacular. The Cajun hibiscus selections with cool gray in the mix are a technicolor dream. The foliage is dark green and glossy and provides a nice background to display the colorful blooms.
Additionally, the flowers are huge, having diameters easily over seven inches. There's one disappointing issue: these gorgeous flowers last only a single day. Fortunately, Cajun hibiscus will almost continually produce flowers from late spring to the fall season.
Nearly everything in my garden and landscape is in big planters, like 15- and 25-gallon containers. There are a couple of reasons for this growing strategy. First, the big container will hold more water and help keep the root system consistently moist, even on the hottest summer days. Second, some plants, like Cajun hibiscus, will not tolerate our winter temperatures, not even along the coast. If your plants are growing in containers, you can move them into a garage or shed ahead of the arrival of cold winter temperatures.
For the best flowering, be sure to plant Cajun hibiscus where it will receive at least six hours of full sun every day. This will keep the plant more tightly branched and intensify the colors. Good planting bed drainage is a must; this is another reason I grow in containers. Another option is to grow in raised beds.
Maintaining consistent root zone moisture is key for Cajun hibiscus to flower through the season. A period of droughty weather will quickly turn off the flowering and cause any developing flower buds to drop off, and it may be hard to get it started flowering again. The watering needs will vary with the season—more in hot weather and less in the cooler months. Overwatering can cause buds to drop before the flowers fully open. Take-home point: keep a close eye on your watering.
Another key to maintaining the flowering of Cajun hibiscus is fertilization. Flowering requires a tremendous amount of energy. I always use a slow-release fertilizer at planting and then water-soluble fertilizers as I water through the summer season.
Cajun hibiscus plants are perfect for adding a tropical flair on a porch or patio. Combination-plant with other tropicals, such as bananas and cannas, which require similar care and management.