Information Possibly Outdated
The information presented on this page was originally released on July 7, 2014. It may not be outdated, but please search our site for more current information. If you plan to quote or reference this information in a publication, please check with the Extension specialist or author before proceeding.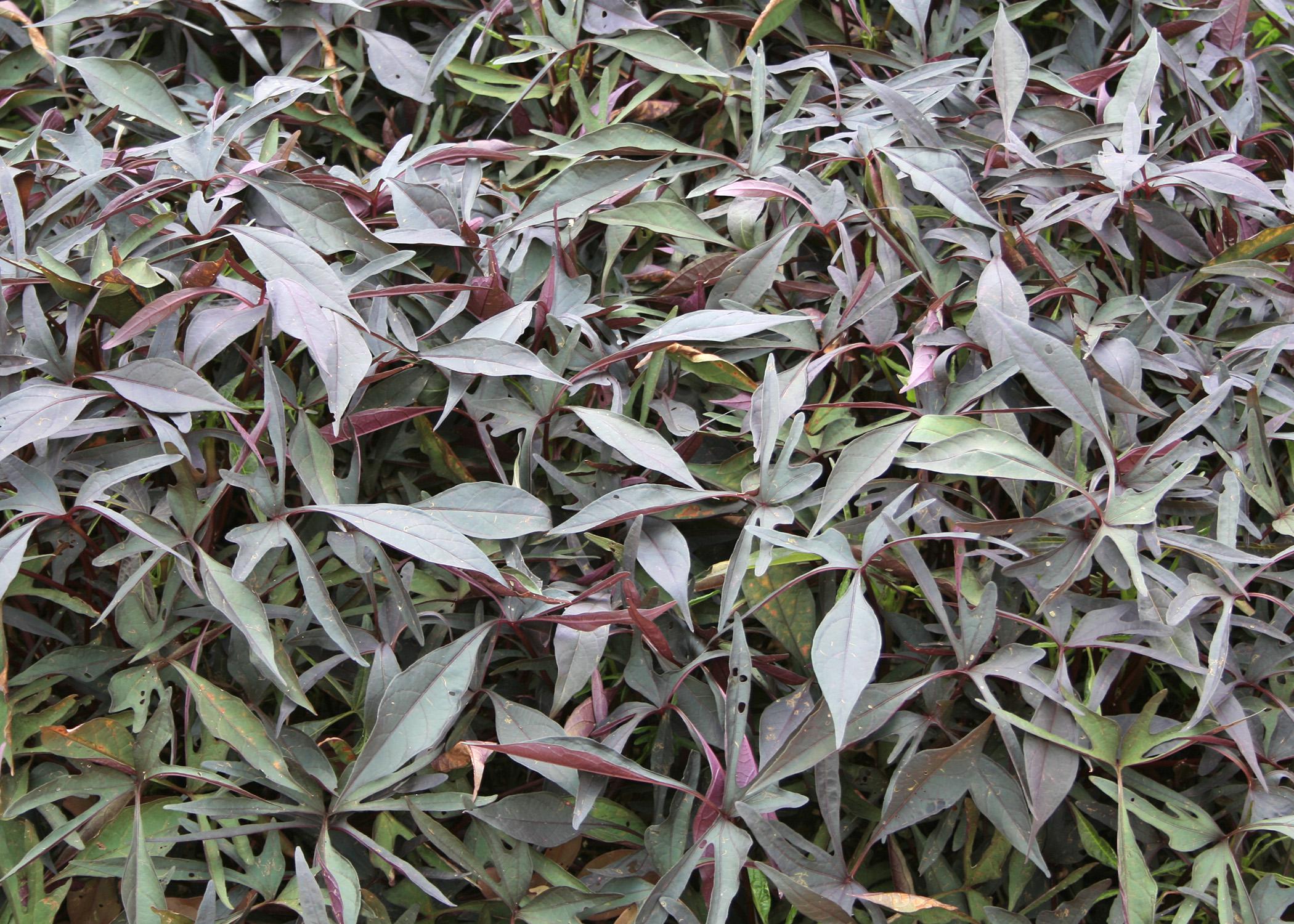 Ornamental sweet potato vines make carpet of color
When it's hot in the summer months like it has been lately, I always look for low-maintenance plants that carry the color load. I imagine I'm not alone.
Plants that look good massing over a landscape bed are smart choices. My go-to plant for these conditions is the colorful sweet potato vine.
I've been growing ornamental sweet potato vine for about 20 years. The first selection I ever planted was Margarita, which has large, lime-green leaves. I like the vigorous growth, but to say this plant is unruly is an understatement.
My initial Margarita planting overran my small planting bed, and I had to prune it back on a weekly basis. Pruning didn't harm the plants and, in fact, kept them really dense.
But most gardeners don't want sweet potato vines running rampant across their landscapes. The good news is that there are quite a few varieties available in garden centers that behave and combine nicely with other landscape plants.
The Sweet Caroline series offers a wide selection of sweet potato vines for the landscape. The series has two leaf shapes -- cut-leaf and heart-shaped. Colors available in the cut-leaf form include bronze, green, yellow, light green, purple, a gorgeous red, Emerald Lace and Midnight Lace. Colors in the heart-shaped series include light green, purple, red and black.
Ornamental sweet potato is also fantastic to use in combination container plantings. The vines cascade over container edges and work their way around, between and sometimes over the other plants in the container. Coleus and cannas have a wide variety of foliage colors and make great planting partners for ornamental sweet potatoes.
I really like the darker colors, especially those with reddish hues. Red foliage is a great way to add color contrast with the primarily green foliage of other ornamental plants. Illusion Garnet Lace has deeply cut foliage that emerges in a light green before turning an attractive burgundy red. Illusion Midnight has foliage that is a deep, dark purple that is almost black.
As with most foliage plants used for their color, ornamental sweet potatoes must be planted in full sun for the best color development. They also benefit from well-drained, good organic soil.
A general fertilizer recommendation when preparing the planting bed is to mix in about 2 pounds of slow-release fertilizer per 100 square feet. This may be a bit wasteful since the ornamental sweet potatoes spread out quite a bit. An alternative is to drop a tablespoon of slow-release fertilizer into each planting hole to supply nutrients throughout the season.
Ornamental sweet potatoes need consistent moisture. Be sure to irrigate in dry periods to help maintain good plant health.
Ornamental sweet potatoes are annuals in Mississippi, except in the coastal counties where the vines will come back after all but extremely cold winters. I have a cut-leaf, dark purple to black older selection called Blackie that has come back for three years now.
So plan a place in your landscape for this spreading beauty.