Information Possibly Outdated
The information presented on this page was originally released on July 26, 2011. It may not be outdated, but please search our site for more current information. If you plan to quote or reference this information in a publication, please check with the Extension specialist or author before proceeding.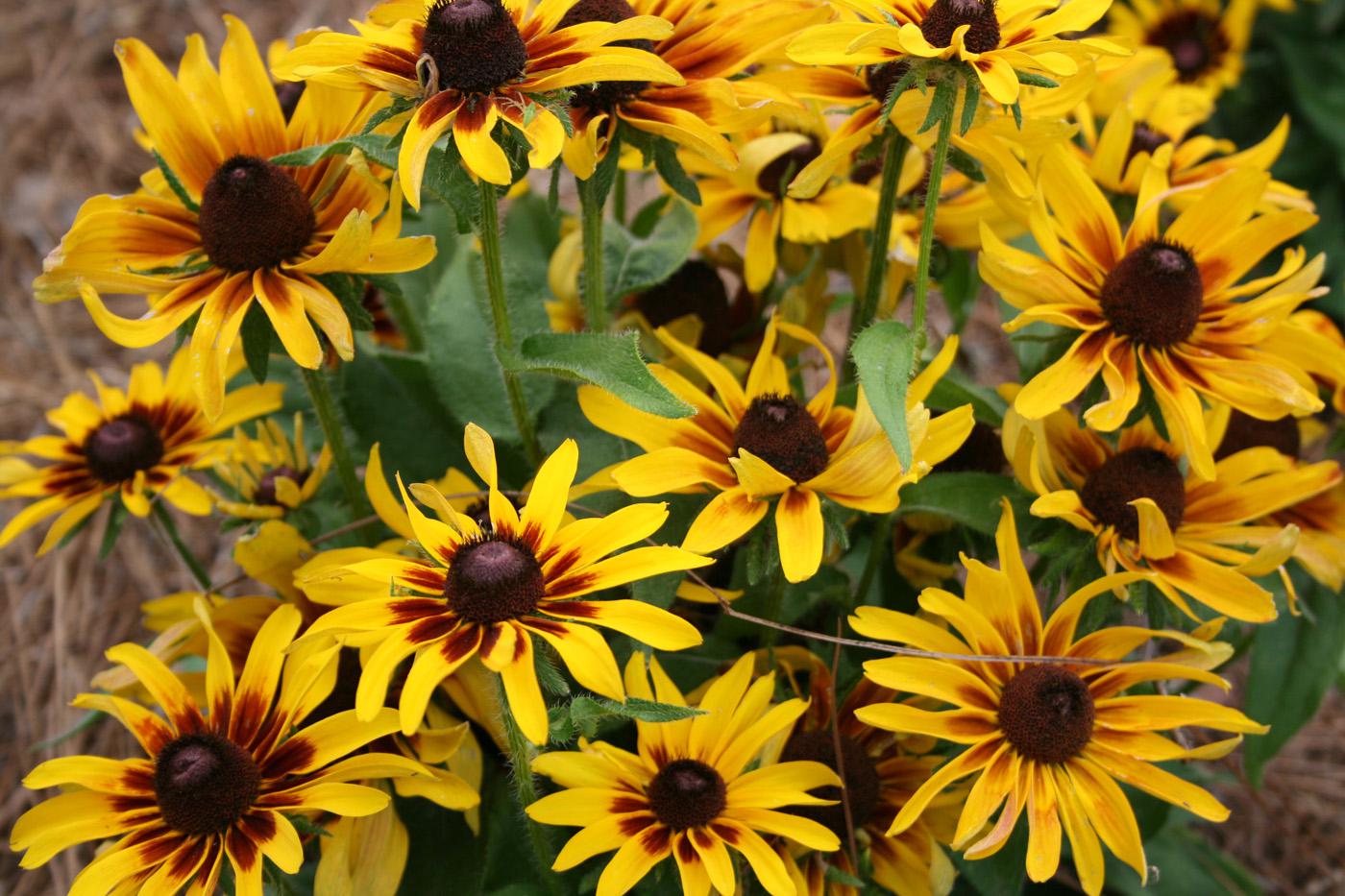 Discover the many reasons Southerners love rudbeckia
A favorite flower with almost every Southern gardener is the black-eyed Susan, known botanically as rudbeckia. These plants produce an abundance of bright yellow flowers, each with a dark button-shaped cone in the center.
There are several species for gardeners to choose from. Rudbeckia hirta is a Mississippi native wildflower and is a staple plant in naturalized areas and meadows. Black-eyed Susans are also reliable garden and landscape performers for the butterfly garden.
Some varieties are true annuals, others are true perennials and the rest are somewhere in between. It really doesn't matter which you choose because all will put on a summer show in the landscape.
Rudbeckia Indian Summer was named a Mississippi Medallion winner in 1999. The flowers are six to nine inches across and have sunshine to orange-yellow petals with rich, chocolate brown cones in the center. The flowers are displayed atop stiff, upright stems that grow up to three feet tall, creating a breathtaking sight along perennial color borders.
A variety I really like is Denver Daisy, which was developed for the city of Denver's 150th birthday in 2008. This plant will grow up to 24 inches tall with an 18 inch spread. The flower petals are a pure, bright yellow with variable splotches of dark red at the base. The petals and flower stems are covered with soft hairs.
An old standby that should not be overlooked is Rudbeckia Goldsturm, the Perennial Plant of the Year for 1999. The golden-orange flowers have a dark brown center cone and are uniform in growth, reaching about 32 inches tall and 24 inches wide.
Rudbeckia Goldsturm has a clumping growth habit and makes a terrific choice for mass planting with the multitudes of brightly colored flowers. The plants spread by underground rhizomes and can quickly become bold swaths in the landscape. They make fantastic planting partners for the subtle blue flowering of Russian sage or bluebeard.
The Irish Eyes variety differs from other rudbeckia because it has emerald green center cones instead of black or dark brown. This plant produces clear yellow blooms from summer into fall and will grow up to three feet tall. The green center cone makes it a good choice for cut-flower arrangements.
All rudbeckia should be planted in the full sun for ideal flowering and color. These plants will grow best in compost-amended, well-drained soils, but they are tolerant of poor, clay soils. While these are known and grown for their tolerance of droughty conditions, for best landscape performance, provide consistent soil moisture.
Rudbeckia are all considered lower maintenance plants, but deadhead fading flowers to keep the plants blooming all summer long.
One final reason to grow rudbeckia is their petals' ability to solve one of life's greatest mysteries: whether she loves me or she loves me not.