Information Possibly Outdated
The information presented on this page was originally released on November 20, 2003. It may not be outdated, but please search our site for more current information. If you plan to quote or reference this information in a publication, please check with the Extension specialist or author before proceeding.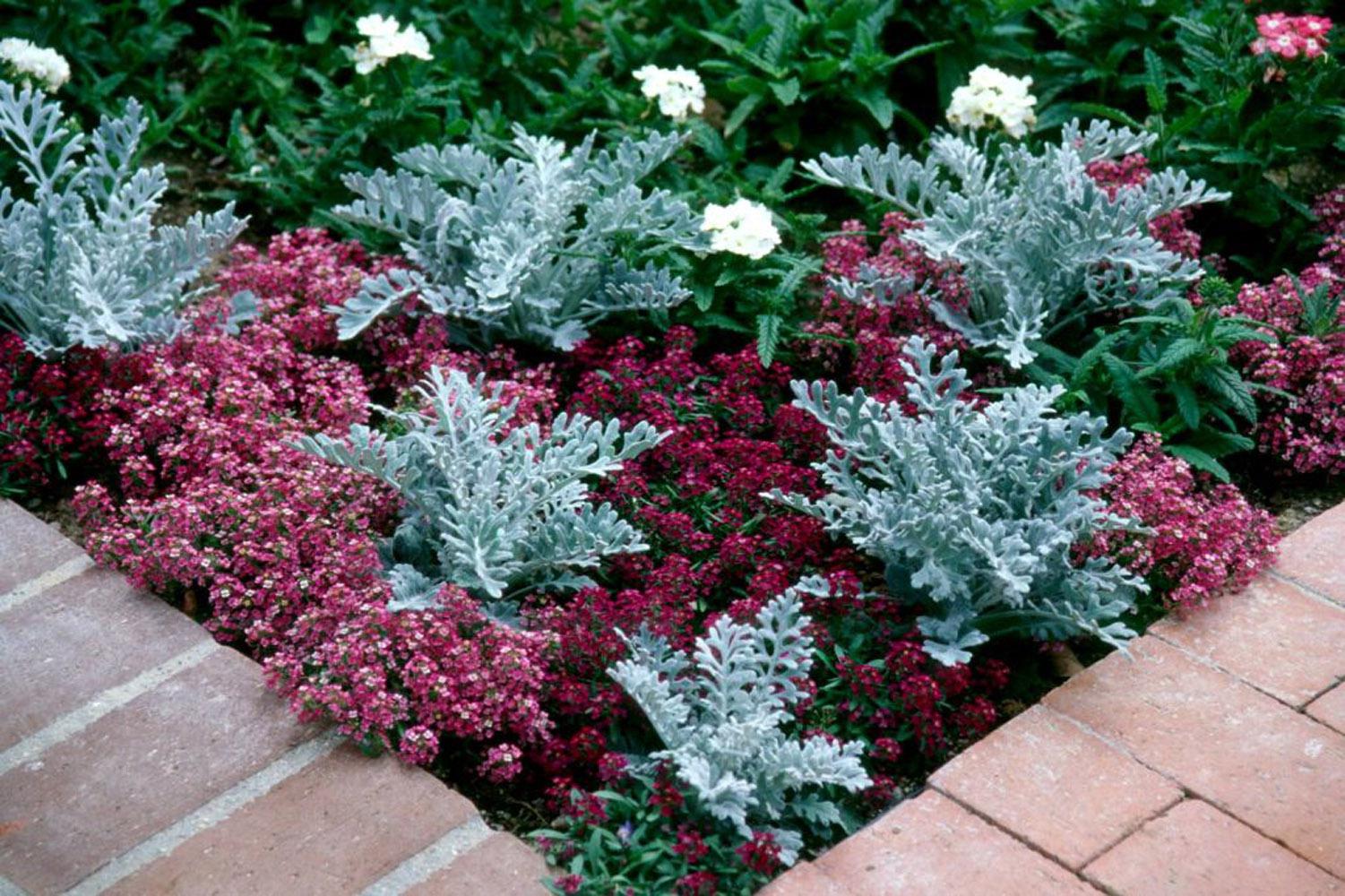 Sweet alyssum, dusty miller partner well in cool season
By Norman Winter
MSU Horticulturist
Central Mississippi Research & Extension Center
Garden centers are loaded with the highest quality fall bedding plants, getting gardeners ready to pull up those marigolds and cut back lantanas, verbenas, salvias and mums if they haven't already.
The last few weeks I have been touting the traditional pansies, snapdragons, violas and cabbages, but there are other great plants that you might not have tried.
The first is sweet alyssum. This awesome bedding plant with its delightful fragrance usually relishes our winter months. In zone 8 we consider it a fall bedding plant; in zone 7 it is a late-winter or early-spring plant. I know several gardeners, however, who plant them in northern regions in the fall with no problems.
This small bedding plant is known as Lobularia maritma and is native to coastal southern Europe. It is ideal for the front of the border and comes in white, rose, lilac and purple. The sweet alyssum persists a lot longer into the warm season than many realize.
They may only reach 4 inches high, but their landscape impact and fragrance make them tops in my book. The pastel colors of the sweet alyssum look stunning when planted in combination with the silver dusty miller.
Dusty miller is known botanically as Senecio cineraria and is from Italy. Though usually considered an annual, many of us grow it as a short-lived perennial, cutting it back to rejuvenate growth.
The striking gray foliage of the dusty miller stands out in a world dominated by dark green foliage. The leaves are white to gray and appear coated with velvet. This Mediterranean plant is low-maintenance and can endure summer's heat and droughty conditions.
The soil must drain freely for both the sweet alyssum and the dusty miller to thrive. Plant them on raised beds or amend the planting area with 3 to 4 inches of organic matter to improve drainage. While tilling the soil, incorporate 2 pounds of a 5-10-5 fertilizer per 100 square feet of bed space. They can be grown from seeds, but nursery-grown transplants are easier. Space plants 6 to 8 inches apart. Apply only a thin layer of mulch after planting.
These are drought-tolerant plants. Water the transplants to get them established and then only sparingly or during prolonged dry periods. The dusty miller's golden-yellow flowers that appear in summer are not considered an asset. Prune back during or after blooming to stimulate new growth.
In addition to combining with sweet alyssum, pansy or dianthus in the fall, try dusty miller with other drought-tolerant spring selections like gomphrena, salvia, purple heart, pink lantana and yarrow. Use for spot planting with sweeping beds of petunias. Plant dusty miller with Fragrant Delight heliotrope for a bed that will be worthy of a photograph.
Many different plant varieties share the name dusty miller. In addition to Senecio, consider that Centaurea, Artemisia and even the Tanacetum species are also commonly called dusty miller. Cirrus, Silverdust, Silver Feather and Silver Queen are popular selections of dusty miller under the genus Senecio.
My favorite variety of sweet alyssum is Easter Bonnet, which was a Fleuroselect Quality award winner.
Dusty miller and sweet alyssum are at garden centers along with a huge selection of other cool-season bedding plants. Get to work and make your landscape the envy of the neighborhood.
Released:
November 20, 2003