Information Possibly Outdated
The information presented on this page was originally released on November 6, 2003. It may not be outdated, but please search our site for more current information. If you plan to quote or reference this information in a publication, please check with the Extension specialist or author before proceeding.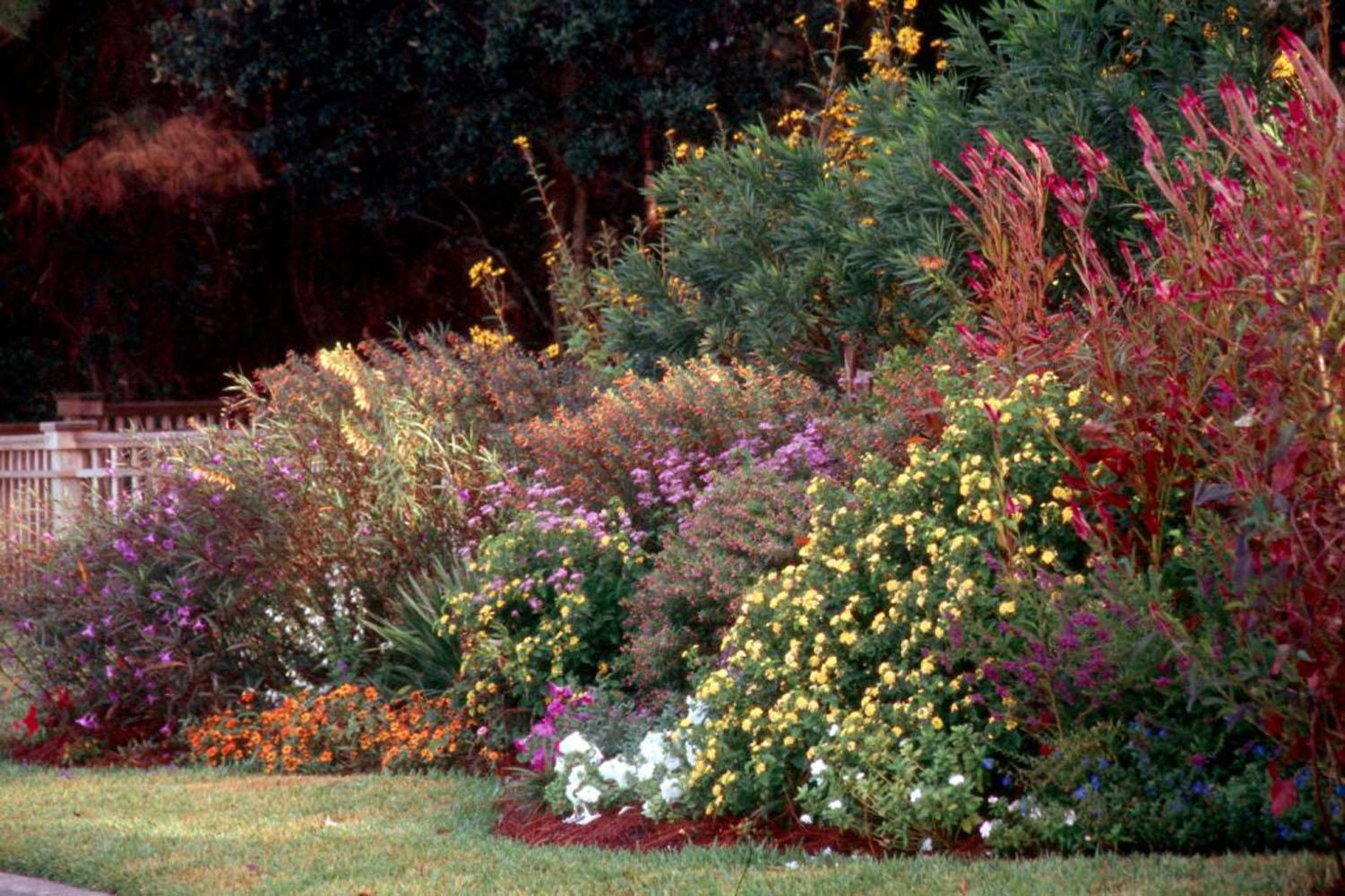 Add spice to gardens by varying heights, textures
By Norman Winter
MSU Horticulturist
Central Mississippi Research & Extension Center
For years I have written about combining colors in gardens to add that desired sizzle. The great flower displays that catch gardeners' eyes most surely had color, but other variations can also help create that spark.
This really hit home while on a Southern Gardening television shoot in Ocean Springs. In this garden right off the beach, it became quickly apparent that varying the heights, shapes and textures of both flowers and leaves plays as important a role as color in the design of flower borders. The garden was stunning!
When a child is asked to draw a flower, what shape does it have? Most likely the flowers are round. After all, first flower encounters are often with daisies, marigolds, petunias, sunflowers or zinnias. Round flowers do seem to dominate.
Flowers actually come in three distinct habits, or forms, and create distinct moods in much the same way as colors.
Rounded or mounded flowers offer calmness and continuity. For cool-season planting, consider pansies as an example. Plant petunias in the spring and summer.
Spiky flowers add a vertical element, breaking the horizontal plane and yielding a look that is daring and exciting. Choose snapdragons in the cool season and salvias for the summer.
Finally there are those that are prostrate, or ground-hugging. These flowers are the "icing on the cake" and add a professional look. They should be planted at the front of the border so observers see them first.
Sadly many gardeners forget about this all-important element to the flower garden. For cool-weather planting, try sweet alyssum. The New Wonder scaevola is great for summer.
In addition to shapes, varying the heights of the plants also adds great interest to gardens. Make beds large enough to add a layered look of heights -- tallest in the back, medium and short in between, then prostrate up front.
Although texture most often refers to the visual appearance of a plant's foliage, flowers certainly offer real texture as well. The three basic textures are fine, medium and coarse.
Examples of plants with fine-textured leaves are ferns, ornamental grasses and African irises. Fine-textured flower examples are gaura and strawberry geranium. Observers must look closely to see the intricate features of these plants.
Medium-textured examples are Purple Heart, Mexican mint or Plectranthus plant leaves, and flowers like phlox or marigolds. These stand out from a distance, causing the passerby to glance.
Coarse-textured leaves add incredible boldness to gardens. Plants like bananas, elephant ears and cannas create a tropical look. Coarse-textured flowers like the Moy Grande hibiscus with 12-inch blossoms will literally stop traffic.
With an understanding of gardening colors and textures it is easy to add interest to any landscape. For instance, while a monochromatic scheme might seem boring, it can be made much more lively and interesting by using flowers of differing heights, shapes and textures.
When gardeners discover the harmony that results from using varying colors and textures, what was once considered simply a flower border takes on the look of a real garden. Try this rewarding technique now, and again with spring planting.
Released:
November 6, 2003