Information Possibly Outdated
The information presented on this page was originally released on October 28, 2002. It may not be outdated, but please search our site for more current information. If you plan to quote or reference this information in a publication, please check with the Extension specialist or author before proceeding.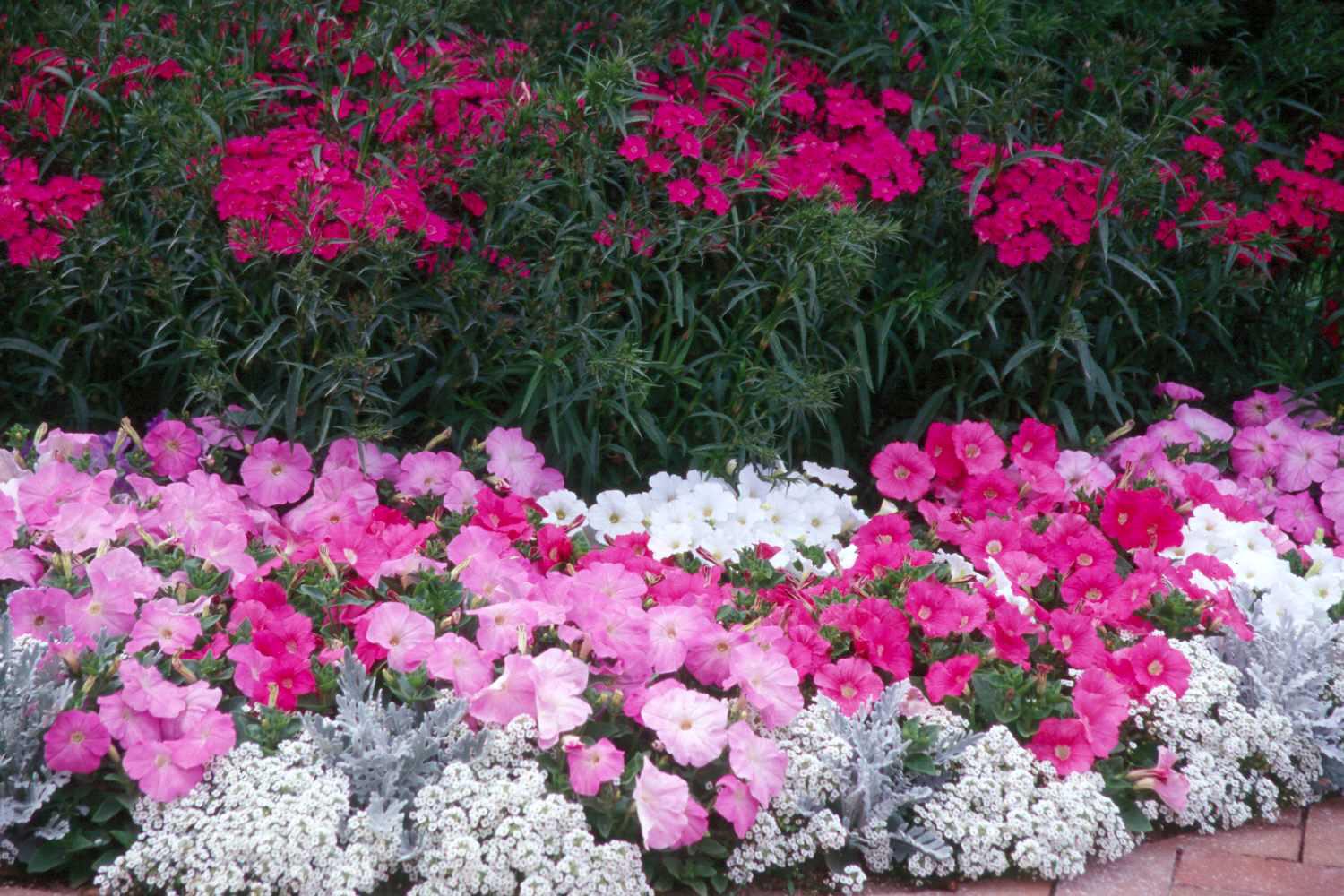 Hybrid pink dianthus offers new toughness
By Norman Winter
MSU Horticulturist
Central Mississippi Research & Extension Center
As you shop for daffodils and pansies, pick up a flat or two of dianthus. The new hybrid pink dianthus offers months of cool-season color for the landscape. They would be a worthy purchase even if they are annuals, but many gardeners find these newer varieties will give three, four or more seasons of bloom.
These are tough, cold-tolerant plants that will endure our summer heat and humidity with good soil preparation and a layer of mulch. In recent years, several have been recognized as exceptionally good performers in trial in Mississippi, Louisiana, Georgia and Florida.
These delightful plants give outstanding color in red, pink, white and every blend of the three. In addition to their cheerful colors, they also have an enticing fragrance.
Hybrid pinks prefer well-drained, well-worked beds rich in organic matter. When preparing a bed, incorporate two pounds of a slow-release, 12-6-6-fertilizer with minor nutrients per 100 square feet of bed space. Give plenty of sun to enable them to bloom to their potential. Plant at the same depth they are growing in the container in the fall or spring, spacing plants 6 to 8 inches apart.
Lightly side-dress with fertilizer once a month to keep them growing and producing. Keep your hybrid pinks mulched to conserve moisture, deter weed growth and give added cold protection. Mulch also keeps summer soil temperatures cooler, increasing your chances of keeping them around for multiple years. Deadhead old blossoms to keep the plant looking tidy and the flower stems coming.
Dianthus colors allow for partnering with cool season crops like pansies, violas, snapdragons, and flowering kale or cabbage. Try growing taller selections behind Purple Rain pansy or True Blue Panola. They also offer the opportunity to combine with spring flowering daisies or coreopsis.
If you are interested in growing patriotic colors, try red and white varieties with plants like blue lobelia. Use also with Dusty Miller, early spring petunias and alyssum.
The Dianthus chinensis, though great for cool season, didn't have the new toughness identified in the hybrid known as Dianthus chinensis x barbatus. This group is represented by plants like the Telestar series that was chosen as a Louisiana Select award winner, and the Ideal series that has proven the best in University of Georgia trials. Ideal Carmine and Ideal Rose were chosen as Flueroselect Quality Mark winners and Ideal Violet, an All-America Selections award winner. The Melody series offers several choices, and the Melody Pink was chosen as an All-America Selections winner.
Those known as Dianthus barbatus interspecific hybrids are also exceptionally tough. Last year, Bouquet Purple dianthus was chosen as a Mississippi Medallion award winner and the Minnesota Select Perennial Plant of the Year.
A new selection, known as Amazon Neon Duo, is even taller than Bouquet Purple and has been terrific in Florida trials. Like Bouquet Purple the Amazon Neon Duo offers opportunities for cut flowers. The reason for the duo name is that the flowers are a 50:50 mixture of cherry and purple. This one looks to have award winner written all over it.
Regardless, if you haven't tried dianthus in several years, the new hybrids may surprise you with their color, cold hardiness and residual vigor in subsequent years.
Released:
October 28, 2002