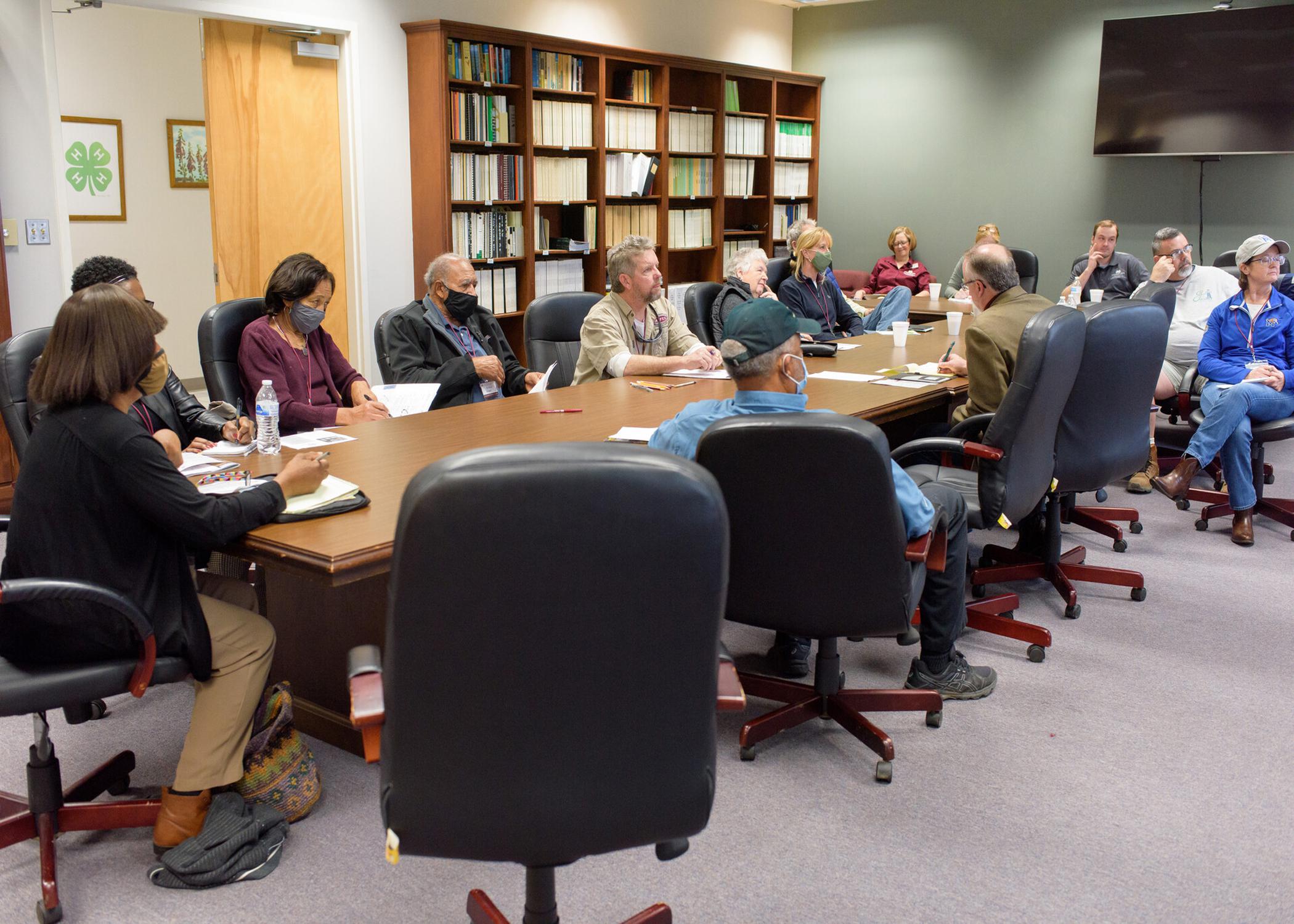 North Miss. producers convey research, program priorities
VERONA, Miss. -- Each February, agricultural producers in Mississippi speak, and personnel with the Mississippi State University Extension Service and Mississippi Agricultural and Forestry Experiment Station listen.
Producer Advisory Council meetings present opportunities for growers to meet with MSU commodity experts and share ideas for research and educational projects.
The first of three PAC meetings was held Feb. 17 at the MSU North Mississippi Research and Extension Center in Verona. Two more were scheduled at the Central Mississippi R&E Center Feb. 23 and the Coastal Mississippi R&E Center Feb. 24.
During the meeting in Verona, producers split into commodity-based groups to express their needs to researchers and Extension personnel. MSU Extension faculty and agents then shared those priorities with all participants in a general session.
The topic of carbon credits was repeatedly brought up by row crop growers and forest landowners. Landowners can monetize their agricultural resources through the Carbon Offset Research and Education program. A carbon offset credit is worth one metric ton of carbon dioxide. Industries or landowners generating carbon or greenhouse gases can purchase these credits to offset the greenhouse gasses they are emitting and be incentivized for environmentally friendly practices.
Justin McCoy, an agronomist with MAFES and Extension, reported the needs of row crop producers, with carbon credits at the top of the list.
"Our growers want us to take a closer look at carbon credit systems and how to implement them profitably on our farms here in the northeast region," McCoy said.
Brady Self, associate Extension professor in forestry, reported similar requests from forest landowners.
"Carbon markets have come along in the last year and a half, and there are groups moving into selling credits for sequestration of carbon in the timber market," Self said. "We're working on putting information about this together into a presentation we can go out and give to our landowners."
Another common suggestion from many commodity groups was the filling of currently vacant Extension specialist positions. Self noted that timber producers wanted to see a silviculture specialist and forest economist added back to MSU Extension's forestry roster.
Jeff Wilson, a horticulturist based at the North Mississippi R&E Center, reported his group's request to refill a state vegetable specialist position.
"We feel that's extremely important in the program planning and research planning for our agents and specialists around the state," he said. "Our growers also want educational programming to promote the green industry here in Mississippi and more research on vegetable varieties and production methods."
B.J. McClenton, an MSU Extension agent in Clay County specializing in animal science, said swine producers wanted to see the swine specialist position refilled.
"They want to open a new state-of-the-art swine production research facility to cover all aspects of swine production from reproduction to nutrition," McClenton said. "They also asked for research on alternative protein feed sources and feedstuffs to help offset the rising input costs of production. We want to expand feed and nutrition research not only to house pig production, but also pasture pig production to correct some of the nutritional deficiencies we find."
MSU Extension Director Gary Jackson and MAFES Director Scott Willard, who is also dean of the MSU College of Agriculture and Life Sciences, charged growers with lobbying their legislators on behalf of the research stations.
"We reached half a million people in 2021 that enrolled in one of our programs, but we still need your help," Jackson told attendees. "We have a tremendous group of staff here at Mississippi State and Extension agents and staff on the ground that we are extremely appreciative of, but there aren't enough of them."
"Any time you can advocate for us, that would be appreciated," Willard added. "We want to help our faculty do as good a job as they can in trying to serve you. We can only do that if we give our faculty the best facilities available and the best research infrastructure that we can provide, whether that's a greenhouse or highly technical piece of equipment that we put in a laboratory."
Released:
February 23, 2022