Information Possibly Outdated
The information presented on this page was originally released on February 9, 2018. It may not be outdated, but please search our site for more current information. If you plan to quote or reference this information in a publication, please check with the Extension specialist or author before proceeding.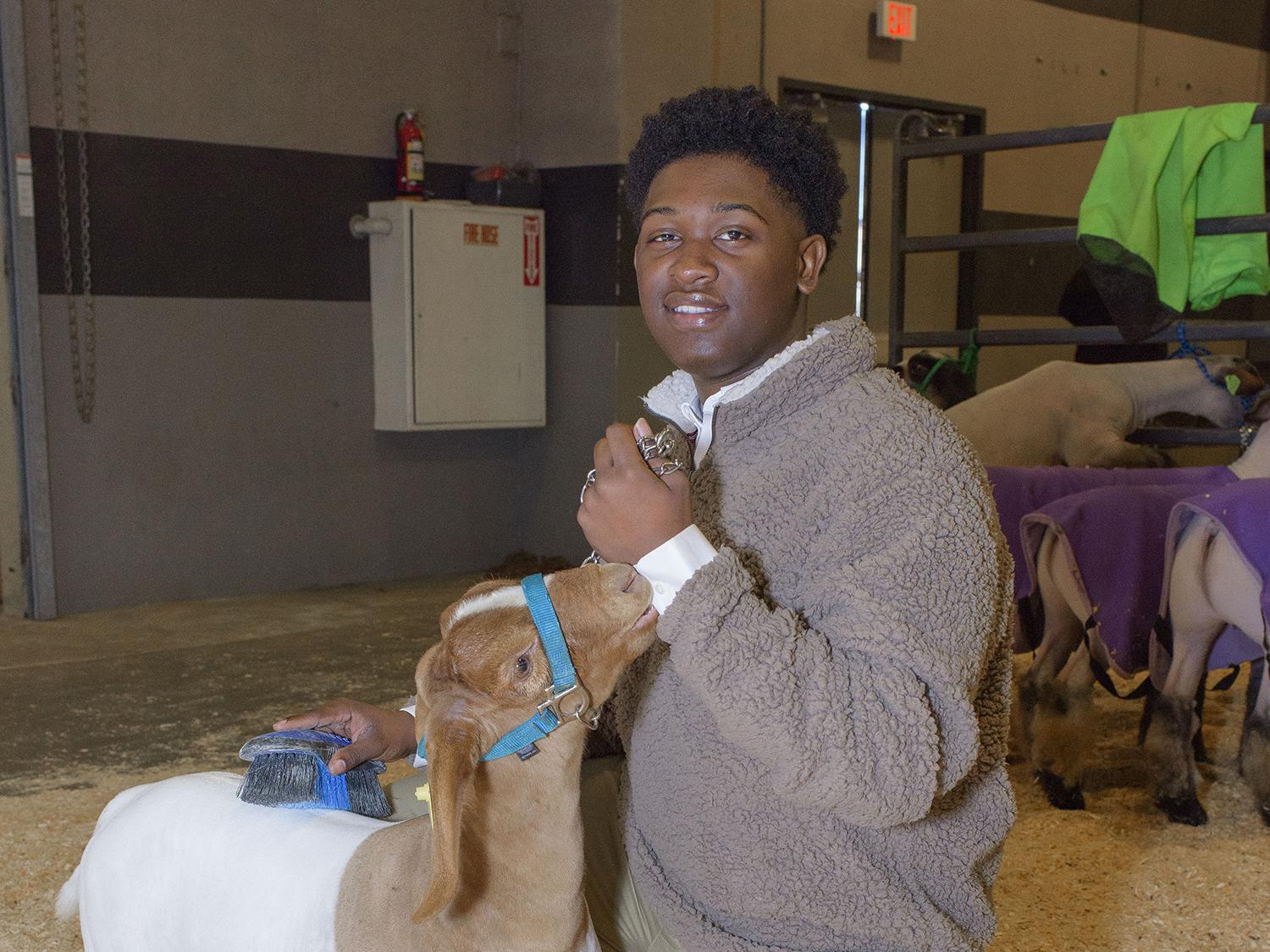 Holmes County 4-H'er earns top spot in livestock showing
Tyler Branch has been showing goats since he was 8 years old, and all his years of hard work really paid off this week.
Branch's goat Cosmo was among 43 animals selected for the Dixie National Sale of Junior Champions. This sale -- the pinnacle of livestock showing -- brings together generous buyers who pay much more than market value for the animals raised by members of the Mississippi State University Extension Service 4-H and the Mississippi FFA organization.
"We've come a long way," said Branch, a 4-H member in Holmes County. "When we started, we didn't know what we were doing. Knowing where we started and where we are now makes me feel really good. I love showing goats. It's taught me patience and responsibility."
Betsy Padgett, Extension agent in Holmes County, said Branch has made tremendous progress over the years.
"The first time he went in the ring, he wasn't very good," she said. "But the other 4-H'ers have helped him, and he's worked to learn what is required. He's earned this."
A 4-H'er since the age of 5, Branch has participated in cooking contests, project achievement days and other events.
"In Lexington, there aren't a lot of things for kids to do," said Angela Love, Branch's mom. "I'm a teacher, and I know when kids don't have something to do, they get into trouble. So, I got him involved as soon as I could. I knew he loved animals and that 4-H would be a good fit."
Cosmo won Reserve Champion Lightweight Goat and Mississippi Bred Champion Lightweight Goat titles.
Additionally, Branch won the meat goat premier exhibitor contest and will receive a $2,000 scholarship. The contest requires participants to have quality animals, and it tests their showmanship abilities and knowledge of the species they show. Branch shows meat goat does and market goats.
Branch also has participated in the leadership program and has been a member of the horse bowl team and livestock judging team. He has competed annually and won in the Beef Cookout North State Contest.
Dean Jousan, MSU Extension Service 4-H livestock specialist, said 4-H'ers strive to reach the sale throughout their 4-H showing careers.
"I have observed Tyler give presentations on his livestock projects and compete on quiz bowl teams. Tyler has a desire to learn and works extremely hard for what he has earned," Jousan said.
The sale included 10 goats, 11 lambs, 14 hogs and eight steers that sold for a preliminary total of $344,778.
Preliminary figures indicate steers generated a total of $88,050. Hogs earned a preliminary total of $103,878. Goats produced a preliminary total of $80,400. Lambs brought a preliminary total of $72,450.
Each year, the sale's promotional committee also raises educational scholarship funds. Six premier exhibitors won $2,000 scholarships, and 31 other exhibitors won $1,500 scholarships.
Released:
February 9, 2018