Information Possibly Outdated
The information presented on this page was originally released on September 29, 2017. It may not be outdated, but please search our site for more current information. If you plan to quote or reference this information in a publication, please check with the Extension specialist or author before proceeding.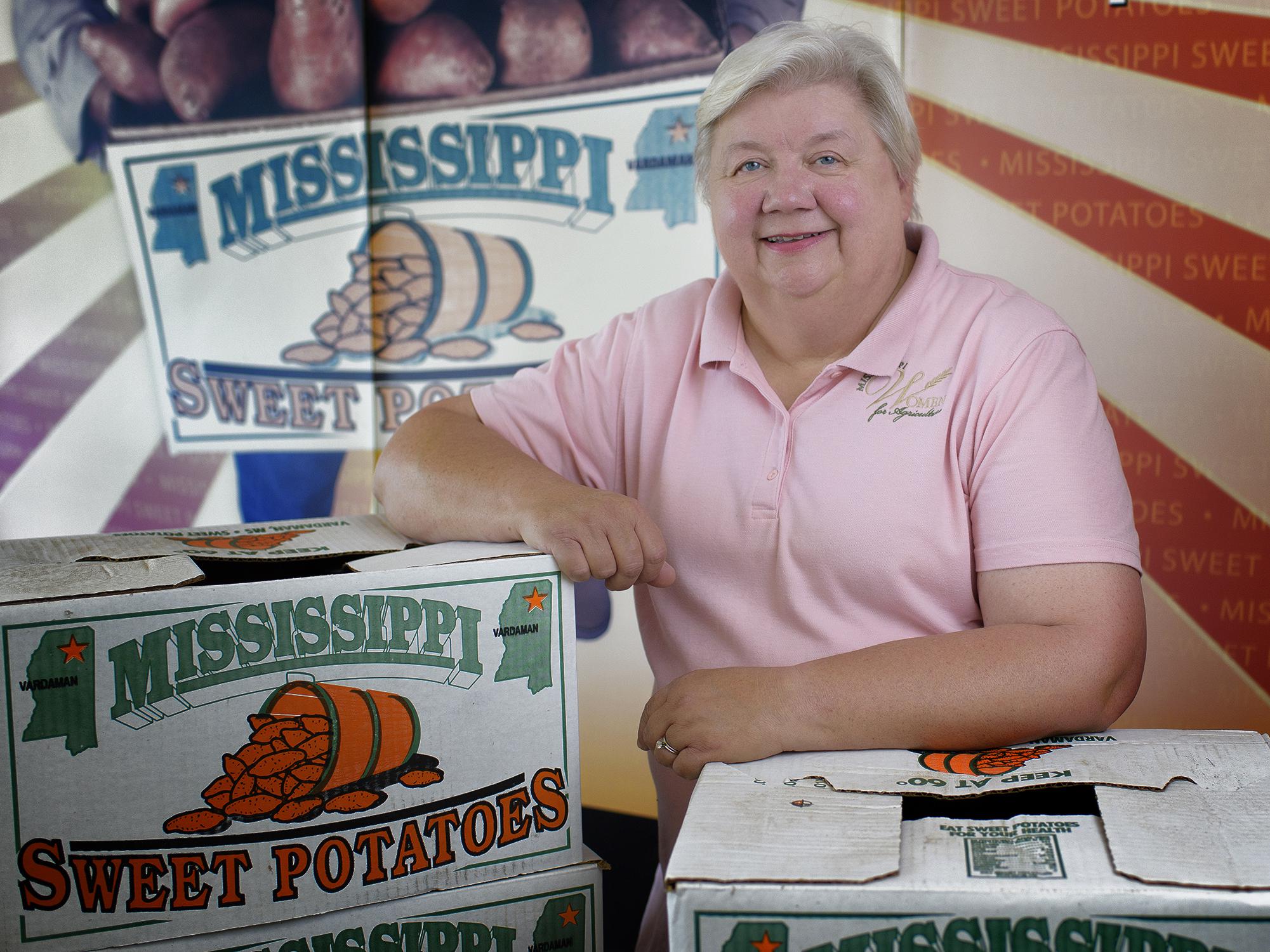 Farming advocate finds her dream job
STARKVILLE, Miss. -- Wouldn't it be nice if entering a Mississippi State University classroom solved every midlife crisis?
At age 52, Sylvia Clark found herself at a crossroad as she reflected on her life as a small business owner and caregiver for her family. Reared on a Webster County farm, Clark married shortly after earning an associate's degree and settled into her role as the wife of a Vardaman sweet potato farmer. Eventually, their children were grown and their parents no longer needed her care. With the support of her family, Clark enrolled at MSU in 2006 to finish her formal education in agriculture and extension education.
"My professors were very helpful in giving me opportunities to build on my experiences as an unofficial spokesperson for Vardaman sweet potatoes. They helped me find new footing, a new direction for my life," Clark said. "I'm still an advocate for sweet potatoes and Vardaman, but so much more."
While she was a student in 2007, Clark was encouraged to participate in an Extension-facilitated program called Annie's Project.
"I was over the moon in love with the concept of teaching women in agriculture-related fields problem solving, risk management, record keeping and decision-making skills," she said. "The goal of Annie's Project is to empower women to feel like full business partners with their husbands or to succeed in their own right. I could identify with that goal."
Today, as the coordinator for Annie's Project in Mississippi, she is guiding other women and, by extension, families, as they explore opportunities in the agricultural community. Aided by the MSU Extension Service, the organization's goal is to educate, encourage and support women who are involved in agricultural enterprises.
"We want farm families to think about their end game. What are they building their business for? If they realize the work is not for the next generation, they may change how they approach the business. It can change how they are going to live their life," Clark said. "It's important to give the next generation permission to dream their own dreams and not feel confined to a piece of land."
After graduation, Clark easily transitioned into a fulltime Extension job with the multistate Healthy Homes Initiative, addressing lead paint concerns. Today, her responsibilities include advising the Mississippi Homemaker Volunteers and supporting the 4-H Youth Development Program.
"It's all intertwined -- agriculture, food, families -- like a three-legged stool," she said. "They are all important to the vitality of our entire state."
Clark's first supervisor after graduation was the MSU Extension family resource management and housing specialist, Bobbie Shaffett.
"Sylvia taught me so much about the life of farm families as she shared her passion for agriculture," said Shaffett, now retired. "She not only serves women in her professional work, but she also volunteers in local ministries and statewide organizations, including the Christian Women's Job Corps and Mississippi Farm Bureau. She is a servant and role model of volunteerism for women in agriculture, Master Clothing Volunteers, Mississippi Homemaker Volunteers and 4-H."
Sherilyn Jones of Inverness is treasurer for the Mississippi Women for Agriculture organization. She said Clark has been instrumental in the establishment and granting of MSU scholarships to women from across the state.
"Part of our mission statement is to educate and promote agriculture among women students," Jones said. "Sylvia has helped us identify recipients who have benefitted from scholarships provided by the Diane Evans family, Delta Council and the Commissioner of Agriculture and Commerce Cindy Hyde-Smith."
For more information on Women for Agriculture, go to http://mswomenforag.org/.
Released:
September 29, 2017