Information Possibly Outdated
The information presented on this page was originally released on January 23, 2015. It may not be outdated, but please search our site for more current information. If you plan to quote or reference this information in a publication, please check with the Extension specialist or author before proceeding.
MSU sesame test plots back growing interest
MISSISSIPPI STATE -- Mississippi farmers interested in growing sesame have to rely mainly on recommendations made for Texas fields, a problem Mississippi State University researchers are working to address.
Sesame produces small, edible seeds valued for consumption and oil production. Consumers recognize it most frequently as the tasty seeds on hamburger buns, but a lot of cooking is done with sesame oil. When the seed is toasted, it has a nutty smell and pleasant taste.
In 2014, MSU researchers with the Mississippi Agricultural and Forestry Experiment Station grew small amounts of sesame at the Delta Research and Extension Center in Stoneville and the Pontotoc Ridge-Flatwoods Branch Experiment Station near Pontotoc.
Wayne Ebelhar, MAFES research professor, planted 96 sesame test plots in a half-acre area at Stoneville. He said Mississippi farmers don't have much local information to go on to grow sesame.
"We're trying to look at its potential under Mississippi growing conditions in order to provide our producers with the best information about growing this crop," Ebelhar said. "The only growers' guide our farmers have comes from Texas, and a lot of the information said these practices 'should' work."
Ebelhar grew four different sesame varieties and tested them using four different nitrogen fertilization rates ranging from 40 to 100 pounds per acre. He ended up harvesting yields around 1,000 pounds per acre. Simply getting it planted was a challenge, he said, and planting was a little late.
"We couldn't use a regular planter because the seed was so light it went everywhere," he said. "We planted with a cone planter and attempted to plant about 25 seeds per foot, hoping for four to five plants per foot."
Harvesting the tiny seeds was also tricky.
"We set the combine to give us a little bit dirtier harvest than a farmer normally would use, and then used an air cleaner/separator to clean the seed after harvest," Ebelhar said.
Sesame is a broadleaf summer crop with a growth habit similar to cotton and soybeans. It normally grows 3 to 5 feet tall, but it can reach up to 6 feet tall with good soil moisture and fertility. Varieties can be single-stemmed or branched. The plant produces seeds in capsules that are about an inch long and slightly smaller than a pencil in diameter. It grows a main stem with a seed capsule produced at every leaf.
Sesame flowers are white and bloom over a long period of time, starting about 35 to 45 days after planting and stopping about 75 to 85 days after planting.
"A positive aspect of sesame is that it attracts pollinators during the long bloom period," Ebelhar said. "The field was literally humming because there were so many bees and honeybees."
Mark Shankle, MAFES research professor, grew about 2 acres of sesame in Pontotoc County in order to work on potential weed control options for the crop. Sesame is a specialty crop, and chemical companies typically cannot justify research and development efforts for small-acreage commodities due to the low return on investment.
"We plan to develop research data to support herbicide labels for use in sesame," Shankle said. "We know what weeds we can control with certain herbicides, but we do not know how the herbicide is going to affect the crop itself."
Shankle said herbicide rate, placement and application time relative to the crop stage can affect the degree of injury to the crop.
Sesame is primarily grown in Texas, Oklahoma, Kansas and Alabama. Seed is available through just one company in Texas, and so far, only a very few people are growing it in Mississippi.
"As with any niche crop, I don't expect there to ever be a lot of sesame, but if a farmer has the opportunity to try something new and make a little money on it, I think it's our obligation at Mississippi State to study that crop and try to help them," Ebelhar said.
The study started out small and focused on nitrogen management, but Ebelhar gave seed samples to two U.S. Department of Agriculture researchers who are working with seed quality, measuring oil and protein content. They are also interested in disease problems with the crop.
"Having the crop already growing provides for collaborative efforts across agencies that ultimately will benefit producers," Ebelhar said.
MSU researchers plan to grow sesame again in 2015, gathering data that will help any of the state's producers who are interested in growing this crop commercially.
Released:
January 23, 2015

Your Extension Experts
Extension/Research Professor
Asst Professor & Coord, NCAAR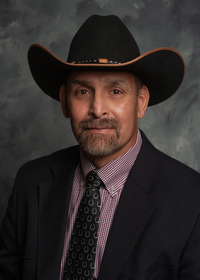 Extension/Research Professor