Information Possibly Outdated
The information presented on this page was originally released on December 12, 2014. It may not be outdated, but please search our site for more current information. If you plan to quote or reference this information in a publication, please check with the Extension specialist or author before proceeding.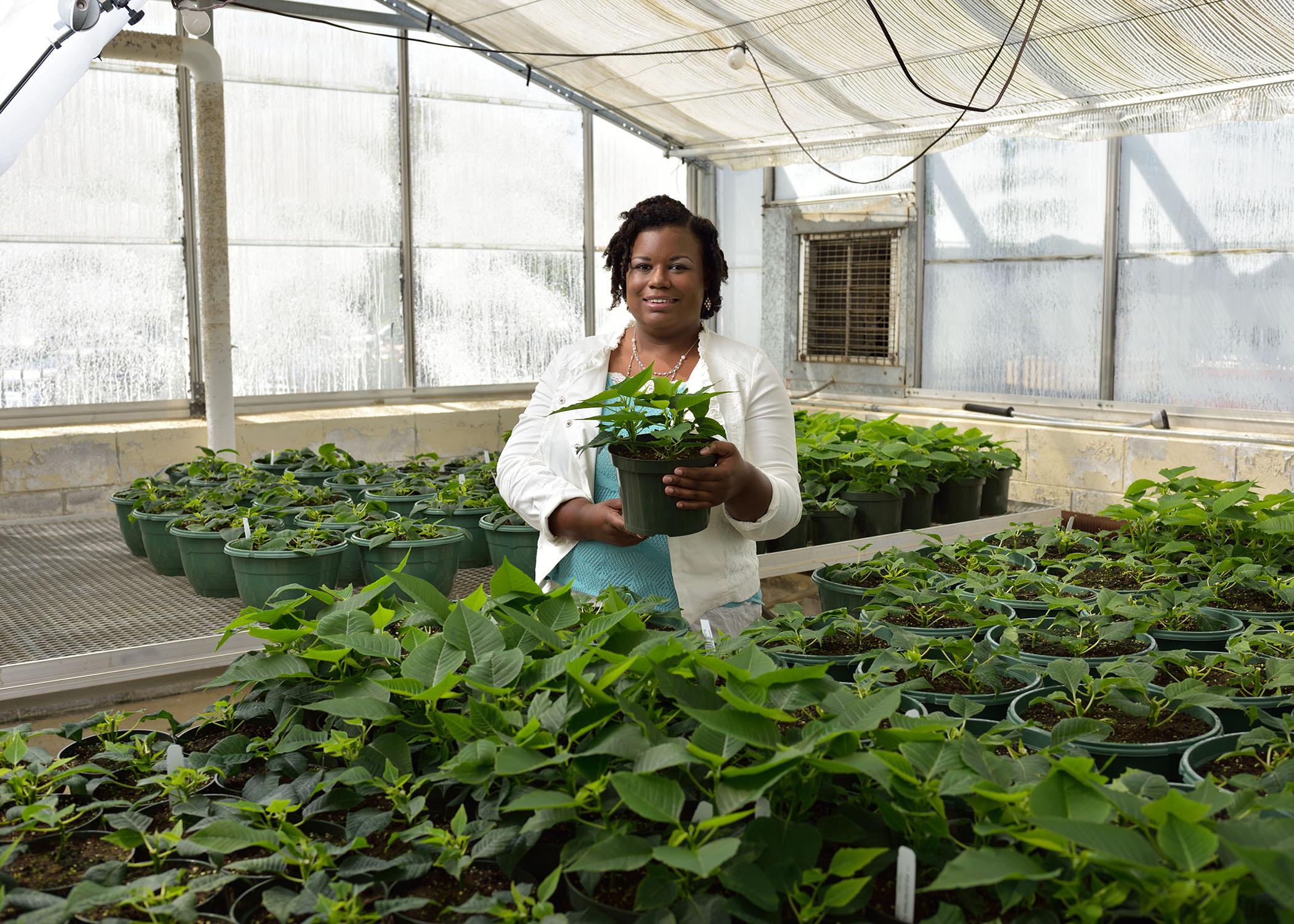 Research motivates undergrad, undergrad inspires professors
MISSISSIPPI STATE -- Most undergraduate college students are not interested in conducting research, but Sanitra Lawrence is not like most students.
Lawrence's resume will reveal that she did more than sit in a classroom while earning her bachelor's degree in horticulture from Mississippi State University this December. Each week in the summer of 2013, the Starkville native counted the swirskii mites on pepper plants as part of a research project.
Offering more research opportunities to undergraduates is a goal of the plant and soil sciences department.
Geoff Denny and Blake Layton, horticulture specialist and entomologist with the MSU Extension Service respectively, were looking for an eager undergrad to help with the biological control study they wanted to conduct, and Lawrence fit the bill.
Both Denny and Layton agreed that Lawrence was able to gain knowledge and confidence through this Extension demonstration.
Once a week, Lawrence traveled to the Natchez Trace Nursery in Kosciusko to gather a sampling of pepper plant leaves and count the number of swirskii mites. After finding six to 11 swirskii mites per pepper plant leaf, the mites could be used as a biological control agent against the whitefly population on poinsettia plants.
The whiteflies live on the bottom of most poinsettia leaves and cause the leaves to yellow and drop. The pepper plants were spaced alternately with poinsettia plants so the mites could crawl off the pepper plants onto the poinsettias and eat the whiteflies.
"I was learning different things all the time. I loved the hands-on part of it," Lawrence said. "You get to go out there and actually see it being done instead of only being taught it in a lecture."
Her professors gained valuable information from the research and discovered the value of highly motivated undergraduate students.
"It was so rewarding to watch Sanitra develop from being scared of making mistakes to knowing more about the topic than anybody," Denny said. "She really blossomed as a person, and that's the great part about working with students."
Lawrence attended an American Horticultural Society meeting in Dallas in the spring of 2014 to present the demonstration's findings.
"I was nervous for the first two minutes, and then I just breathed," Lawrence said. "I was able to stand there with grad students on the same floor and answer people's questions."
Ultimately, the research demonstration found that the swirskii mites helped slow whitefly population development which meant the nursery owner did not have to spray as often. Less spraying meant saving money.
"For our growers right now, spraying is cheaper, quicker, easier," Layton said. "But the more you spray, the more likely you are to run into resistance problems, and then the spray quits working on the pests because it changes them genetically. Pests don't get resistant to biological control."
Biological control in greenhouses is more widely used in Canada and Europe than in the United States.
"We haven't adopted it much in Mississippi, so this was more of an Extension demonstration to let growers get some firsthand experience with it," Layton said.
Layton is not advocating that growers solely use biological control even though other parts of the world do.
"I'm saying if you could just use biological control part of the season and not spray then, you can avoid selective resistance, so when you do spray, it works better," Layton said.
Lawrence has no doubt these research opportunities are a direct result of choosing to come to MSU. With the university's strong horticulture program and Lawrence's love for plants, it was a perfect fit.
"I don't think I could have gotten this anywhere else. Why would I go to another university when I could go here?" Lawrence said.
Denny said people like Lawrence are the future of the horticulture industry.
"We are interested in developing younger people as other professionals age out and who's next? It's students like Sanitra," Denny said.
Lawrence knows what's next for her, too.
"I know I want to go to grad school, and what's really interesting to me is ornamental plant breeding," Lawrence said. "When I was a child, seeing my mom and grandparents take a cutting from a plant and let it root was so fascinating to me. All the possibilities of propagation you can do are just….cool."
The undergrad research opportunities have led her closer to reaching her goal of building a career in a field she loves. Lawrence doesn't have to search for her passion in life because she's found it in horticulture.
"Born with it, I guess," she said.
Released:
December 12, 2014

News Story Contact
Entomology; extension insect identification; fire ants; termites; insect pests in the home, lawn and
Your Extension Experts