Information Possibly Outdated
The information presented on this page was originally released on January 17, 2014. It may not be outdated, but please search our site for more current information. If you plan to quote or reference this information in a publication, please check with the Extension specialist or author before proceeding.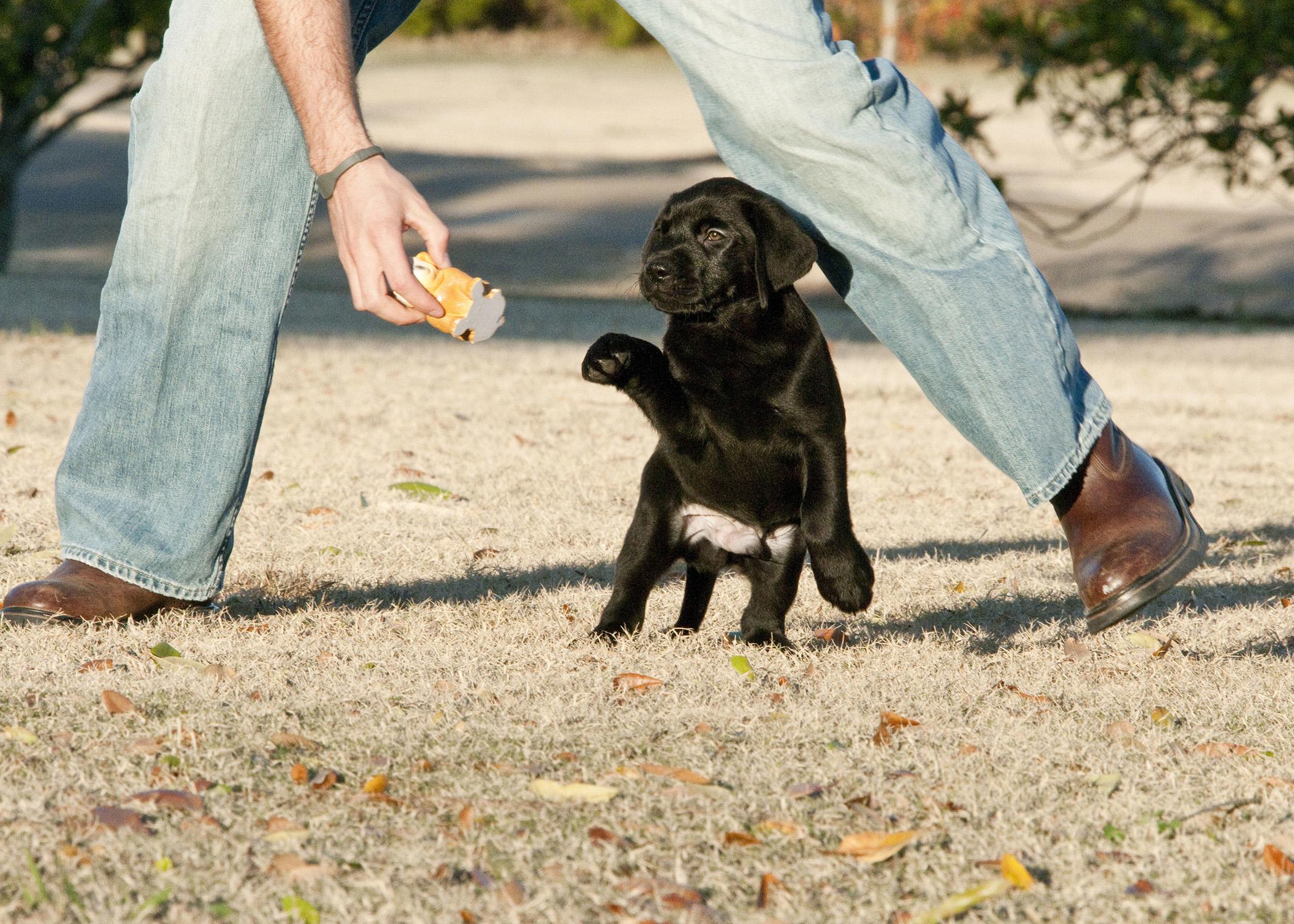 Puppies need training, healthcare to thrive
JACKSON – In the months after Christmas, the pitter-patter of puppy paws leads to a lot of puddles and frayed sneakers.
But with proper care and training, the new puppy can become a devoted companion for many years.
"The first few weeks with a new puppy can be trying, but it's also one of the most critical times for learning in the dog's lifetime," said Dr. Christine Calder, a veterinary resident with a focus in behavior at the Mississippi State University College of Veterinary Medicine. "Dogs learn more new things from ages 3 to 14 weeks than they will in their entire lives."
Calder said owners should begin the training process on day one. This includes housetraining and basic commands, including sit, come, leave it and watch me.
To housetrain a puppy, create a schedule for feeding and closely supervise the puppy when he or she is in the house. Take bathroom breaks after meals, after playing and after sleeping. Also, watch the puppy for signs that he needs a bathroom break, such as sniffing and circling the floor.
Used responsibly, crates can help with the housetraining process because puppies are reluctant to relieve themselves in their sleeping area. Calder recommends them for anyone with a new puppy.
"Crates are helpful when you can't keep your eye on the puppy or if you work outside the home," Calder said. "Crate training also helps puppies learn to sleep alone, which creates a more secure, independent dog later. Puppies who don't learn to be independent can develop separation anxiety later in life." The crate should be just large enough for the puppy to stand up, turn around and lie down comfortably. Crates with dividers are available for puppies that will grow into large dogs. Puppies should be removed from the crate at regular intervals for bathroom breaks.
"By 8 weeks of age, a puppy develops a preference for the surface it wants go to the bathroom on," Calder said. "So if an owner cannot come home for lunch, a large exercise pen with a sleeping area, feeding area and litter box with grass or sod can help keep the puppy on track."
Age, physical size and owner consistency all affect how quickly a puppy can be housebroken. Calder said it can take several months to a year, but a puppy is not considered successfully housetrained until he is accident-free for one year.
"Never punish a puppy for an accident," Calder said. "Punishment increases the puppy's anxiety and teaches them it's unsafe to go to the bathroom in your presence. The best thing to do is clean it up and plan to watch the puppy closer and take him out earlier next time."
All training takes repetition, consistency and patience. Calder recommends positive reinforcement training, which is easily incorporated into daily interactions. The technique rewards appropriate behaviors and disregards inappropriate behaviors.
"According to recent research, dogs learn faster and retain the lesson when humans use reward-based training techniques," Calder said. "Reward the dog with a treat or attention when he is doing something right, such as lying quietly, sitting nicely or chewing on an appropriate toy. Ignore inappropriate behaviors. For example, do not pet him if he jumps up. Instead, stand still or turn around and walk away. Once he sits or has all four feet on the floor, pet him or give him a treat."
It's also important for puppies to go to a veterinarian for routine healthcare. Puppies need a set of vaccines every three to four weeks beginning around 6 weeks of age and continuing until around 16 weeks of age.
"A complete set of vaccinations helps protect the puppy from many life-threatening diseases, such as parvovirus, rabies, distemper and leptospirosis," said Dr. Joey Burt, director of the Animal Health Center and assistant clinical professor at the MSU College of Veterinary Medicine. "The family veterinarian can tailor a vaccination and parasite prevention protocol to fit each puppy depending on its lifestyle."
During these initial visits, veterinarians can advise owners about diet, dental care, grooming and the best monthly parasite prevention plan for their pet, including the control of fleas, ticks, heartworms and gastrointestinal parasites. Dogs should visit their veterinarian at least once a year for vaccine boosters and a check-up.
Contact: Karen Templeton, (662) 325-1100
Released:
January 17, 2014