Information Possibly Outdated
The information presented on this page was originally released on November 5, 2013. It may not be outdated, but please search our site for more current information. If you plan to quote or reference this information in a publication, please check with the Extension specialist or author before proceeding.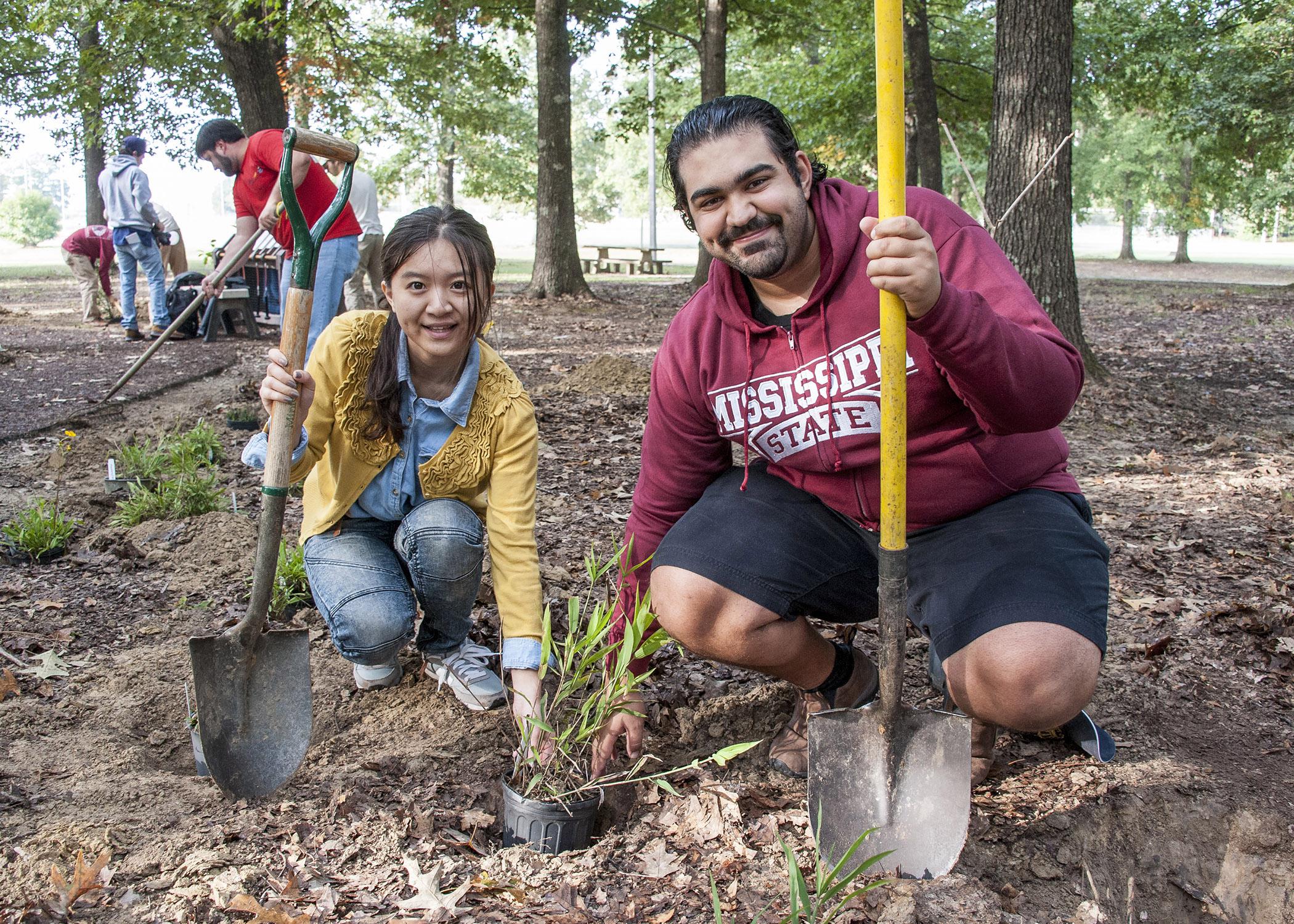 MSU students beautify community park project
By Kaitlyn Byrne
MSU Office of Ag Communications
MISSISSIPPI STATE – A group of Mississippi State University students made a new music trail in Starkville more beautiful by improving its landscape.
MSU landscape architecture and landscape contracting and management students installed plants as part of a service-learning collaboration with the Pilot Club of Starkville's Music Trail in McKee Park. The plants contribute to the aesthetic value of the trail and enhance the nature experience for park-goers.
The Pilot Club Music Trail consists of playground versions of nine unique musical instruments, including a rain wheel, palm pipe drum and kalimba. The instruments are accessible to children with disabilities, but all children can enjoy them. The project began in 2011 and was completed this fall.
Brian Templeton, MSU Extension Service associate in the Department of Landscape Architecture, said about 20 students volunteered to install the plants at the music trail after a graduate student in landscape architecture created a conceptual landscape design for the trail.
Templeton said the students were challenged to use the knowledge they learned in class when they had to install the plants around the roots of existing trees on the trail.
"A big benefit of the project was learning how to follow a lay-out procedure," he said. "It consists of laying out all of the plants first, making adjustments before you ever start planting and then making minor revisions to it when needed, like with the root situation. It's something they learn about in class, but putting it into practice is an experience they can't get in the classroom."
Hardy Simmons, a landscape contracting and management and landscape architecture student from Ridgeland, said the student volunteers helped in all areas of the plant installation process, including ground preparation, planting, mulching the planting area and clean-up.
"It is a good experience and very rewarding to give back to the community, especially in a way that shows our interest in the future of the landscape industry," Simmons said. "It is good to know that you have done something that makes this area of the park a pleasing place for children and their parents to enjoy while they are there.
"As with any well-designed landscape, there is satisfaction in knowing the plants that were installed are aesthetically pleasing and give just another attractive feature to the park for many years to come," he said.
For more information on the Department of Landscape Architecture, visit http://www.lalc.msstate.edu. For more information on the Pilot Club Music Trail, contact Starkville Parks and Recreation at 662-323-2294.
Released:
November 5, 2013