Information Possibly Outdated
The information presented on this page was originally released on August 22, 2013. It may not be outdated, but please search our site for more current information. If you plan to quote or reference this information in a publication, please check with the Extension specialist or author before proceeding.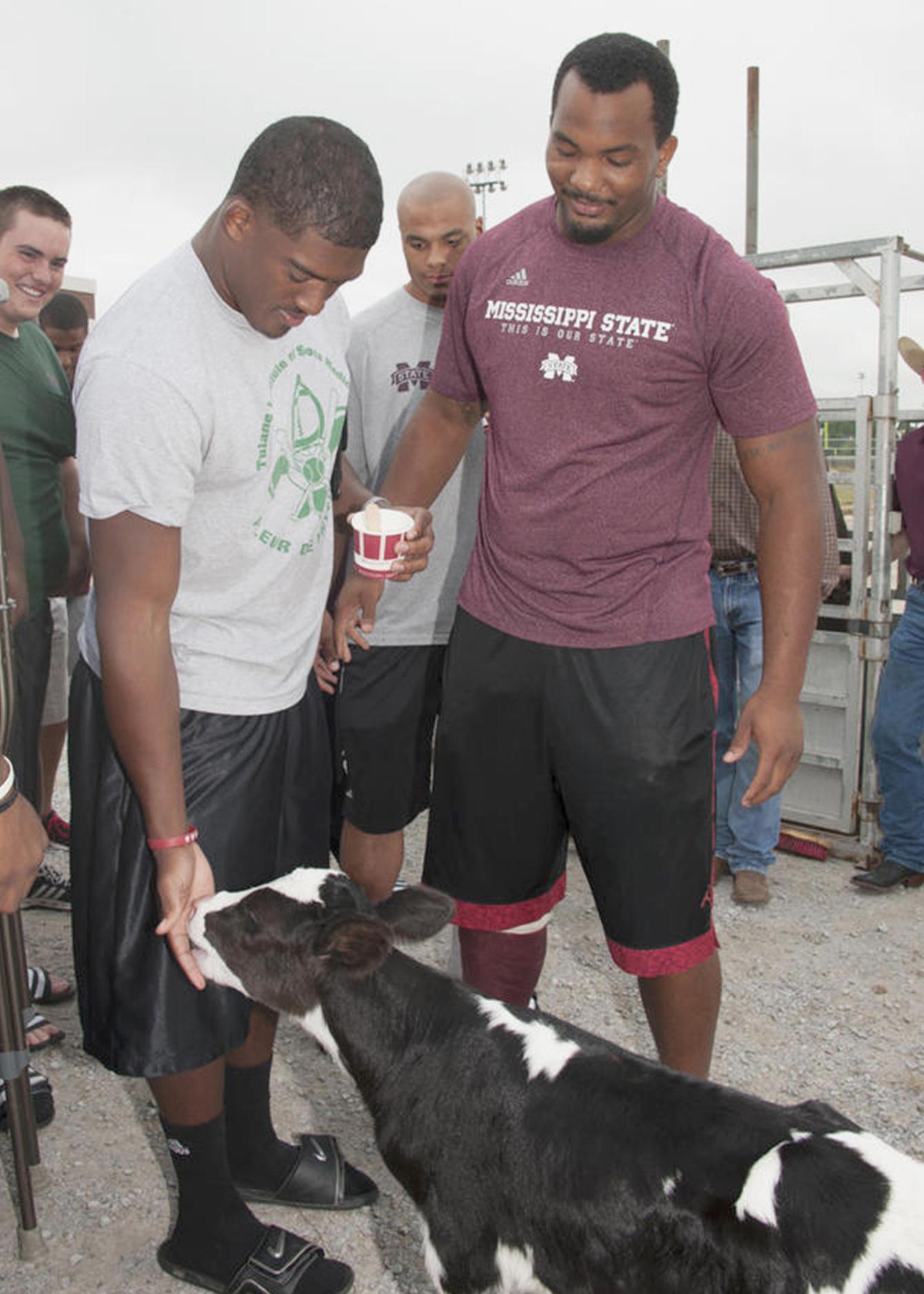 Bulldogs enjoy beef dinner, learn about beef industry
By Kaitlyn Byrne
MSU Ag Communications

MISSISSIPPI STATE -- Members of Mississippi State University's football team traded helmets and shoulder pads for cows and hay bales at the third annual Beefing Up the Bulldogs event at the new Leo Seal Jr. Football Complex.
After enjoying a steak dinner prepared in MSU's Meat Lab and ice cream and milk from MSU's dairy, players gained insight into the state's cattle industry by participating in activities such as milking a dairy cow and speaking with industry leaders. Beefing Up the Bulldogs sponsors included the Mississippi Cattlemen's Association, the Mississippi Beef Council, First South Farm Credit and MSU's Animal and Dairy Sciences Department.
MSU's dairy is ranked seventh in the nation, and assistant herdsman J.B. Gardner said all of the milk produced at the dairy goes directly to MSU. The dairy transported a dairy cow for the players to milk and a calf for them to play with, as well as bales of hay for a throwing competition.
"We milk every single day, so it's fun to see the players having a good time playing with the cows and trying to milk one," Gardner said. "Getting to talk with them and share some of what we do is a great experience for everyone."
Larry Jefcoat, former president of the Mississippi Beef Council and Mississippi Cattlemen's Association, said the event started three years ago as a way to teach the team what Mississippi producers are doing.
"These athletes have a lot of influence, so they can help us get the word out," Jefcoat said. "We talk to them about beef safety and the nutritional value of beef. These athletes do rigorous workouts every day, so we're happy to provide some good beef for them at this event."
Gabe Jackson, a senior offensive lineman from Amite County, said he looks forward to attending the event each year because it provides a unique opportunity to learn more about what it takes to produce one of his favorite foods: steak.
"It's really good food, and it's cool to be around the cows since we don't usually see stuff like that," he said. "It's an awesome experience to learn more about this industry and see how it works."
Released:
August 22, 2013