Information Possibly Outdated
The information presented on this page was originally released on May 16, 2013. It may not be outdated, but please search our site for more current information. If you plan to quote or reference this information in a publication, please check with the Extension specialist or author before proceeding.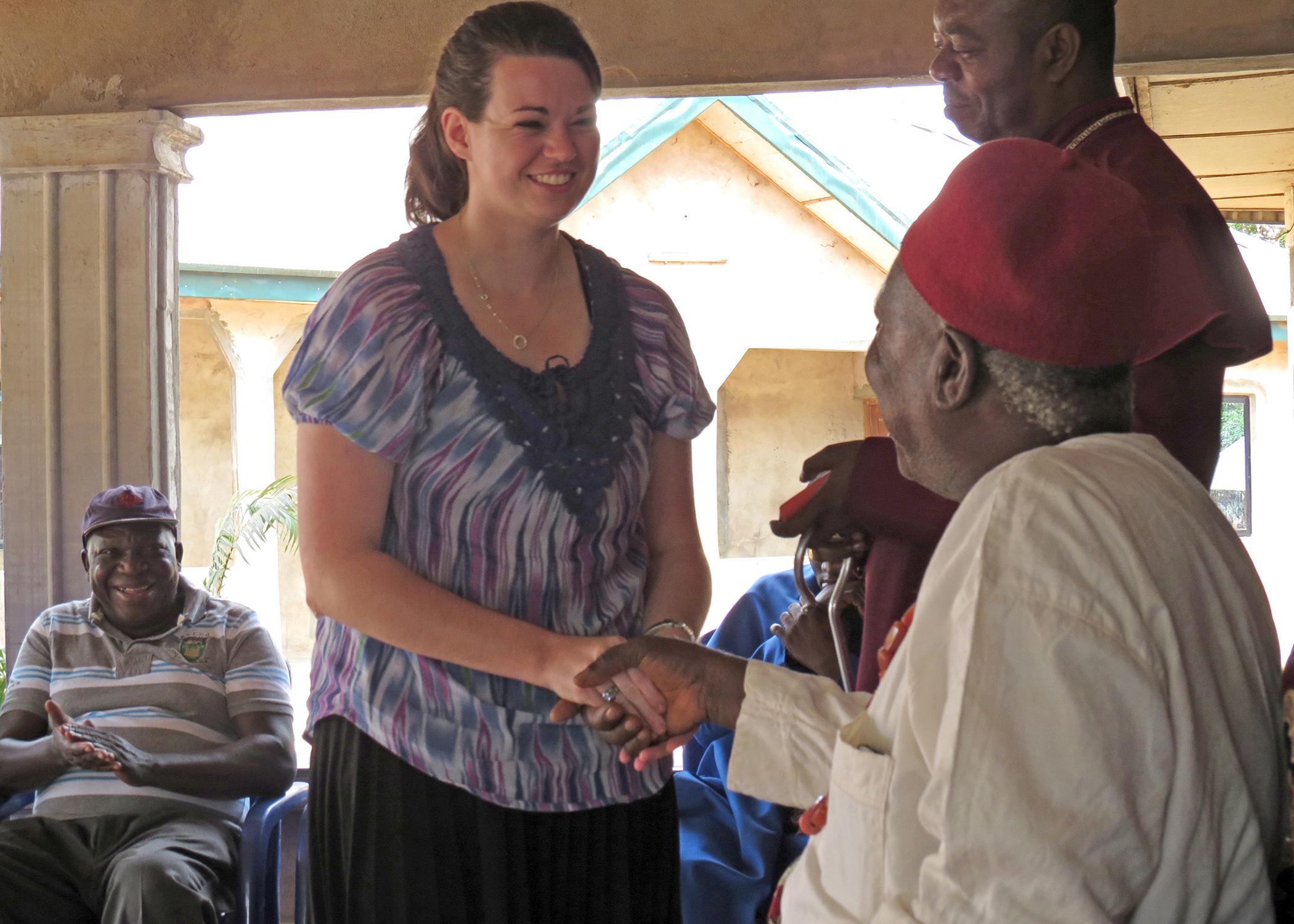 Agricultural degree takes MSU student to Nigeria
MISSISSIPPI STATE – A career interest developed in Mississippi State University's School of Human Sciences led one student to Nigeria, where she spent a week teaching agriculture.
Alyssa Barrett, a senior agricultural science major from Wiggins, spent spring break in the West African nation teaching Nigerians how to plant and use moringa trees. Her team used Extension Service techniques to share practical information designed to improve lives.
"It was very different for me to try to tell people from another country what they needed to do with what they had, especially when I had just learned some of the information the night before," Barrett said. "This was my first experience ever dealing with Extension-type work overseas."
Barrett travelled to Nigeria with a team from Christian World Missions of Starkville. The team's goal was to start churches in the country and to offer agricultural training.
"I had to learn something very quickly, and then use an interpreter to be able to explain information that will make their lives better," Barrett said. "It was a challenge, and I loved it."
Susan Seal, director of outreach for Christian World Missions, said the group worked with Mike Oye, a Nigerian with a doctorate in agriculture and a background in the Extension Service. Oye, a staff member of Christian World Missions, developed the curriculum the team used. Seal has a background in the Extension Service and earned her doctorate in agriculture and Extension education from MSU.
"We used indigenous plants and resources that the people would have in their villages," Seal said. "Dr. Oye took us on an ag tour where we collected samples of the plants that we could take to the villages where we taught.
"We focused on crop production and human health. Our goal was to teach the people how to increase their crop production with the resources they already had," she said.
Oye developed a list of natural farm inputs easily available in the tropics to poor and rural farmers. The team collected samples of each input and then taught farmers in the villages how to use these items alone or in combination to increase the productivity of their crops.
Among these local inputs were plants that fix nitrogen in the soil, supply phosphorus and trace minerals, or act as a natural pesticide.
"Alyssa participated in all the activities that we did," Seal said. "She had an opportunity to see in an international setting some of the similarities and differences in agriculture, and from a cultural standpoint, she learned the importance of meeting with the chief and getting his blessing before she could do any work in the village."
Barrett earned class credit for the work she did in Nigeria through a directed individual study she completed with Ned Browning, an Extension professor in MSU's School of Human Sciences. Browning teaches an international agricultural education class that has a strong emphasis on using Extension Service methods in developing countries.
"During the last half of Alyssa's undergraduate experience, she really developed a strong interest in international affairs," Browning said. "When we found that Dr. Oye has credentials in Extension education and rural society, this seemed like a great orientation for her to understand Extension in another culture in an international setting."
Browning said he urges all students to study or work abroad while completing their education.
"Any international experience makes people see that the world is varied. It's not everything you perceive it to be," Browning said. "For college students in their formative years, international experiences gives them a better perspective on the realities of the world."
Four days after Barrett returned from Nigeria, she put together a poster presentation of the work she did in Nigeria for the directed individual study. She submitted this poster to MSU's undergraduate research symposium and won first place in the community engagement portion of the competition.
Barrett graduated May 10 from MSU with a bachelor's degree in agricultural science. This summer, she will continue her international agricultural experiences as a Cochran Fellowship Intern in Washington, D.C. She will work with the Foreign Agricultural Service in the U.S. Department of Agriculture. Barrett will return to MSU in the fall to work on a master's degree in agricultural and Extension education.