Information Possibly Outdated
The information presented on this page was originally released on March 29, 2012. It may not be outdated, but please search our site for more current information. If you plan to quote or reference this information in a publication, please check with the Extension specialist or author before proceeding.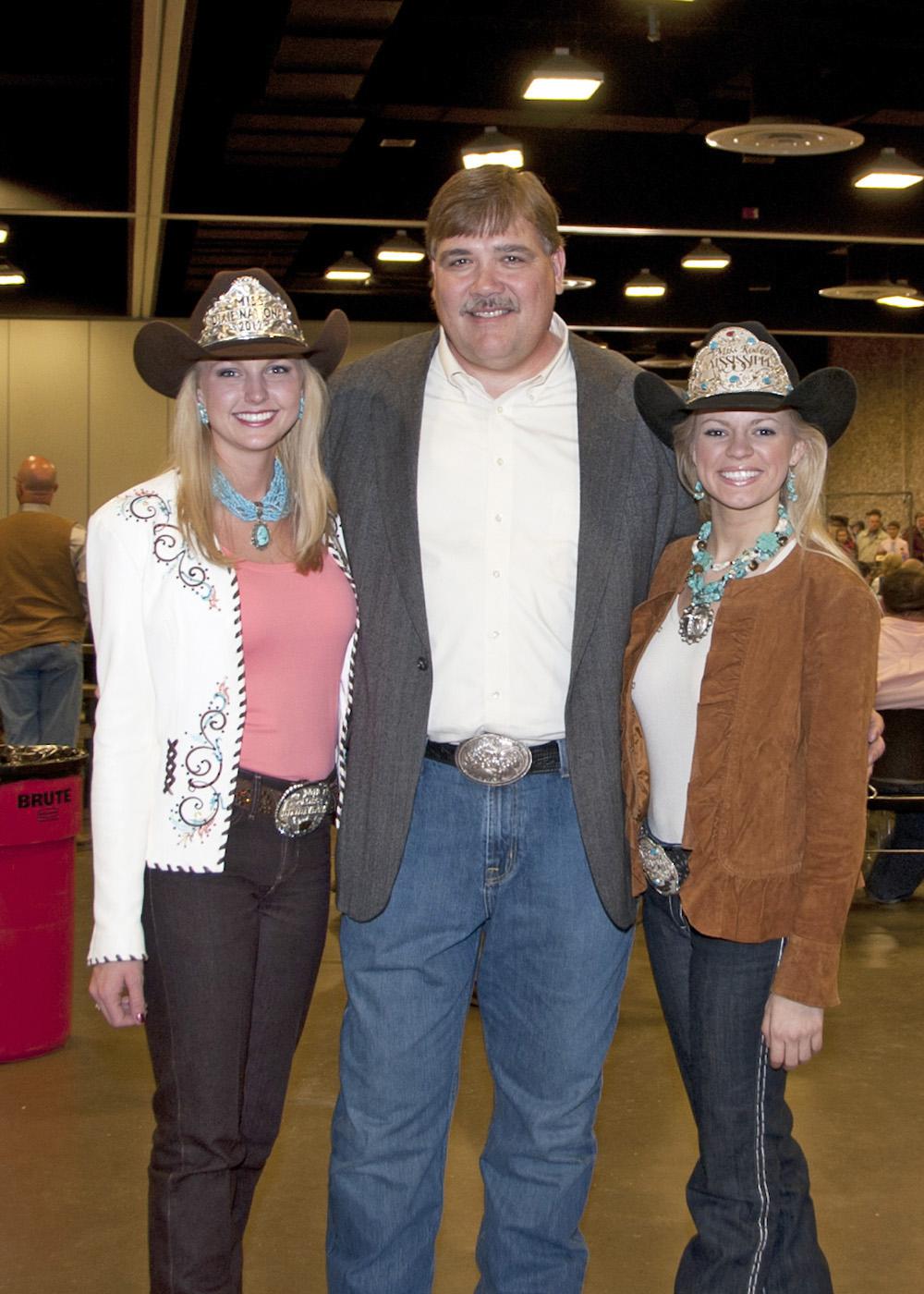 MSU students use crowns to promote agriculture
By Kaitlyn Byrne
MSU Ag Communication
MISSISSIPPI STATE -- Miss Dixie National and Miss Rodeo Mississippi are both current Mississippi State University students striving to raise awareness about the importance of livestock and agriculture.
Paige Nicholson, Miss Dixie National, is a junior agricultural information science major in the College of Agriculture and Life Science. Samantha Golden, Miss Rodeo Mississippi, is a sophomore pre-accounting major.
Nicholson said she hopes to use her education to lend a strong voice for agriculture.
"I chose to major in agricultural information science because I became aware of the need for agriculture advocates," she said. "I think we need a strong voice for agriculture. Becoming the commissioner of agriculture in Mississippi one day is a long-term goal of mine."
Nicholson, who is from Lawrence, said her active involvement in 4-H for 10 years encouraged her to contribute to the agriculture industry.
"My involvement in 4-H dramatically shaped who I am," Nicholson said. "It taught me to work for the things I want to accomplish. It nourished the interest and passion I have for animal agriculture, and it taught me valuable leadership skills."
During her time in 4-H, Nicholson participated in horse shows and judged in dairy cattle, dairy products and horse events.
"4-H contests taught me valuable career skills as well as confidence, how to be a winner and how to lose gracefully," she said. "I learned to think on my feet, especially on topics of agriculture and animal science. 4-H created my will to be an advocate for agriculture and animal science through educating me on these topics and making me the kind of person who stands up for what I believe in."
As Miss Dixie National, Nicholson promotes the Dixie National Livestock Show and Rodeo in television and radio advertisements and appearances in the Jackson area.
"As Miss Dixie National, I want to educate others about my heritage and the atmosphere that made me who I am," she said. "Farmers and agricultural enthusiasts feed, clothe and shelter the world. The kinds of life we are accustomed to would not be possible without people who love and live agriculture. I don't expect everyone to love agriculture like I do, but I would like to give others the opportunity to learn about the impact it has on all our lives."
Samantha Golden, Miss Rodeo Mississippi, said she grew up around horses, and because her family runs a boarding stable in Lauderdale. Golden got involved with rodeos at age 12.
"Because my family runs the stable, I was involved with training horses and things like that," she said. "I've always loved being around the animals, and when I started doing rodeos I fell in love with barrel racing and goat tying."
She was a member of Future Farmers of America throughout high school, which helped prepare her to speak about how important the livestock industry is.
"FFA helped shape my educational goals," she said. "I learned fundamental building blocks that gave me a firm foundation in livestock and allow me to speak for livestock now."
As part of her Miss Rodeo Mississippi duties, Golden will travel throughout the state as a representative for the Professional Rodeo Cowboy Association and the Livestock Association.
"I'll be speaking on behalf of these organizations at various events, and so I will be representing not only the organizations, but also Mississippi State University because it has equipped me with the skills I need to make a positive impact," she said.
Gary Jackson, director of MSU's Extension Service, said these young women play an important role in representing agriculture to a larger audience.
"Miss Dixie National, Miss Junior Dixie National and Miss Rodeo Mississippi have always worked to promote agriculture and the livestock industry in our state and region," he said. "I have always enjoyed being associated with their work as they partner with the MSU Extension Service to serve the public. Paige and Samantha are two exceptional young people who possess outstanding leadership qualities needed in agriculture today and in the future."