Information Possibly Outdated
The information presented on this page was originally released on June 11, 2009. It may not be outdated, but please search our site for more current information. If you plan to quote or reference this information in a publication, please check with the Extension specialist or author before proceeding.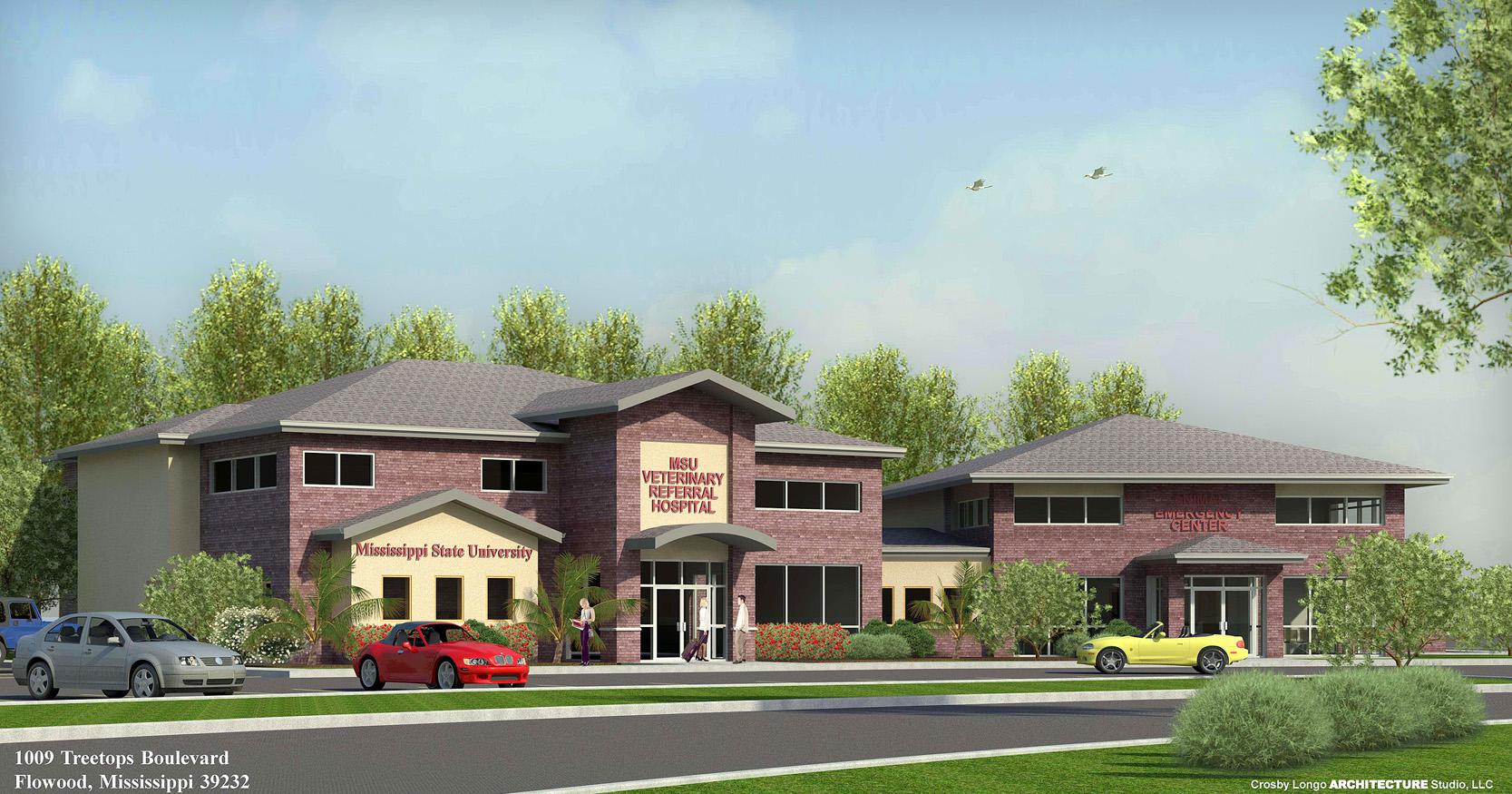 Referral partnership offers service,expands educational opportunities
By Patti Drapala
MSU Ag Communications
MISSISSIPPI STATE -- Time and location are crucial factors in managing medical emergencies, but there always have been fewer critical care facilities available within a short distance when the victim is the family pet.
In 1985, several private practitioners in Metro Jackson opened the Animal Emergency Clinic on Monroe Street in the city's downtown district. As more people moved into the Jackson-Vicksburg-Hattiesburg area, each veterinarian experienced an increase in emergency caseloads.
"We started with about eight members who felt a strong need for an emergency care clinic that would operate after-hours, on weekends and on holidays when regular veterinary practices were closed," said Dr. Jim Anderson, one of the clinic's founders. "We found a suitable property and building to rent, and we moved forward from that point in time."
The veterinarians were correct in their assessment. The emergency clinic has grown by leaps and bounds through the years as pet owners became aware of its existence. Interest within the community of veterinary medical professionals also has increased. More than 32 veterinarians in the metro area allocate time to practice emergency medicine there.
The facility has aged and is cramped for space because of the high volume of patients and clientele who seek help.
"We simply outgrew where we are," Anderson said. "We needed to modernize the facility to be able to handle more emergencies, but we wanted to consider the process toward that goal one step at a time."
One suggestion the group entertained was to relocate and build a bigger facility. Nine of the veterinarians decided to go in together as owners and have formed a corporation with a board of directors. They searched the area for an ideal location and purchased a site at 1009 Treetop Boulevard in Flowood.
"We hope to open the facility in the fall of 2009," Anderson said. "We will have a 5,200-square-foot building that will allow us to offer clients the best after-hours emergency health care for pets that they can find in this area."
But the group was not finished with expansion plans. Many of the practitioners were familiar with the clinical services and facilities at Mississippi State University's College of Veterinary Medicine. They often consulted with faculty on the more difficult cases and referred patients to campus for specialized care.
Located in the northeastern area of the state, the college is at least a three-hour drive from various points in the Metro Jackson area. The ride can be physically rough on critically ill or injured patients and mentally exhausting for their owners.
The group devised a way to shorten the distance. The veterinarians approached CVM Dean Kent Hoblet with a proposal for the college to become a cooperative partner by operating a referral specialty practice in conjunction with the new facility.
The plan that resulted is that, initially, the specialty referral practice will use the emergency clinic while it is unoccupied during the day. The college has purchased land that adjoins the emergency clinic, and eventual plans are to build a facility that will house the specialty practice and provide living space for veterinary students who will participate in both practices.
The referral clinic will continue day-to-day intensive management of the emergency clinic's critical cases and serve referring veterinarians in South Mississippi who want to minimize travel distance for clients.
"A sizable portion of our referral base comes from Jackson and the surrounding area because of the number of pets there," said Dr. Ron McLaughlin, head of the CVM Department of Clinical Sciences. "We have established a cooperative relationship with the practitioners in South Mississippi, and we want to provide service and support that will help them improve emergency care for patients and clients."
There is an additional benefit for CVM. By participating in the venture, the college can expand its rotation electives for veterinary medical students. The partnership will allow students to practice referral management and emergency care for the high volume of patients at the facility. They also will gain experience by interacting with staff at the Mississippi Veterinary Research and Diagnostic Laboratory in Pearl, located only eight miles away from the Flowood facility.
"We are an academic institution with a teaching hospital," Hoblet said. "We want to show the world that CVM prepares its students to function within a multitude of environments. This invitation from the veterinarians to enter into partnership was an opportunity we were eager to pursue."
Animal Health Center director Lee Tyner, who has assumed duties as CVM special projects coordinator, will oversee the college's involvement in the partnership.
"In the beginning, our success will depend upon our ability to attract qualified specialists," Tyner said. "Through this effort, we feel we can enhance our land-grant mission to serve the state, serve our veterinarians who need the support we can provide, and serve our clients and the companion animal population."
Tyner will hold a seat on the corporation's board of directors and guide the development of future expansion. The various skills he honed during his veterinary career as an anesthesiologist, corporate and private practice manager, clinical instructor and administrator will be advantageous for CVM and the emergency care facility.
"Dr. Tyner will provide the leadership we need to be successful," Hoblet said. "He has the skills and experience required to integrate with the group in Jackson and serve as a role model for our students in instilling the high ideals of veterinary medicine."
The college hopes to secure funding for this new venture through private donations.
"Our very presence in this partnership should assure the public that we will work with veterinarians to provide the highest level of quality emergency care for companion animals," Hoblet said. "The public support in Mississippi that CVM has received is phenomenal, and we want to continue to show that we appreciate their trust."