Information Possibly Outdated
The information presented on this page was originally released on April 13, 2006. It may not be outdated, but please search our site for more current information. If you plan to quote or reference this information in a publication, please check with the Extension specialist or author before proceeding.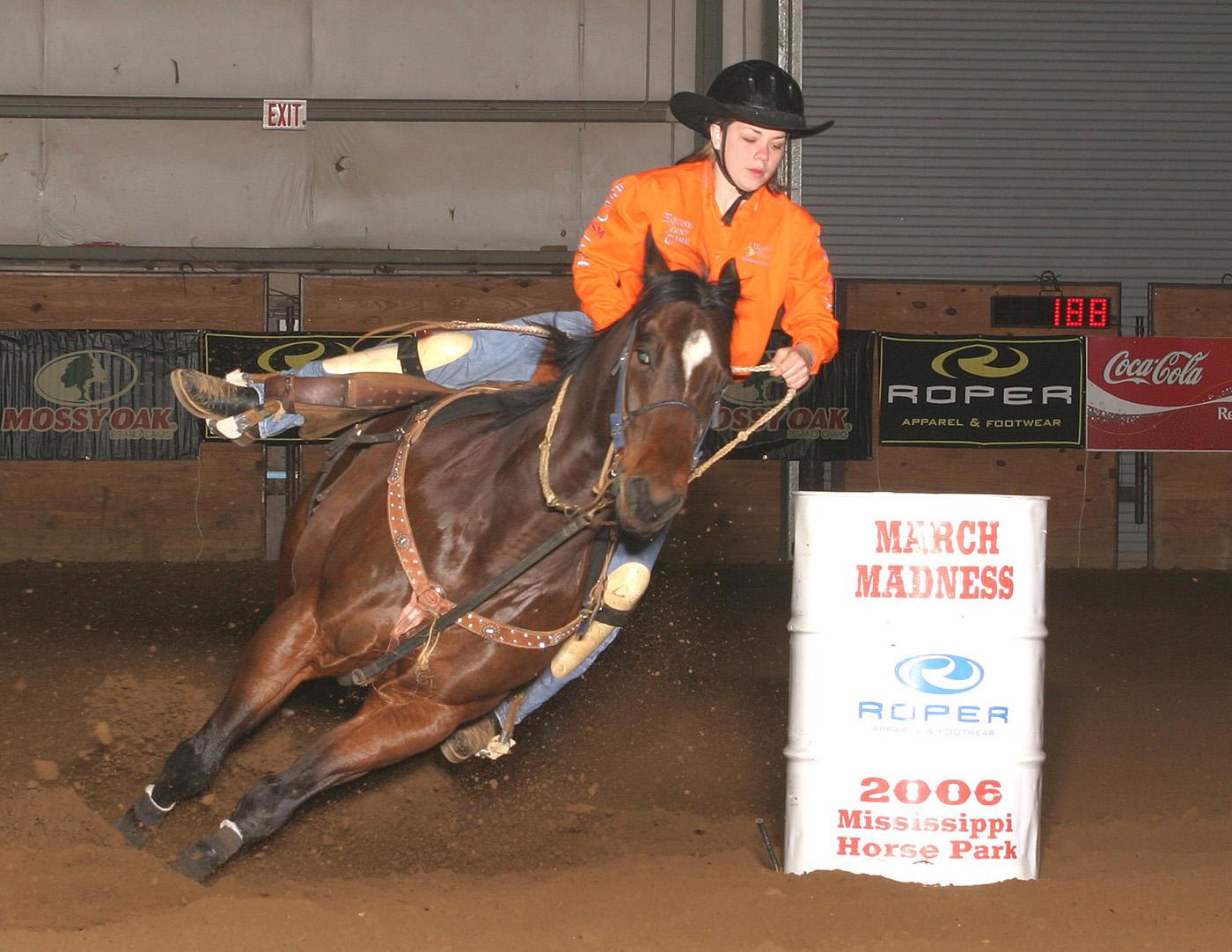 Mississippi built them, now people are coming
MISSISSIPPI STATE -- Agricenters and horse facilities are attracting barrel racers and spectators to Mississippi by the thousands each year, and the numbers are growing.
When Bricklee Miller, manager of the Mississippi Horse Park, says "the numbers are growing," she is talking about several important figures.
"The number of events, the number of participants and spectators, the prize money, the economic impact -- all of these numbers are growing," Miller said.
Many communities around the state have invested in facilities similar to the Mississippi Horse Park on Mississippi State University's South Farm. Miller said she believes these investments are bringing huge benefits to their communities and to the state.
"These barrel-racing events last for three days or longer. They attract people from all over the nation who travel through much of the state and stay in our hotels, eat in our restaurants, buy our gasoline and shop in our stores," she said. "Mississippi's biggest events take place in Jackson, Hattiesburg, Starkville and Tunica."
Recent listings in Barrel Horse News revealed that Mississippi had 10 divisional barrel racing events ranked in the top 75 events nationwide. Divisional races include classes for all ages, for youth and for seniors. The only states with more events than Mississippi in the top 75 were Texas with 12 and Oklahoma with 11.
Among the barrel racing futurities, which are for horses that are 5 years old and younger, Mississippi had three events in the top 62. The neighboring states of Tennessee had two, Arkansas and Louisiana each had one, and Alabama did not have any ranked futurities.
"Barrel racing is a growing sport in Mississippi. We have the fourth largest number of National Barrel Horse Association members in the nation," Miller said.
"People come from all over to these events because of the amount of money that can be won, the quality of the facilities and the reliability of the promoters," she said. "Each time a site has a successful barrel-racing event, their future events are likely to grow bigger."
Miller cited a report in Barrel Horse News that listed an event in Hattiesburg as the sixth largest prize payout and a Starkville event as the 10th largest payout in the nation in 2005. Mississippi's total prize money in divisional and futurity events in 2005 was almost $849,000.
Donnie and Diane Reece of Carbon Hill, Ala., are frequent competitors at Mississippi barrel racing events. They often drive almost two hours to compete or practice at the indoor arena in Starkville. When reached recently on Donnie's cell phone, the Reeces were driving to a futurity in Ohio.
"The Mississippi events are very popular around the country, especially during the winter months," Donnie said. "We often compete in Mississippi at shows in Starkville, Hattiesburg and Holly Springs. They all have friendly people and very good staffs. It's very important that the ground be in good shape."
A professional barrel horse trainer and competitor, Donnie and his wife are hoping to sell their property in Alabama and move closer to Starkville.
"The shows in Alabama are good, but they have much smaller arenas and less money available. They typically draw a lot of local people," Donnie said.
Mary Jane Carpenter of West Point promotes three of the major barrel racing events at the Mississippi Horse Park: the March Madness NBHA Super Show, Mississippi June Jam NBHA Super Show and the Speedfest Super Show. As the promoter, she is responsible for lining up sponsors and professional crews to ensure the events run smoothly.
"We may have 1,200 runs around the barrels during a weekend and the grounds have to be as consistent from the first racer to the last; money and safety are at stake," Carpenter said.
Each weekend requires about a dozen staff members, including professional tractor drivers, timers, announcers, secretaries, stall crews, gate keepers, medical personnel and someone to oversee the recreational vehicle area.
"I'm a barrel racer myself, and I was traveling hours away to compete. The Mississippi Horse Park is practically in my backyard. It's a beautiful facility, so I wanted to utilize it," Carpenter said. "These events are reunions of friends and families. People of all ages -- men, women and children -- travel to different sites to compete weekend after weekend."
Miller said she has found success for the Mississippi Horse Park by building strong relationships with promoters and encouraging them to grow their events.
"A good promoter is well organized, finds ways to have large prizes with reasonable entry fees and provides consistently good events," Miller said. "When promoters put a lot of money into the contests, it draws more people and from greater distances."
Miller said the recent March Madness event increased 30 percent from the year before, from 970 entries in 2005 to 1,259 this year. Contestants came from as far away as Wisconsin and New York.
"Mississippi's facilities are bringing national recognition to the state and that means tourism dollars for all of us," Miller said.