Information Possibly Outdated
The information presented on this page was originally released on March 30, 2006. It may not be outdated, but please search our site for more current information. If you plan to quote or reference this information in a publication, please check with the Extension specialist or author before proceeding.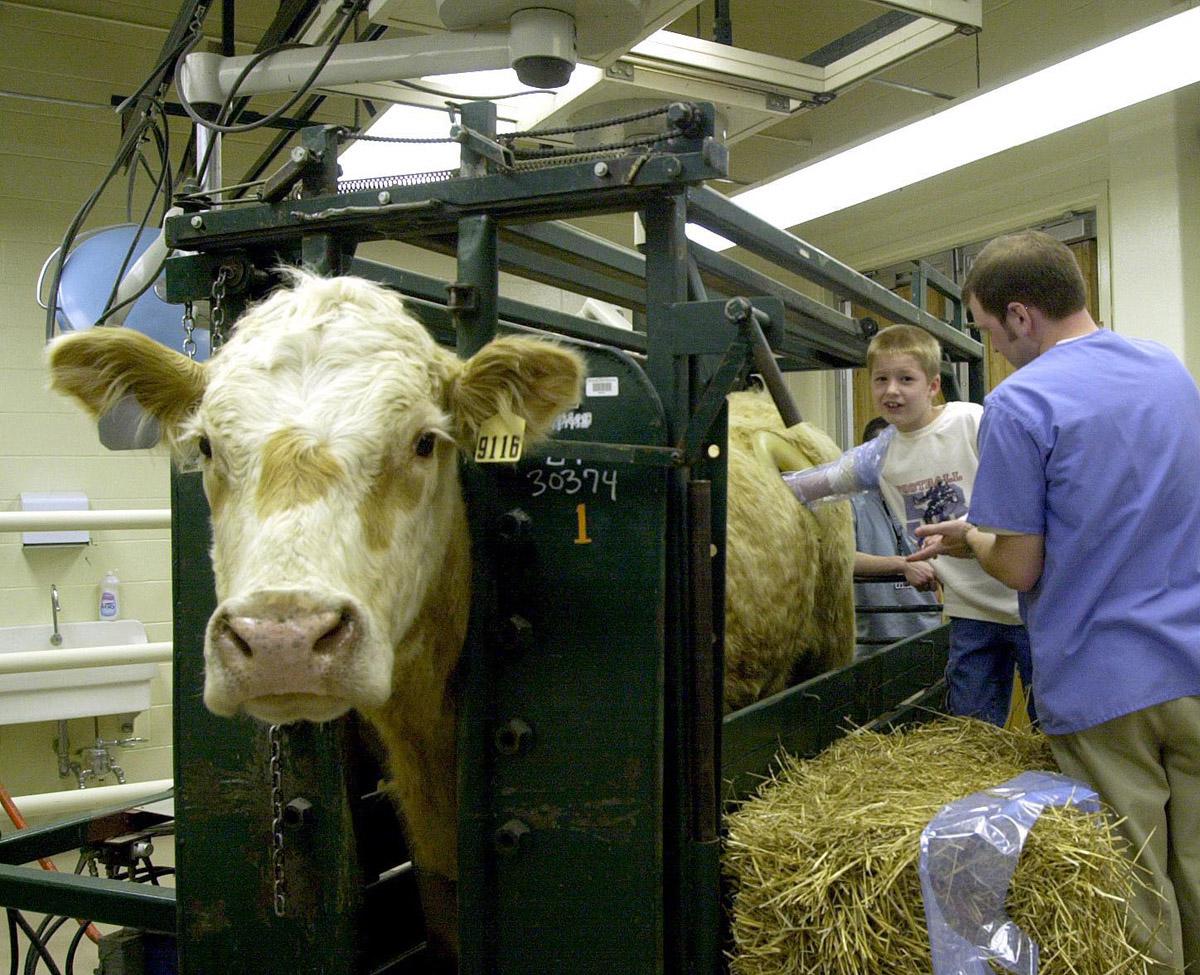 'Holey Cows' educate students, aid research
By Emily Cole
MISSISSIPPI STATE -- Ten-year-old steers are very uncommon since most go to market by the age of 2, but Peaches is living out his life at Mississippi State University with something that makes him even more rare. He has a six-inch hole in his side.
The gentle steer is one of 11 fistulated steers, sometimes called "holey cows," at MSU that are used for research and educational purposes. Peaches will be on display at the MSU College of Veterinary Medicine's annual open house on April 7 and 8. The steer will be ready for brave visitors who put on long plastic gloves and put their hands through the hole in his side.
Brian Rude, an associate professor in the Department of Animal and Dairy Sciences, said the steers are primarily used for research.
"I can use those research animals and the research facilities to piggyback with teaching, both for college students and for public education and school children," Rude said. "We try to use it as a tool to educate the public about what we do here."
Having a steer available for children to see and touch also helps to educate them about agriculture, Rude said.
"School children today are so far removed from where food comes from, how we get it and what we do that it is a nice way of being able to get to them, catching their attention," he said.
Cows with holes in their sides do grab the public's attention.
"It catches people a little off guard, and that usually translates into something they are going to remember," Rude said. "There are several benefits for these kinds of exposures, especially for younger children. It will pique some of their interests so that they choose a career in agriculture, whether it is growing crops or producing animals or maintaining their health through veterinary medicine."
Whether for research or education, these holey cows are a valuable tool for the scientists who use them. When not on display at the open house, Peaches and the 10 other fistulated steers are used in dietary research. The fistula, or hole in the steer's side, is fitted with a rubber stopper, or canula. The opening allows researchers easy access to the cow's rumen, a large portion of the stomach that acts as a fermentation vat, Rude said.
Fluid taken from the rumen can be used in the lab to test digestion rates of different diets. Scientists can also leave different types of feed -- stored in nylon bags in the rumen -- and evaluate the amount of time needed for digestion, Rude said.
Many school children will experience seeing and touching farm animals like Peaches for the first time when they come to the open house.
Having the fistulated steer exhibit at open house is a joint effort between the College of Veterinary Medicine and the Department of Animal and Dairy Sciences.
Dr. Stanley Robertson, an associate professor in the College of Veterinary Medicine, said he expects more than the usual 4,000 to 6,000 visitors during open house this year because it will take place during Super Bulldog Weekend.
"For more than 20 years, the purpose of the open house has been to showcase our College of Veterinary Medicine, as well as the veterinary profession, so the public can see what our college and veterinary medicine have to offer," Robertson said. "This year, there are even more demonstrations planned than last year."
Robertson said the open house is primarily a student-driven event, organized and run by first- and second-year veterinary students. As coordinator of the Office of Special Programs, Robertson is the faculty member who assists those students in facilitating the event.
"Again this year, we will have the animal show, which is always a big hit," said
Robertson. "Also, there will be the petting zoo, horse and dog demonstrations, and large
animal exhibits, such as the fistulated cow. The kids all want to put their hands in there. A lot of them think it's gross, but most want to do it."
Peaches and a menagerie of other animals can be seen from 8:30 a.m. to 3 p.m. at the College of Veterinary Medicine's open house April 7 and 8. There is no admission charge for this event.