Information Possibly Outdated
The information presented on this page was originally released on October 13, 2017. It may not be outdated, but please search our site for more current information. If you plan to quote or reference this information in a publication, please check with the Extension specialist or author before proceeding.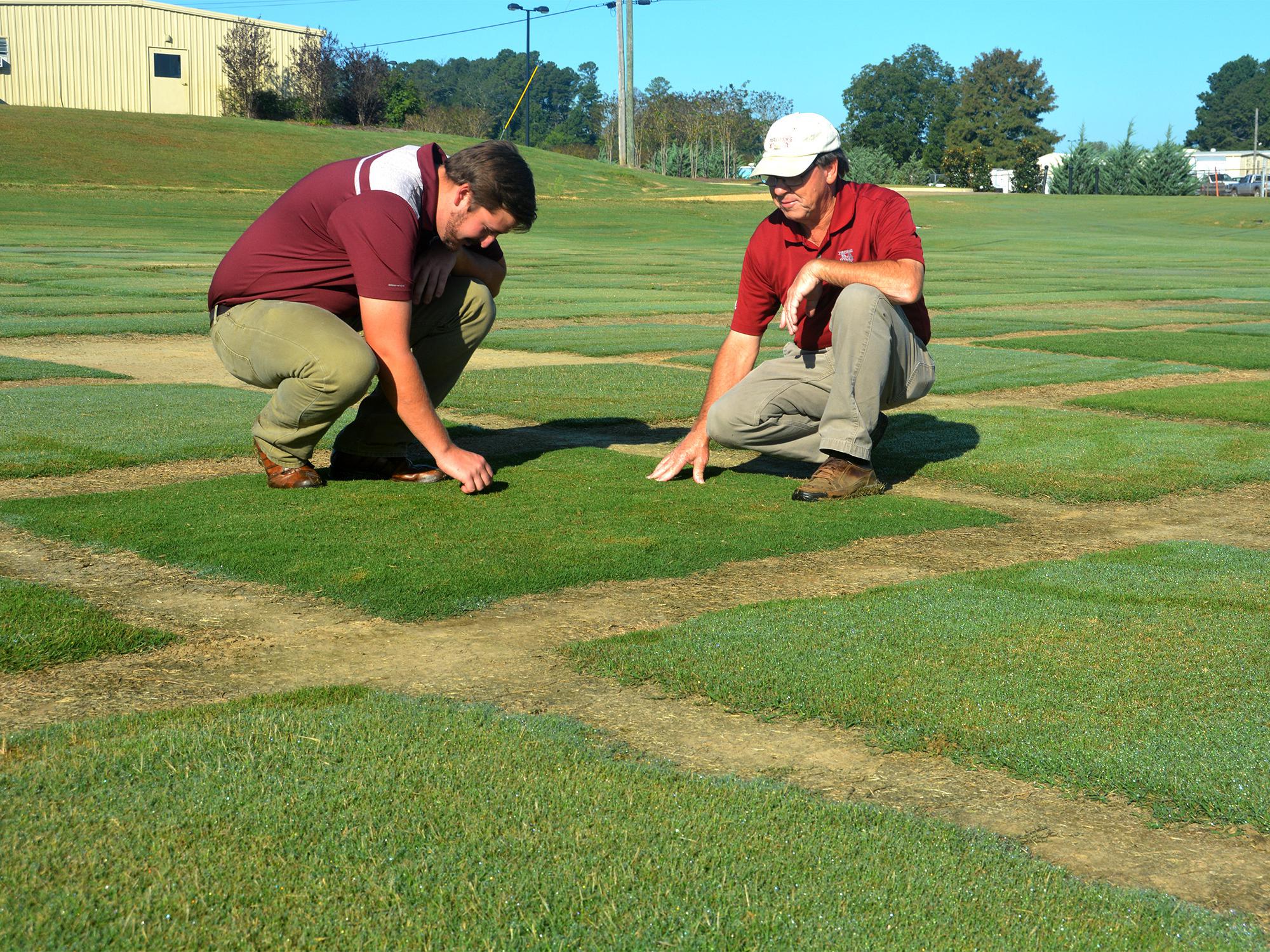 Weather promotes growth of turf, weeds, diseases
STARKVILLE, Miss. -- Mississippi's sod producers experienced good news and bad news from 2017 weather conditions.
Jay McCurdy, turfgrass specialist with the Mississippi State University Extension Service, said the good news was a modestly warm spring with timely rainfall provided good growing conditions for most of the state's sod farms. The bad news was the same weather promoted the growth of weeds and fungal diseases.
"By comparing levels of sod production with previous years, we know this has been a good year for growers," McCurdy said. "The frequent rains led to disease and weed problems that were relatively easy to control or overcome."
Clarissa Balbalian, manager of the MSU plant pathology diagnostic lab, said large patch, dollar spot and take-all root rot have all been challenges in lawns across the state this year.
"Large patch was a problem throughout the spring and into July, but it is not active during the hottest weeks of the summer. It also occurs in the fall and may increase if people apply too much nitrogen," she said. "Dollar spot is another fungal disease, but it tends to occur when grass is stressed from a lack of nutrients."
Balbalian said effective fungicides are available, but applicators need to follow label directions carefully. Another option is to wait for weather conditions to change and most grasses will recover.
McCurdy said when warm and rainy weather occurs in the early fall, other diseases and armyworms start to show up. There is not much that can be done to prevent armyworms.
"These problems are fairly easy to fix, but each can run away from us," he said.
McCurdy said dove weed is continuing its march north and becoming more problematic in turf fields. The loss of a key herbicide several years ago has led to increased weed challenges from grasses like broomsedge. Growers are also having problems with torpedo grass, which spreads profusely.
"The profit margins are so slim with most sod farms that management decisions are carefully weighed," McCurdy said.
McCurdy said sod prices have not changed much in recent years. Bermuda, zoysia, centipede and St. Augustine grasses range from just under $2 per square yard to as much as $4, depending on varieties and supplies.
For more information on issues related to lawns and sod production, go online to http://extension.msstate.edu/publications/.
Released:
October 13, 2017