Information Possibly Outdated
The information presented on this page was originally released on October 10, 2014. It may not be outdated, but please search our site for more current information. If you plan to quote or reference this information in a publication, please check with the Extension specialist or author before proceeding.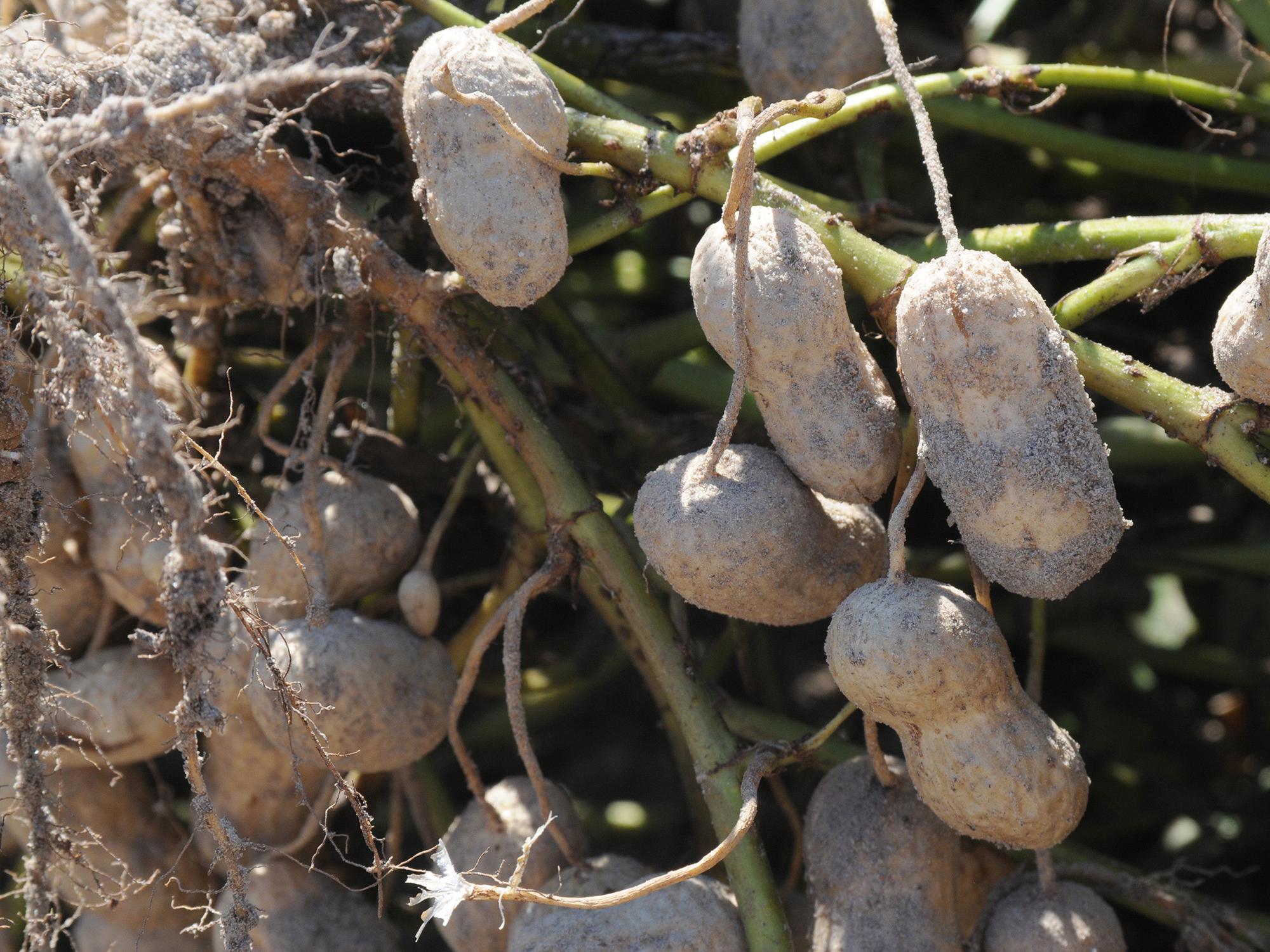 Early Mississippi peanut crop looks above average
MISSISSIPPI STATE -- Mississippi producers are quite happy with the peanut crop they are harvesting in early October, and recent dry weather has provided excellent drying conditions.
"Overall in the state, we're seeing above average yields, and the lowest grade I've heard is 68-69, which is the highest grade some growers have gotten in the past," said Jason Sarver, peanut specialist with the Mississippi State University Extension Service. "Some peanuts have been graded as 80, which is a fantastic grade."
Grade is the percentage of usable kernels in a load of peanuts. The rest is peanut hulls or foreign materials.
Sarver said growing conditions were ideal for peanuts through two-thirds of the growing season. Rains and low air and soil temperatures early in the season made it difficult for the plants to start growing. Once the plants were established, timely rains fell and moderate conditions allowed them to set flowers and pods.
"Peanuts are a tropical crop, so it likes the heat, but when it's setting flowers, it does a better job maintaining them when it's a bit cooler," he said.
Peanut plants produce one crop off the taproot. As the plant matures, limbs stretch across the ground and root to produce a second crop, which is known as a taproot crop and a limb crop.
"We had a big early crop, and with good conditions and good moisture, we started to set a good limb crop," Sarver said. "That's when it started to turn off hot and dry, and the plants aborted those later flowers and pods and put their energy into the early crop."
That early crop was so good that yields are still above average despite the absence of a good limb crop.
"I would be surprised if we average less than 4,000 pounds per acre," Sarver said.
The state's average yield was 3,640 pounds an acre from 2009 to 2013.
The U.S. Department of Agriculture estimated Mississippi peanuts were 36 percent harvested as of Oct. 5. They rated the crop as 59 percent in good condition and 16 percent in excellent shape.
At harvest, peanuts are dug out of the soil and left to dry on the surface for five or six days. Recent dry weather has been ideal for drying, and only a few areas have had trouble digging the crop out of soil that was too dry.
Charlie Stokes, Extension area agronomist in northeast Mississippi, said harvest in his area began the third week of September, about two to three weeks earlier than usual.
"It got dry when harvest started, but some growers caught isolated rains the past week, which helps soften the soil," Stokes said. "When it gets so dry, it wears out the digger blades quickly."
Insect pressure was mostly light in the peanut crop this year. Disease pressure appeared late in the season, but it was fairly heavy.
John Michael Riley, Extension agricultural economist, said peanut prices have dropped slowly through the year and are ranging from $380 to $440 a ton.
"Peanut prices skyrocketed in the winter of 2011-2012 due to limited supplies," Riley said. "That price level encouraged a lot of acres to be planted in peanuts in 2012. Growers experienced record yields that year, which pushed supplies to record levels. Prices have been under pressure since that time."
State peanut acreage dipped slightly in 2014 to 30,000 acres, but Sarver said he expects that number to increase significantly next year.
"Prices for other row crops are down, and when you start putting the pencil to the paper, peanuts look really good," he said. "Georgia's crop is down this year, and that may help with prices next year."
Released:
October 10, 2014