Information Possibly Outdated
The information presented on this page was originally released on September 26, 2014. It may not be outdated, but please search our site for more current information. If you plan to quote or reference this information in a publication, please check with the Extension specialist or author before proceeding.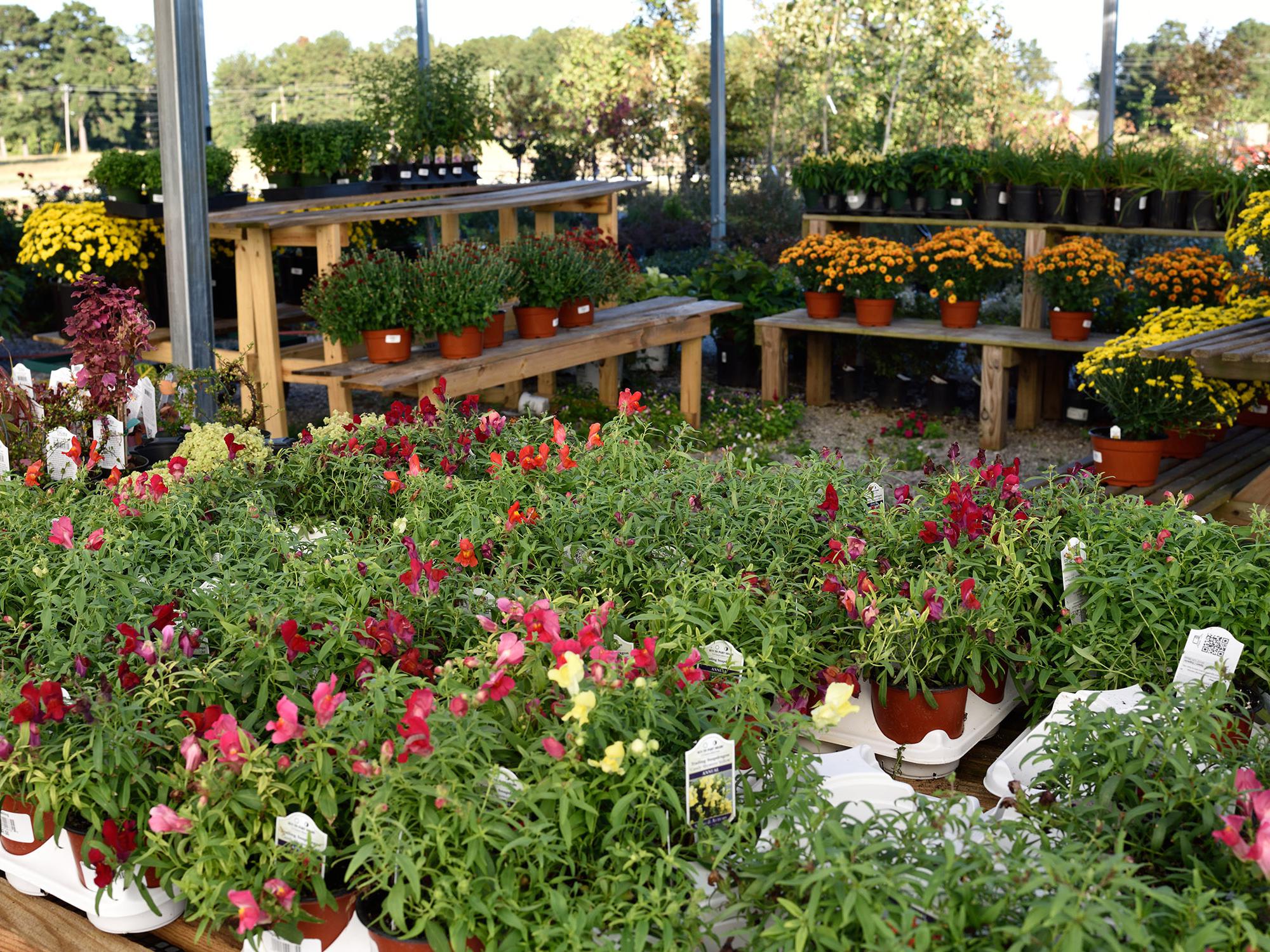 Business increases for horticulture industry
RAYMOND -- Mississippi's horticulture industry is seeing an increase in business for the first time since Hurricane Katrina swept away a large chunk of the state's infrastructure, inventory and markets.
"The nursery, greenhouse and landscape segments are looking up right now," said Geoff Denny, horticulture specialist with the Mississippi State University Extension Service. "People are buying more of these horticulture products. We're seeing an increased demand for trees, and we've actually got a deficit of trees right now."
That is good news for an industry that took an even greater hit three years after the 2005 hurricane. When the housing market collapsed, the economic recession that followed caused consumers to tighten their discretionary spending.
The green industry is closely tied to the housing market, but it is actually more sensitive than the fluctuations of construction, Denny said.
"Landscaping is the first item that gets cut if your budget is tight when you're building a house," he said. "Sometimes people cut it out altogether, or they don't plant as much, thinking they can come back later and complete it. Either way, a slight downturn in the housing market can have a much larger impact on the green industry."
Haley Barrett, executive secretary and treasurer of the Mississippi Nursery and Landscape Association, said consumers seem more comfortable opening their wallets again.
"This spring was good for a lot of our association members," Barrett said. "People were eager to spruce up their landscapes and other outdoor areas after such a harsh winter. Our members were very pleased with both the Jackson and Biloxi Garden & Patio Shows this year."
Membership continues to climb and is up over previous years, which is a great way to kick off the 50th anniversary of the association, she said.
Headquartered in Jackson, The Mississippi Nursery and Landscape Association works in conjunction with MSU to train and educate green industry retailers and the public. The association also helps businesses expand their customer base and keep them informed of legislative activity that could affect the industry.
The trade that produces trees, shrubs, bedding plants, cut flowers, florist greenery and seasonal crops – such as Easter lilies and poinsettias – also includes landscape architects, contractors and maintenance companies. Horticulture was a rapidly growing segment of Mississippi's agriculture industry in the early 2000s.
The nursery and greenhouse sectors alone had a total economic impact of about $748 million in 2002, according to MSU statistics.
In 2012, the production output value for just nursery and ornamental crops was estimated at $49.1 million, according to data gathered by MSU agricultural economists. This figure does not include the amount people spent on available products.
The industry likely will experience some new pest and disease pressure in the next three years. Crape myrtle bark scale and boxwood blight have been observed in Tennessee, Louisiana and Arkansas. Crape myrtles and boxwood are two popular, easy-to-grow landscape plants in Mississippi.
"Neither of these has been observed in the state to date, but they are headed this way," he said. "The plants won't die from crape myrtle bark scale or boxwood blight, but it makes them so unattractive most people want to remove the plants from the landscape."
Rose rosette, however, has been observed in Mississippi. It is deadly to shrub roses, a rosebush bred to grow like a shrub.
"The arrival of this disease has producers on edge," Denny said. "These plants were developed in the last 10 years and have become very popular. No cultivar of this plant is resistant to this disease, so it could devastate this product."
A limited market is the industry's biggest challenge in Mississippi, Denny said.
"Our statewide population is small, and our largest city, Jackson, really isn't that big," he said. "So we are limited by the number of people who buy our products. The other issue is that we have several nearby larger markets, such as New Orleans, Memphis and Mobile, that Mississippians can purchase from."
Producers must also begin to modify their products to appeal to a younger generation of gardeners. As baby boomers begin to stop gardening, their children are not replacing them, Denny said.
"Generation X members are more likely to spend their money inside the house, remodeling a bathroom or kitchen," he said. "Millennials are interested in gardening, but for different reasons. And they want different products."
Cultural shifts also are affecting the floriculture segment of horticulture, said Jim DelPrince, a floral design professor in the MSU Department of Plant and Soil Sciences.
"Floral consumption overall is increasing, but value-added channels are shifting due in large part to the economy and societal changes," he said. "Fresh, cut flower arrangements are purchased less and less for funerals, birthdays and other events. Florists report their fastest growing clientele are wedding and event design companies."
Released:
September 26, 2014