Information Possibly Outdated
The information presented on this page was originally released on April 12, 2013. It may not be outdated, but please search our site for more current information. If you plan to quote or reference this information in a publication, please check with the Extension specialist or author before proceeding.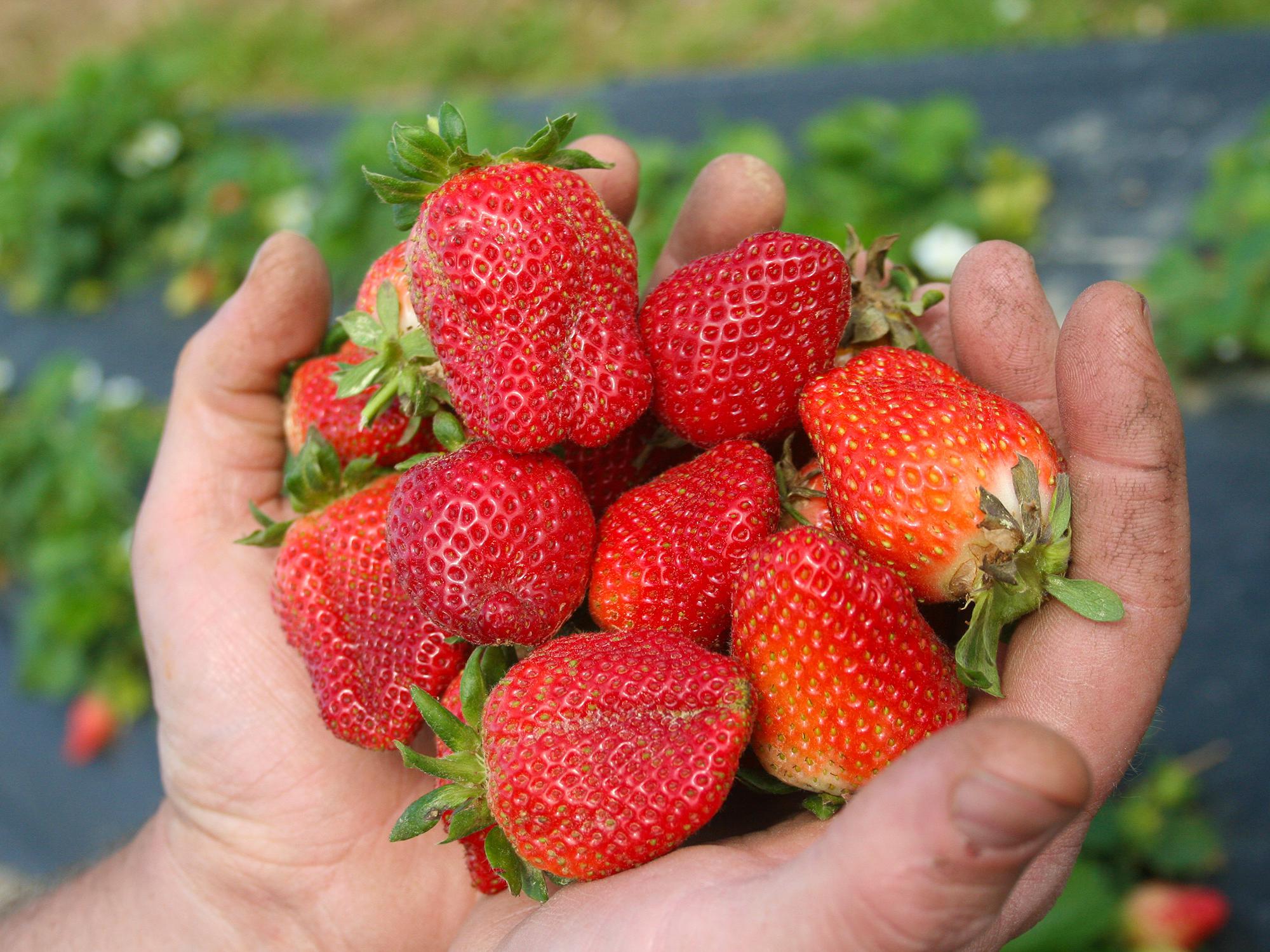 Cold spring makes a late strawberry crop
MISSISSIPPI STATE – Mississippi's strawberry producers may be few in number, but they deliver one of the state's sweetest and most popular crops.
Growing strawberries in the South is especially challenging because of its variable weather, like that seen this spring.
Wayne Porter, Mississippi State University Extension horticulture specialist in Lauderdale County, said the strawberries struggled because of excessive rain.
"The crop started in late January and sputtered through February and March," Porter said. "Berries were covered during cold spells in March and didn't suffer too much. They are going good now with all this sunshine."
Eric Stafne, fruit crops specialist with the MSU Extension Service, said the crop's potential is unknown, and he expects an average yield.
"Yield depends on a lot of factors, such as fruit variety, weather and management," Stafne said. "It's tough to say what the quality of this year's crop will be overall. The recent rain and cool weather could kick the fungus Botrytis into high gear. "
Planting is typically done in the fall, with harvest lasting from March to June, depending on weather. In 2012, most strawberry growers began harvesting two weeks ahead of schedule, in early March. This year, some berries are finally ripening in early April.
"This year the weather has been cool, so the season is off to a slow start," Stafne said.
The cost of inputs and the labor-intensive nature of the crop keep the number of growers in the state fairly low.
"The industry is small, with probably fewer than 100 acres," Stafne said. "It's hard to get an accurate count, but there are probably a dozen growers of size, and that number remains stable from year to year. Labor is always an issue when it comes to fruit crops, and strawberries are especially labor intensive."
Two MSU graduates recently joined the ranks of strawberry growers. Jody and Brittany Reyer, co-owners of Reyer Farms in Lena, added one acre of strawberries to their truck crop operation to capitalize on the fruit's popularity.
"We planted about 17,500 plants in the first couple weeks of October," Jody Reyer said. "The goal is to get the plant to a certain size with an established root system before it goes dormant for the winter."
While strawberry plants themselves can tolerate cold weather, frost can harm the crop after plants bloom.
"We had several frosts after we started having blooms," Reyer said. "Any frost that lasts more than a few hours is going to do damage, and we had mixed results using overhead sprinklers to combat the freezing temperatures."
Reyer credits his wife Brittany, who has a bachelor's in integrated pest management and is pursuing a master's in horticulture, with keeping pest pressure and disease at bay.
"Worms seem to be early and overly active this year, but Brittany has kept our threshold levels down," he said. "Worms, slugs, cold temperatures and wet weather have been our biggest challenges."
The Reyers have had red berries for three weeks, but they just started harvesting in earnest the second week of April.
"Overall, I think we have a good crop, but we're probably going to be below what I expected for our harvest," he said. "We planted a variety we liked for its consistently sweet flavor and because it's easier to tell when the berries are truly ready. With a U-pick operation, we want everyone to have the best possible experience, and that means picking berries they know are ripe."
The Reyers are selling strawberries to several Jackson restaurants, at the Mississippi Farmers' Market in Jackson and at farmers' markets in Yazoo County. They also have on-farm sales and a U-pick program. For more information call Jody at (601) 906-1185 or find Reyer Farms on Facebook.