Landscape Design to Protect from Wildfires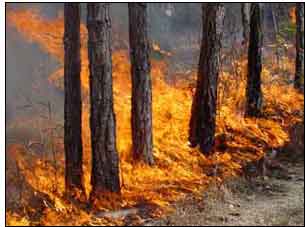 Many homeowners prefer to select wooded sites for their residence because of the beauty of Mississippi's forests. Some are unaware, however, that the majority of Mississippi's woodlands are actually fire ecosystems. This means that fire is a part of our environment and that wildfire can occur from lightning strikes or other sources under the right conditions. This guide lists steps and practices that you can take in your home landscape to reduce the risks of wildfire damage.
Creating Defensible Space
The area between your home and the surrounding woodlands is an important zone of wildfire protection. The types and amount of combustible materials in this immediate area determine the relative risks of wildfire. Building materials, brush storage, firewood, paints, chemicals, trees, shrubs, groundcovers and leaf litter can all be combustible under the proper conditions.
Depending upon the types of vegetation and slopes that surround your property, it is generally recommended to create a minimum of a 30' safety buffer zone between your home and the adjacent forest. In this defensible space, you can reduce the types of flammable materials for proper fire protection.
1. Reduce dense shrub and tree thickets.
Thick areas of vegetation are highly susceptible to fire. It is recommended to selectively thin shrubs and young trees from around structures to reduce vegetative fuels. Routine maintenance such as mowing, pruning, limbing, weeding, raking, and removing dead vegetation can keep wildfire from spreading.
2. Use non-flammable garden mulches and materials.
Pine needles, bark and wood chips can assist in the spread of ground fires under the right conditions. Non-flammable garden mulches, such as stone, pebbles and gravel, hinder the spread of fires. The use of wood for landscaping uses such as timbers, decks, arbors, fences and trellis's can also increase fire damage potential. Areas of high fire risk may consider substituting concrete, steel, brick or stone for constructing landscape or building materials.
3. Incorporate fire breaks where possible.
Fire breaks are areas cleared of flammable materials. For example, when a grass fire reaches a concrete driveway or road, the lack of flammable materials can cause the fire to extinguish. The recommended width of the fire break depends upon the estimated height of the flames of the adjoining vegetation. The greater the flame length, the greater the width of fire break. Roads, driveways, sidewalks, ponds, wet ditches, irrigated lawns and gardens, and tilled earth are considered to be effective fire breaks.
4. Keep your roof clean of debris.
Wind born fire embers can travel across the best of fire-proofed landscapes. Leaves and pine needles that build up on roofs and in gutters are potential fire hazards. Also, wooden shingles on roofs and exterior walls are susceptible to fire. The use of Class-A asphalt shingles, slate or clay tile, metal or cement and concrete products are suggested for roof construction. Cement, plaster, stucco and masonry are materials that can resist flames and heat.
5. Maintain adequate space for emergency equipment.
For a fire department to effectively protect your home, proper location and access should be provided. Street signs and house numbers should be constructed of fire proof material and clearly identified for rapid response. Driveways and access routes should be at least 12 feet in width and cleared up to 15 feet in height to accommodate emergency vehicles.
For more information on protecting homes from wildfire, visit the national Firewise website at www.firewise.org.
Publications may download photo at 200 d.p.i.
---
These factsheets were written by Robert F. Brzuszek, Assistant Extension Professor, The Department of Landscape Architecture, Mississippi State University.

Publications
News
Listen
Select Your County Office