Herb Gardens for Mississippi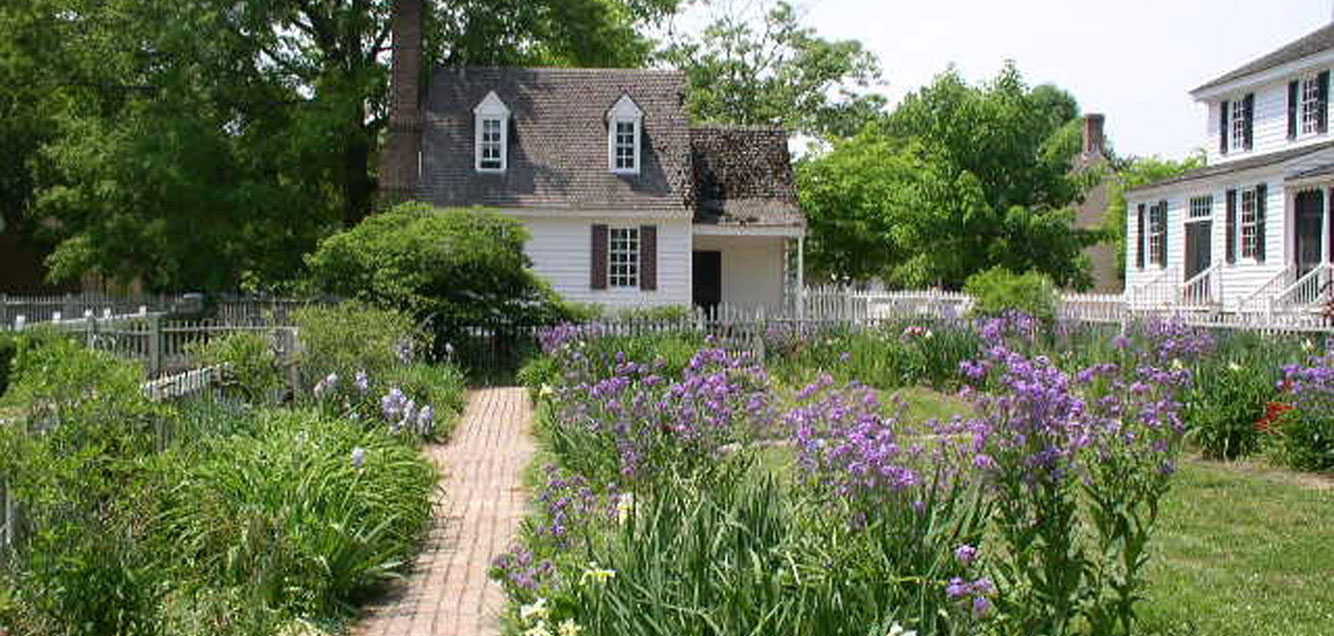 Herbs are an enjoyable and useful addition to the Southern garden. In addition to the beauty of their foliage and flower, incorporating herbs into the landscape provides benefits to both the gardener and backyard wildlife.
By following a few simple tips, successful herb gardens can be easily added to an existing landscape. This guide provides information on how to successfully establish an herb garden and the plant types suitable to Mississippi.
What is an Herb Garden?
Herb gardens have been around for as long as humans have cultivated plants for their own needs. Babylonian clay tablets from 3000 B.C. discuss plants being used for medicine, and the importation of useful plants from other regions. China, Egypt, India, and Assyria also have early written records of plants being used for medicine and other human needs. Our current definition of an herb garden originates from European gardens that have incorporated plants for medicine, fragrance, cooking, utility, and beauty. Early American gardens continued this tradition by utilizing these useful plants from Europe and Asia, and also those found locally.
Rather than the gardening definition of an herb as being a perennial or annual non-woody plant, herb gardens actually emphasize all useful plants ranging from trees, shrubs, groundcovers, perennials, and annuals -- to mosses, ferns, and fungi. Plants for herb gardens are selected according to their use to the gardener. Typically these plants contain certain alkaloids, bitters, essential oils, gums, glycosides, mucilage, saponins, tannins, minerals, or vitamins that are chosen for specific needs.
Planning an Herb Garden
When implementing an herb garden one should consider the amount of time that the gardener has to maintain the area. If just a few favorite plants are used on an occasional basis it may be advantageous to grow them in a few well-placed containers or an existing garden bed. The development of a larger separate herb garden can be time consuming with regular weeding, watering, and fertilizing chores.
Selecting a Site
Most herb plants require a sunny site with well-drained organic soils. The area selected should receive at least six hours of direct sun each day. Also, many herbs fail in clay soil types or during extremely wet weather conditions. Because of this, most herb gardeners prefer to develop raised beds or by using containers. Select a good potting mix that includes peat, vermiculite, and perlite; avoid using pine bark mixes that disintegrate easily and create waterlogged soil conditions. Since certain herbs vary in their pH preferences, it is best to maintain a slightly acidic soil condition (6.0 to 6.5) to satisfy most herbs. Alkaline loving plants, such as Mother of Thyme (Acinos) prefer a high pH, which may be provided by localized lime applications. For ease of care to the garden, consider placing the herb garden near available water outlets or within proximity to the kitchen.
Types of Herb Gardens
Herbs can be incorporated in a variety of ways into the home landscape. Valued for their fragrance, flower, grace, and flavor; herbs can be incorporated into existing flowerbeds, containers, or even traditional raised herb beds. Early American homes often featured a 'kitchen garden' that utilized vegetables and herbs in rectangular garden plots. These plots were conveniently located near the kitchen area and were often fenced to deter animals. Elaborate knot gardens used box or other dwarf evergreens to line the bed edges and to provide a strongly organized form. Since most herbs are deciduous, including evergreen elements will provide winter interest to the garden.
Designing the Herb Garden
Herb gardens should reflect the period of the house or the gardener's tastes. Formal herb gardens are based upon well-defined patterns and geometric shapes, and are particularly suited to antebellum or traditional architecture. Since herbs vary in their shape and form, formal patterns help to provide garden structure to irregular plant forms.
Informal gardens offer the opportunity to mix herbs with perennials, bulbs, and vegetables. Since some herbs are known to repel certain insect pests or even weeds, companion plantings provide for an exuberance of flower color and leaf texture. When mixing plants, it is important to know the maximum growth heights of plants to avoid loss of sunlight. Always locate shorter growing plants to the front of the garden bed with taller plants to the back.
Drawing a Plan
Once the appropriate site is selected, it is beneficial to design a plan for the herb garden. Developing a plan on paper allows the designer to experiment and consider different schemes for maximum effect. Use graph paper and use each square as a certain measurement, such as six inches, to represent the herb bed. Remember to include the locations of nearby existing site items such as the house, patios, fences, trees and water faucets. Include paths into the plan in order to service the garden area. Brick on sand paths can be incorporated into the garden to provide direct access to the herbs and to help divide the garden into individual planting areas. Incorporate seating elements such as benches or chairs and locate these in areas where the gardener can enjoy being in or viewing the garden.
Planting Combinations
Once the form of the garden is determined, selecting the appropriate plants and locations is considered. Research the growing requirements of each desired species, and make sure that the soils and site are compatible. Group plants that require certain conditions together -- such as moisture loving plants, alkaline loving plants, or shade preferring plants -- for ease of maintenance. Combine plants that complement or contrast each other in leaf texture, leaf color, or flower color for striking designs. Increasing the diversity of plants in the herb garden will ensure a diverse range of flowering times, fruiting times, and harvest times.
Herbs suitable for Mississippi
Garden herbs vary in their cold tolerance, heat tolerance, moisture tolerance, soil preference, and fertilizer needs. Over-fertilization should be avoided to prevent rangy or excessive growth. In wet climates, such as near the Mississippi Gulf Coast where hurricanes or weather systems can produce extended rainfalls, soil drainage should be maximized or plants should be selected accordingly. Also, heat tolerant plants will perform better in the zone 9 area of Mississippi, while cool tolerant plants are well-suited to zone 7 in the north.
The following is a select list of herbs that have been found to perform well in Mississippi. There are numerous cultivars available that may offer further design or environmental opportunities. Always confirm plant identification and for any sensitivities before culinary use.
Common
name
Scientific
name
Height
Flower
color
Flower
time
Uses
Yarrow
Achillea millifolium
12-24"
Wide range
Summer, fall
Leaves in salads
Onion, chives
Allium spp.
12-36"
Pink, white
Summer
Leaves for season
Dill
Anethum graveolens
24-60"
Yellow
Summer
Seasoning
Angelica
Angelica archangelica
36-60"
Yellow-white
Summer
Teas and seasoning
Chervil
Anthriscus cerefolium
18-24"
White
Summer
Leaves for seasoning
Wormwood
Artemesia spp.
12-48"
Yellow / brown
Summer
Insect repellent. Do not use internally.
Calendula
Calendula officinalis
20-28"
Yellow
Spring
Leaves in salads
Chili pepper
Capsicum spp.
18-30"
White
Spring
Seasoning
Caraway
Carum carvi
24"
White
Summer
Salads, soups
Cilantro
Coriandrum sativum
20-28"
White
Summer
Leaves and seeds for seasoning.
Lemon grass
Cymbopogon citrates
to 60"
White
Summer
Leaves in teas / seasoning
Fennel
Foeniculum vulgare
60"
Yellow
Summer
Seed and leaves for seasoning.
Mints
Mentha spp.
12-36"
White
Summer
Leaves for teas and seasoning.
Lemon balm
Melissa officinalis
24-48"
Yellow / white
Summer
Leaves for seasoning
Bergamot
Monarda spp.
36-48"
Various
Summer
Leaves for teas
Catnip
Nepeta cataria
24-48"
White / purple
Summer
Seasoning / teas
Basil
Ocimum spp.
8-36"
White
Summer
Seasoning / salads
Evening primrose
Oenothera biennis
24-48"
Various
Spring
Leaves in salads / teas
Oregano
Origanum spp.
6-32"
Various
Summer
Teas and seasoning
Maypops
Passiflora incarnate
to 60"
Purple
Summer
Teas
Swamp bay
Persea borbonia
to 30'
White / yellow
Spring
Leaves for seasoning
Parsley
Petroselinum crispum
15-24"
Yellow-green
Summer
Leaves in soups / salads
Salad burnet
Poterium sanguisorba
8-30"
Green
Summer
Leaves in salads
Rosemary
Rosmarinus officinalis
6-48"
Purple / white
Spring
Leaves for seasoning / tea
Roses
Rosa spp.
2-30'
Various
Spring / fall
Hips for tea
Sorrel
Rumex acetosa
24-36"
Red / green
Summer
Leaves in salad
Sage
Salvia officinalis
20-32"
Blue / lilac
Summer
Leaves for seasoning
Lavendar cotton
Santolina spp.
18-24"
Yellow
Summer
Leaves for potpourri's
Betony
Stachys officinalis
18-24"
Pink / red
Summer
Leaves for teas
Nasturtium
Tropaeolum spp.
3-10'
Various
Spring
Leaves in salads
Thyme
Thymus spp.
1-12"
Pink / white
Spring / summer
Leaves in seasoning
Mullen
Verbascum thapsus
4-6'
Yellow
Summer
Leaves in teas
References
Bown, Deni. (1998). Garden Herbs. DK Publishing, Inc.: New York.
Kowalchik, Clair, and Hylton, William, eds. (1987) Rodale's Illustrated Encyclopedia of Herbs. Rodale Press: Emmaus, PA.
Bremness, Lesley. (1988). The Complete Books of Herbs. Viking Studio Books: New York.
Bremness, Lesley. (1994). Herbs. DK Publishing, Inc.: New York.
Publications may download photograph at 200 d.p.i.
---
These factsheets were written by Robert F. Brzuszek, Assistant Extension Professor, The Department of Landscape Architecture, Mississippi State University.

Publications
News
Listen
Select Your County Office