What's New in Extension
Mississippi 4-H Past President Connor Hidalgo of Lee County and current President Savana Ashley of Wilkinson County
Mississippi 4-H Introduces New Youth Leadership Positions
Story by Leah Barbour • Photo by Michaela Parker
Administrators with the Mississippi State University Extension Center for 4-H Youth Development recently announced two new offices for 4-H'ers: president-elect and past president. These new positions will allow the 4-H'ers more training and opportunities, state leaders agree.
The president elect, formerly the vice president position, will be elected by 4-H peers for the first calendar year of service before moving on to the president and past president roles in the following years. An election for president-elect will be held annually, and other 4-H offices and election guidelines remain the same.
Winners of the 2021–22 elections were announced in September 2021: The first past president is Connor Hidalgo of Lee County, the current president is Savana Ashley of Wilkinson County, and the president-elect is Ashlyn Henderson of Wayne County.
4-H is delivered in Mississippi by the MSU Extension Service and is offered in all of Mississippi's 82 counties. Mississippi 4-H is online.
Extension Dairy Specialist Elected to National Leadership Role
Compiled by Leah Barbour • Photo by Kevin Hudson
Dr. Amanda Stone, dairy specialist with the Mississippi State University Extension Service and assistant professor, was recently elected vice president of the American Dairy Science Association's southern branch.
Also a researcher with MSU's Mississippi Agricultural and Forestry Experiment Station, Stone was elected to serve for the 2021–22 association year and will become president for the 2022–23 year. She also was one of only four asked to present at the association's annual meeting.
Stone has been at MSU since 2016, and she works with dairy producers to help them improve production practices. Her extensive heat-stress research has allowed Southeast dairy producers to improve their herds' health and welfare.
The American Dairy Science Association works to advance the dairy industry and includes educators, scientists, and industry representatives. The southern branch serves 12 states, including Mississippi, and goals include discovering new methods and technologies to revolutionize the dairy industry.
Senior 4-H'ers Teach Junior 4-H'ers at 4-H Earth Camp
Compiled by Leah Barbour • Photo by Kevin Hudson
While Mississippi 4-H hosts a range of camps throughout the summer, senior 4-H'ers had the opportunity to work one-on-one with junior 4-H'ers at 2021 4-H EARTH Camp.
Senior 4-H'ers, elected as 4-H ambassadors for the youth development program delivered by the Mississippi State University Extension Service, are 14 to 18 years old, while junior 4-H campers are 10 to 12 years old. EARTH Camp, short for Environmental Awareness through Recreation, Technology, and Health, was held at Lake Tiak O'Khata near the Sam D. Hamilton Noxubee National Wildlife Refuge.
Mississippi 4-H President Savana Ashley of Wilkinson County, Past President Connor Hidalgo of Lee County, and Ambassadors Mary Kathryn Shaw of Leflore County, Madelynne Goodson of Oktibbeha County, and Amy Estes of Amite County worked with the younger 4-H campers. They agreed it was a positive leadership experience and an overall good camp.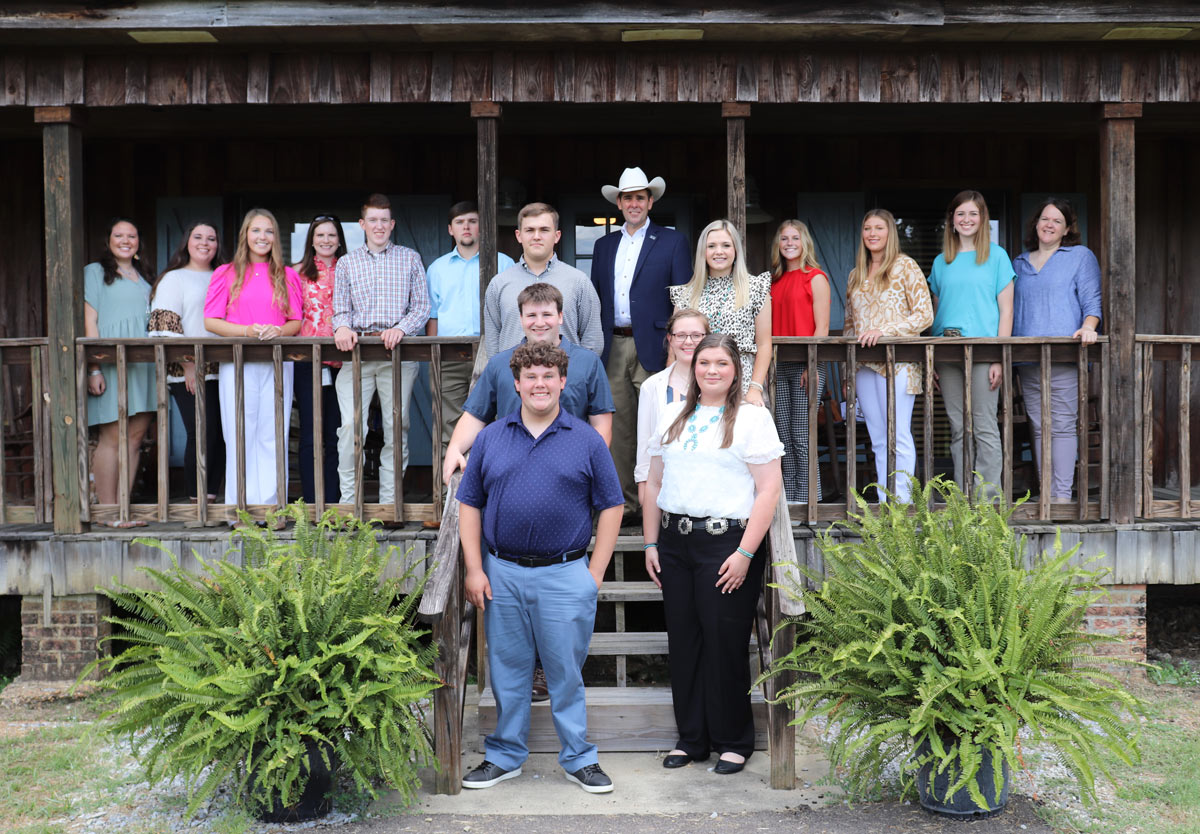 New Mississippi Agriculture Youth Council Includes Mississippi 4-H'ers
Compiled by Leah Barbour • Photo by Hannah East, Mississippi Department of Agriculture and Commerce
Nine of the 12 teens appointed to the Mississippi Agriculture Youth Council are Mississippi 4-H'ers.
Samuel Devin Granger of Attala County, Hannah Buse of Forrest County, Lila Murphy of Hinds County, Adaline Rouse of Jackson County, Regan Hand and Drew Wagner of Newton County, Faith Sullivan and Delton Boone of Smith County, and Billie Chapman of Tippah County all participate in 4-H in their home counties.
While not 4-H'ers, other council members include Max Hodgins of Lauderdale County and Samuel Matthews and Elizabeth Skelton of Oktibbeha County.
At the first meeting of the council, the teens met with Mississippi Commissioner of Agriculture and Commerce Andy Gipson and learned about the department, as well as some of the issues facing the agricultural industry. The young people also learned about entrepreneurship and agribusiness startups. The council aims to teach young people about the ag industry's many roles and opportunities within the state.