What's New in Extension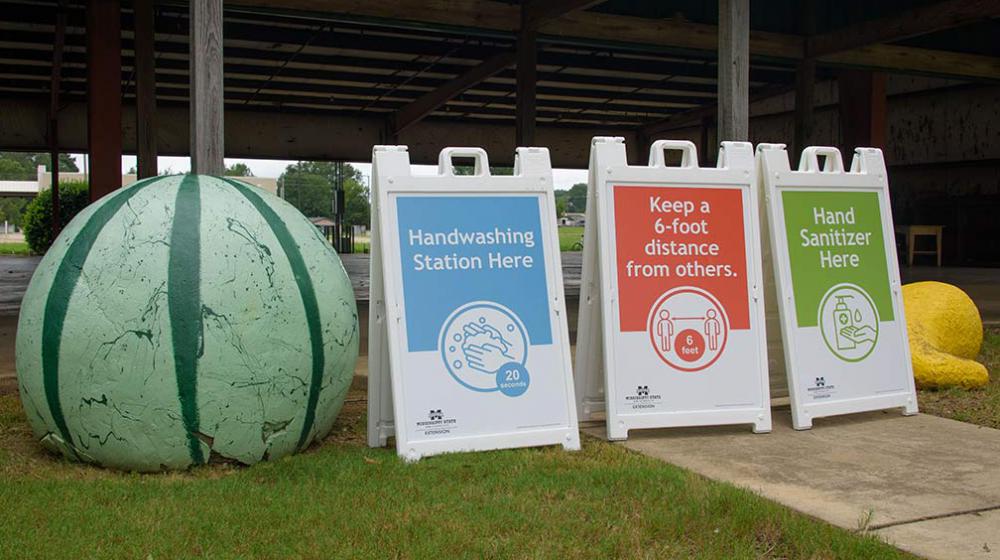 Extension designed signs for farmers markets.
Mississippi Small Businesses Receive Extension Support
By Leah Barbour • Photo by Kevin Hudson
When federal and state lending programs specifically geared toward small businesses were announced as part of the government's response to natural disasters and COVID-19, Mississippi State University Extension Service personnel went into action to distribute information to Mississippi Main Street's businesses, organizations, and farmers markets.
Not only did these economic development professionals provide small-business owners with information on how to apply for loans, but Extension also connected Mississippians impacted by April tornadoes with damage assessors and information about how to apply for assistance.
Extension designed signs for Mississippi farmers markets to encourage patrons to follow appropriate safety measures recommended by state officials and the U.S. Centers for Disease Control and Prevention. Market managers met with Extension's experts to learn the best ways to use the signs and keep sellers and customers safe.
---
Mississippi Municipal Clerk Wins National Award
By Leah Barbour • Photo by Kevin Hudson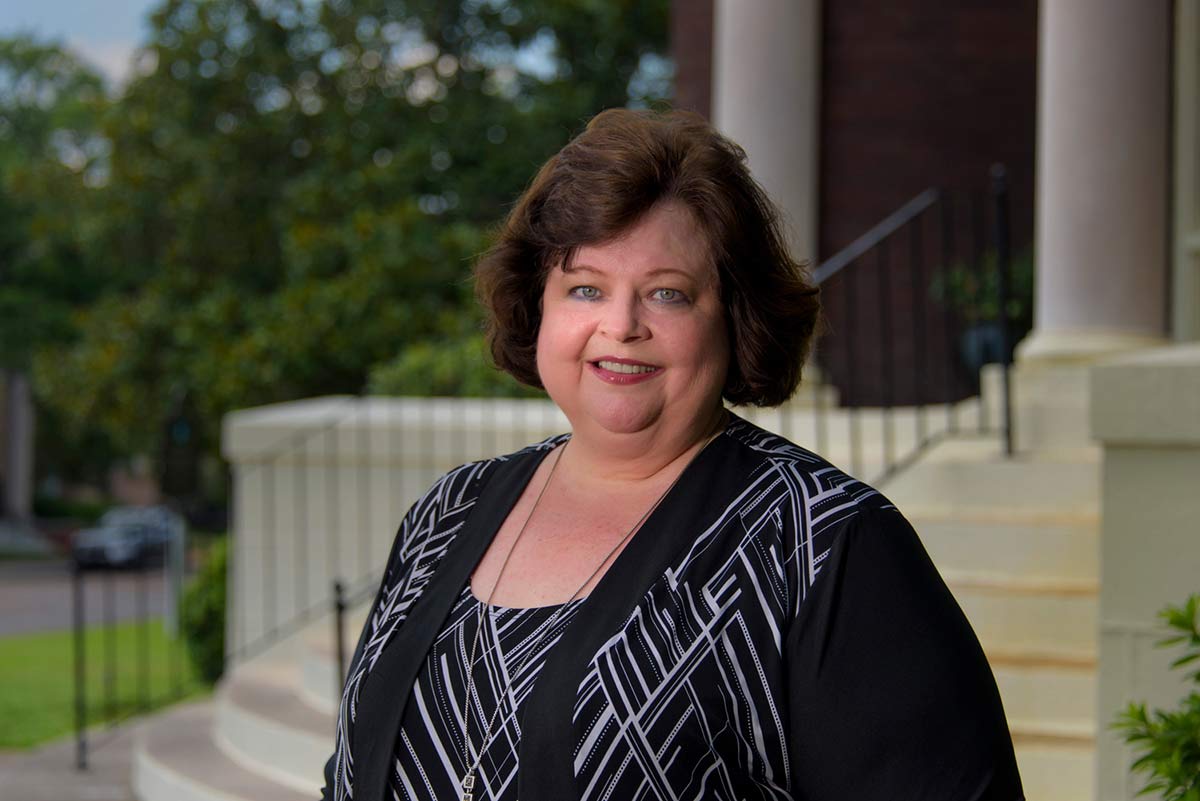 For the first time ever, a Mississippi municipal clerk has received the national Quill Award in recognition of her service—administering budgets successfully, conducting elections, and supervising a professional staff—that has made an exemplary contribution to Laurel and Mississippi.
Mary Ann Hess, municipal clerk in the Jones County town since 2000, received the prestigious award in May. She credits her dedicated staff and the Mississippi State University Extension Service for the recognition.
Extension has provided education to municipal clerks for close to 50 years. Extension offers regular professional development opportunities for municipal clerks to earn the certifications they need to do their jobs well, Hess said.
The Quill Award may recognize as many as three superior municipal clerks, or, if no applications meet the strict criteria, no awards are given. Along with Hess, Barbara Blackard of Clarksdale, Arkansas, was also recognized in 2020.
---
Extension Head Start Students Continue Learning, Even When Facilities Close
By Leah Barbour • Photo by Kevin Hudson
After the pandemic closed educational facilities in accordance with U.S. Centers for Disease Control and Prevention guidelines, Mississippi State University Extension Service leaders at Head Start facilities along the Gulf Coast worked to continue students' learning and make sure they are still prepared
for kindergarten.
Administrators for the three facilities at East Biloxi, Gilbert Mason, and Gaston Point developed learning bags to enhance children's kindergarten readiness. Weekly giveaways were held for parents of 4- and 5-year-olds enrolled at all three facilities. Beginning in June, the giveaways reached, on average, more than four dozen families each week.
Bags included learning supplies and food backpacks for children and activity guides for parents. Parents received digital links for their children to listen or watch books read online. Books in Spanish and Vietnamese were also available to dual-language learners. Head Start staff also conducted Zoom meetings with students, and, when families picked up their packets, provided consultation about their students' learning.
---
Extension Agents Teach Life Skills in Facebook Video Series
By Leah Barbour • Photos by Kevin Hudson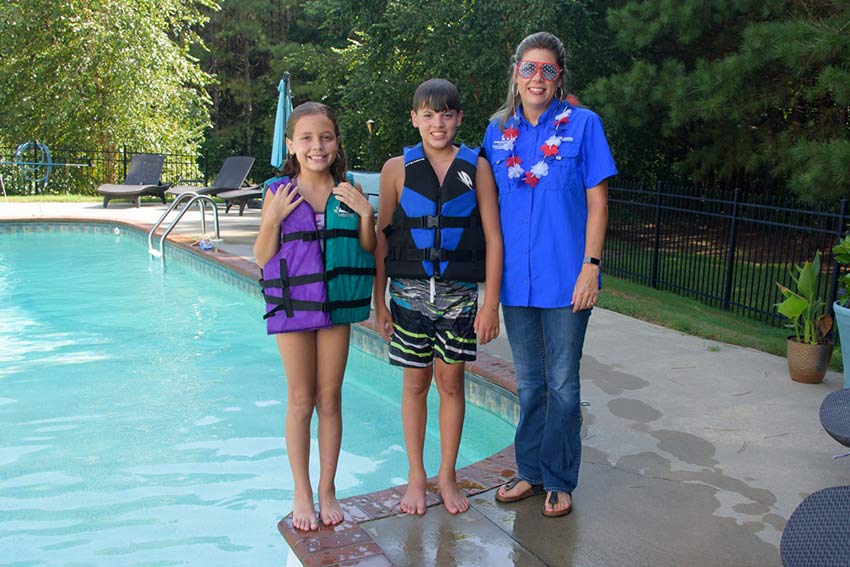 Mississippi State University Extension Service agents in the northeast region organized to reach a broader audience when the pandemic sent workers home in spring 2020.
Family and consumer sciences agents developed a weekly Facebook video series, "Back to Basics: Life Skills 101." Launched in May, the series features agents in Alcorn, Chickasaw, Choctaw, Clay, Lee, Lowndes, Marshall, Noxubee, Oktibbeha, Pontotoc, Tishomingo, Winston, and Yalobusha Counties.
Videos offer tips about a range of family and consumer science topics: cooking, including grilling and recipe vocabulary; financial management, such as budgeting and saving; and clothing maintenance, like removing stains and ironing, to name just a few.
Based on agents' reports submitted at the end of June, more than 25,000 people had been reached by the series. Watch the videos here.
---
Popular Extension Programs Continue Digitally Amid Pandemic
Compiled by Leah Barbour • Photo Graphic by Michaela Parker
Many of the Mississippi State University Extension Service's most popular programs and well-attended activities for adults and children continue online.
Annual events, such as the Fall Flower and Garden Fest, State 4-H Congress, and 4-H LEGO Camp, were held online for the first time ever. Even the monthlong Rural Medical and Science Scholars summer program for rising high school seniors became a virtual experience as medical doctors interacted with teens online.
Agricultural workshops geared toward addressing the pandemic have also been developed and streamed to Extension audiences. The Cattle Markets and COVID-19 webinar and Growing Mississippi's Local Foods Industry webinar series have addressed local and state pandemic food-supply challenges. One regular Extension webinar led by Dr. Christian Stephenson, Extension agent in Hancock County, is promoted on Facebook's MSU Extension Horticulture Hub for horticulture enthusiasts and has streamed Mondays, Wednesdays, and Fridays since the pandemic began.
Walk-a-Weigh, a popular fitness and nutrition program, now meets online, as does AIM for CHangE (short for Advancing, Inspiring, Motivating for Community Health through Extension), which organizes community coalitions in the Delta to inspire healthier lifestyles.
Numerous chambers of commerce around the state have participated in webinars featuring Extension community development specialists offering information about reopening local economies. Bricks to Clicks, a series of marketing workshops to help business owners boost their online sales, has moved to regular online delivery.
Ready in the Middle now offers its emergency management training program for adolescents online, and Extension financial experts organized and streamed the Managing Money in Stressful Times workshop to address pandemic-related financial concerns.