Safety First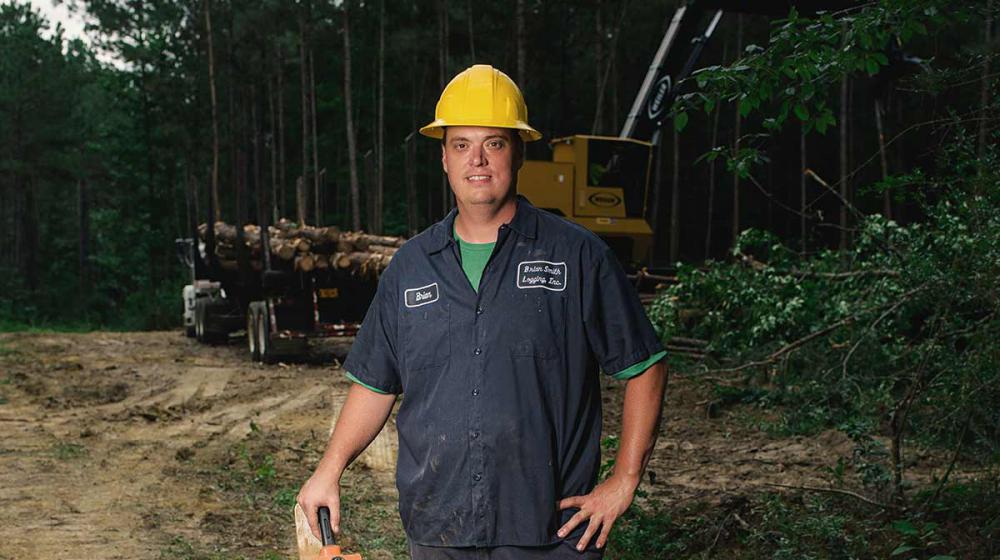 Brian Smith, 2020 Outstanding Logger of the Year
Training a priority for third-generation logger
Story by Susan-Collins Smith • Photos by Kevin Hudson
Logging can be a dangerous profession, but Brian Smith makes safety a priority.
"There is rarely a person on the ground at a job site anymore," says Brian, owner of Brian Smith Logging. "We're all in a cab with CB radios. We stay in constant communication, and we make sure we know where every person is.
"I always tell my people never to take a chance on doing something in an unsafe way. Stop, and let's talk about it if you have questions or see something being done in a way it shouldn't be. We can always figure it out. We all want to go home at the end of the day."
"Each machine operator is trained to their machine, and we make sure each machine is working properly," he says.
Before every job, he meets with his crew to go over any safety hazards and makes sure every employee is provided appropriate personal protective equipment. While he contracts with private companies to ensure his paperwork on safety, trucks, and drivers is in order, he also leans on the Mississippi State University Extension Service for education and new industry information.
"We use the Professional Logger Manager course for our training on things like best management practices and taxes," Brian says. "We get our certification hours through this course every year."
Although the COVID-19 pandemic shuttered some mills at times, Brian said his crew didn't miss a day of work.
"We didn't have anyone get sick or decide they were uncomfortable with coming in to work," he shares. "We worked 5 days a week. We did have to decide whether to ship a load of logs somewhere else or to sit on them when mills that were following protocol had to shut down because of workers who were sick. But we have been really blessed to be able to continue working through this."
Some other aspects of his business did change, including contact with individuals who provide training. One-on-one safety trainings became FaceTime calls, and Brian's weekly safety reviews with his crew turned into newsletters. Extension's Professional Logger Manager courses were offered online.
"We kept doing everything with technology," he says. "The pandemic didn't affect any of our training."
Attention to safety is only one of the criteria for the award. The nominating committee also considers harvesting practices and business management.
"I've known Brian since the early 2000s when he was working with his father," says Dr. John Auel, Extension forestry specialist and coordinator of Extension's Professional Logger Manager program. "He is an extremely conscientious person, and the way he treats the landowners' property really says a lot about what kind of logger he is. Brian really exemplifies what this award stands for. You know if everyone who knows your operation thinks you should be nominated for this, you are doing an extraordinary job."
Nominator Brett Rushing has known Smith for about 10 years and sees the same thoughtful businessman as Auel.
"Brian is a third-generation logger. It's in his blood," Rushing says. "When you go on any of his job sites, there is no trash, everything is operating as it should be, and his sites are safe. Those things stood out to me when I've been to his job sites. When he's on a job, it's as if it were his own land."