Improving Efficiency
Rain or shine, the tractors and other farm equipment at Carter Brothers Farm stand ready for action.
Extension Program Reduces Water Use
Story by Nathan Gregory • Photos by Kevin Hudson
Before adopting RISER techniques on his farm, irrigating was the part of the growing season Clark Carter always dreaded.
"We would string out plastic pipe, punch holes in it every couple of feet, and hook it up, only to see it blow out when we turned the water on," says the Rolling Fork row-crop producer. "Very seldom did you get a run of pipe to fill up and water a field. It was unorganized chaos every year."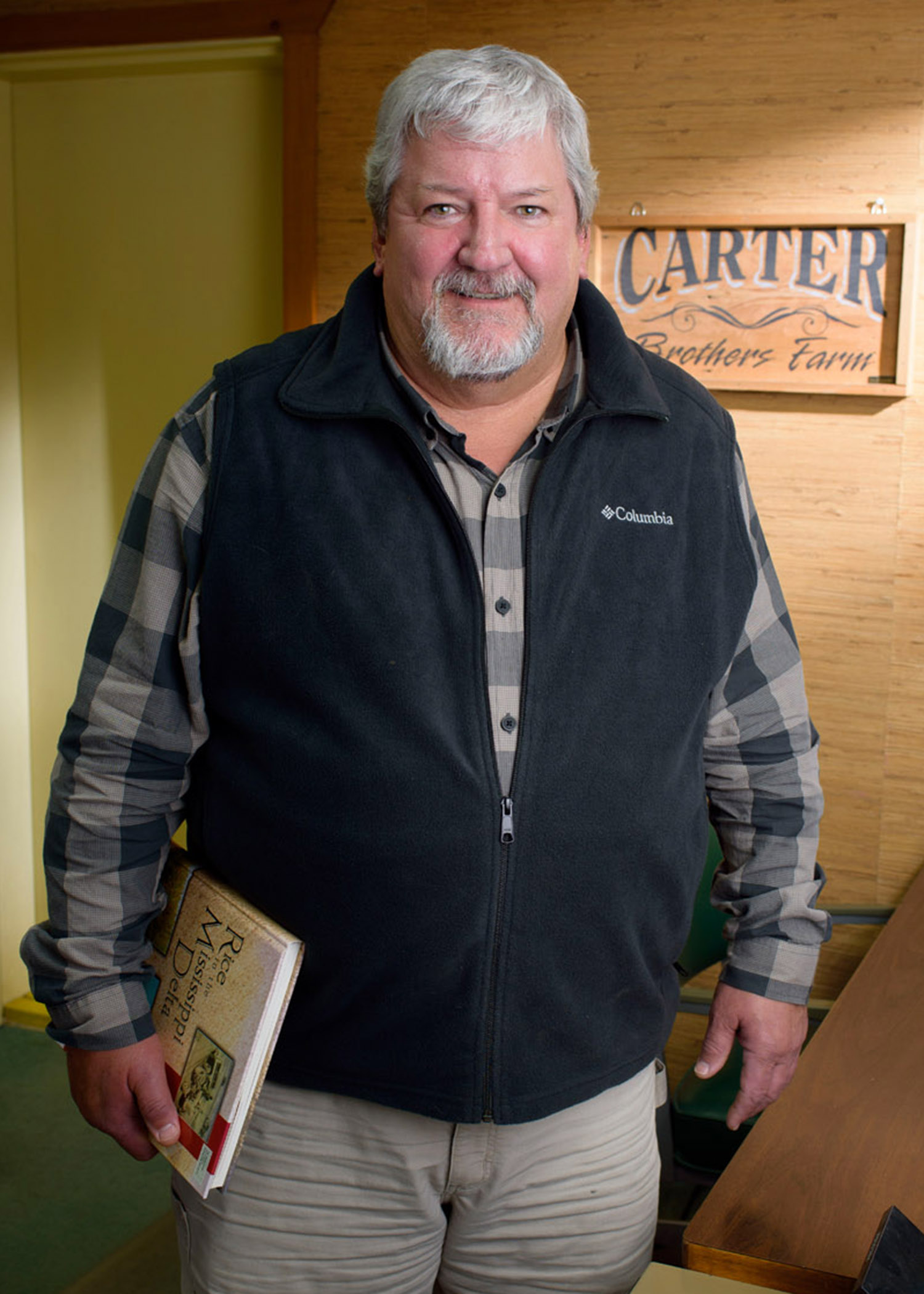 The Row-crop Irrigation Science and Extension Research (RISER) program, developed by then-Mississippi State University Extension Service irrigation specialist Dr. Jason Krutz, helped Carter make irrigating easier, more efficient, and less costly. A key component of RISER is the use of irrigation scheduling tools, including sensors that provide readings of how much moisture is in the soil.
"Based on the moisture-sensor readings, we irrigate probably half as much as we used to," Carter says. "This year, we didn't water our corn at all, and we watered our soybeans once. If we didn't have the moisture sensors, we would have watered two or three times."
Krutz, now the director of MSU's Mississippi Water Resources Research Institute, developed RISER in 2013 as a science-based approach to evaluating irrigation management practices in the Mississippi Delta. Carter Brothers Farms is among more than 36 in the program. On average, water use in these fields has decreased 25 percent compared to fields where other techniques are used.
"What we do is let the producer irrigate one of his fields the way he has always done it; then we employ the RISER system in a nearby field to get a side-by-side comparison," Krutz explains. "The producer irrigates his field when he chooses to, and we schedule irrigations on the other and use flow meters in each field to see how much water is being used."
With assistance from Mark Henry, Extension associate at the Delta Research and Extension Center in Stoneville, Krutz conducted the program at Carter's farm for 4 years and recorded the results.
"In Clark's case, we used 40 percent less water and improved yields by seven bushels per acre in the RISER corn field. The reduced water usage saved him about $30 per acre."
"I think Mississippi has one of the best Extension Service systems in the country. My family has always been an advocate of the research they do and practical solutions they offer."

Clark Carter
Like his peers in RISER, Carter also uses a computer program that calculates how many holes should be in each irrigation pipe and what size each hole should be. Known as the Pipe Hole and Universal Crown Evaluation Tool, or PHAUCET, the program schedules irrigation and instructs growers how much water to use each time they irrigate.
"You drive up to a telephone cable that runs out to the turnrow and check the moisture sensor," Carter explains. "You look at that reading history to decide whether or not you need to irrigate, even if your schedule says it's time to do it."
Carter notes that his soybean yields have shown significant improvement, as well.
"I've compiled a folder of notes from Jason that I will always use," Carter says. "I record flow rates, refer to pipe diameter guidelines, head pressure recommendations, math formulas, and other irrigation facts that I use on a dailybasis during irrigation season."
Carter says the yield on his irrigated soybean crop last year was 70 bushels an acre, which would have been impossible years ago. Carter's grandfather bought approximately 400 acres in Rolling Fork in the early 1900s. After his death, his three sons, Wallace, James, and Laurance, grew operations over the following decades to 6,000 acres by buying more land in Sharkey and Issaquena Counties.
"The good land wasn't available for sale," Clark Carter explains. "They bought up new ground and unproductive forestland, cut the trees, farmed around stumps, and began land-forming."
Land-forming involved the irrigation practices that once stumped the Carters and their crew. The Extension-based RISER and PHAUCET programs have changed that.
"Everybody's attitude toward irrigating is different than it used to be," he says. "With PHAUCET and GPS technology, one person can autopilot pipe lines using a tractor steering system and know exactly what the pipe and hole dimensions need to be.
"I think Mississippi has one of the best Extension Service systems in the country," Carter adds. "My family has always been an advocate of the research they do and practical solutions they offer."