Forging New Solutions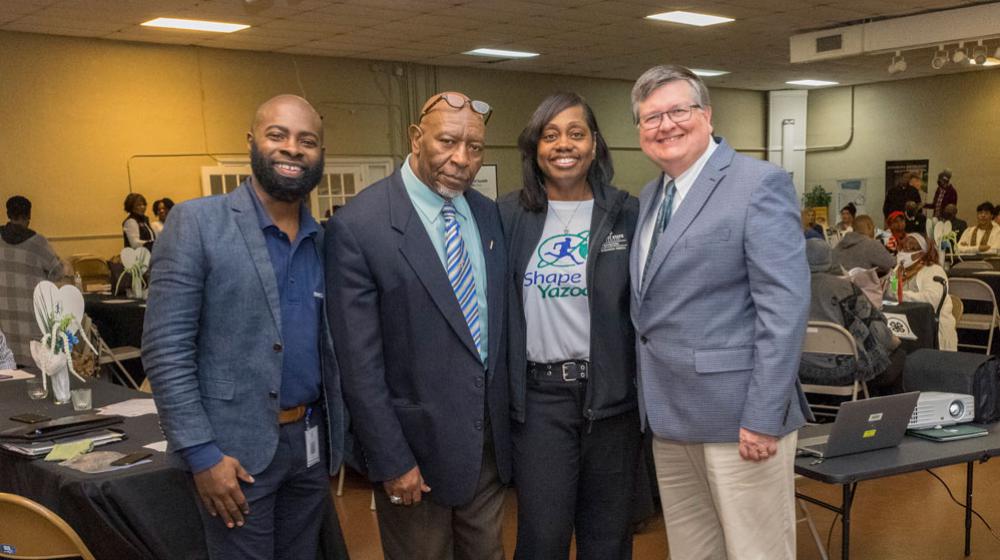 Rev. Dr. Manney Murphy (second from left) partnered with Sharon Nettles (third from left), Yazoo County agent with Extension Service, to host Mississippi State Department of Health leaders Chief Medical Officer Dr. Justin Turner (left) and State Health Officer Dr. Daniel Edney (right).
Local stakeholder works to improve health in Delta
Story by Leah Barbour • Photos by Kevin Hudson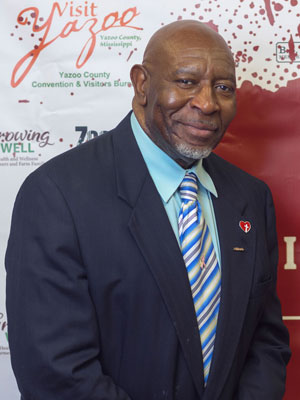 After this Vicksburg native focused his career on offering opportunities to Black children in southwest Mississippi, he was recognized by the state's longest service U.S. Representative, the Hon. Bennie Thompson. Click here to read Thompson's 2017 recognition of Rev. Dr. Manney Murphy's contributions in Warren County.
Murphy has known for years that serving his community is his calling. Even after years of making a difference in Warren County, Murphy recently felt led to return to his father's hometown of Yazoo City. Now, he's working to change how Mississippians of all ages in the Delta are accessing and receiving healthcare.
Murphy is not working alone, however. He's uniting the connections he already has with new community partners, stakeholders, and leaders to develop effective coalitions that stretch beyond the borders of Yazoo County. Making a difference in the region requires bringing everyone together, he says.
"I have had a front-row seat to medical problems that you can't even imagine, and God took me to the land of my father to initiate a vision to serve the underserved, the underrepresented," Murphy emphasizes. "Now, I'm here to bring awareness and impact to our state."
Murphy's long-term goal is to create a community fitness center for residents and change health outcomes for the better, both in the Delta and statewide.
In February, he brought State Health Officer Dr. Daniel Edney to a full hall at New Zion M.B. Church for the All Hearts on Deck luncheon. Attendees included sponsors and stakeholders representing a range of groups, including the Mississippi State University Extension Service, All of Us Research Program, Mississippi Shine Project, Tulane M.B. Church Wellness Program, Visit Yazoo, and the Yazoo Community Healthcare Coalition.
Edney, who works for the Mississippi State Department of Health, has known Murphy for years: Edney practiced in Vicksburg, and Murphy is a former patient. Edney offered a powerful presentation touching on Mississippi's many health challenges, from the struggle to access services to the high rates of diabetes in the Delta.
"It doesn't have to be this way," Edney told the crowd. "I want to hear from you directly: What do you need in Yazoo County? This is a coalition, a group of people that are doing exactly what we need to do better. You are investing in your health department, and you're here. This group can lead the way, and other people all through the Delta will see."
Murphy stressed that the attendees had demonstrated, just by showing up, their compassion and willingness to make a difference.
"We don't want to give you no excuses not to get involved," Murphy told the attendees. "Our vision is to impact the entire Delta and the entire state. We are going to move the needle!
"Extension reaches our communities, encouraging our community to be better, and we're thankful because it takes all of us working together," he continued. "Small changes lead us to big changes; it takes only one person to start a movement. That's what we're doing here today."
Sharon Nettles, Extension agent in Yazoo County, shares her resources and connections to improve local residents' activity levels and eating habits. She celebrated every individual and group who came to the afternoon luncheon and the afternoon town hall where Edney and
Chief Medical Officer Dr. Justin Turner also spoke.
"We've had a culture of illness, but we need a culture of wellness. This movement is not a one-time event. We can do this! It only takes one person to start a movement, and look at everyone here," Turner told the audience. "The front line has to be in the community, whether that's at the barber shop or another local organization. Trust matters, and community matters. We can do this—improve health outcomes—together."
Murphy encouraged stakeholders to take advantage of the free screenings provided by the All of Us Research Program. With a baseline understanding of where health problems may arise, people can begin making changes to mitigate and improve their risk factors.
"I love the people of Yazoo," Murphy said. "We're the movers and the shakers, and if we're going to do something, we're going to do it big. I'm walking, and I'm running. I'm planning to run this year in all 82 counties.
"We've launched this movement, and we're stopping the talk so we can begin doing. We're here to bring awareness to set the strategies and watch the numbers. We are going to change the trajectory of how we deal with healthcare in Mississippi."