Farm Fresh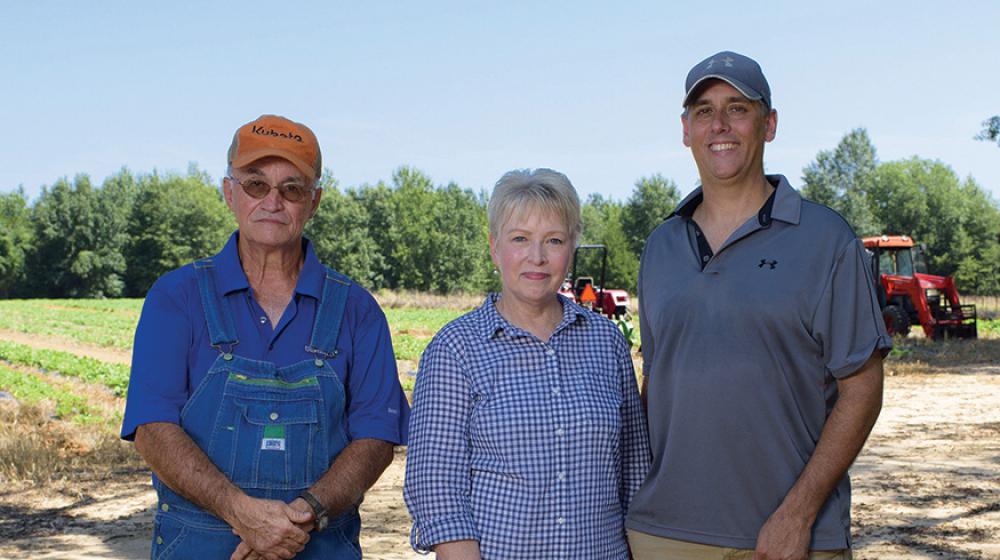 George, Julie, and Stuart Rowell, Rowell Farms owners
Producer teaches about food and farming practices
Rowell Farms is doing much more than supplying cooks with fresh, local foods. The Heidelberg truck-crop farm is growing into an educational outlet for the Clarke and Jasper County communities it serves.
Stuart Rowell and his family started the farm 5 years ago, after he retired from the restaurant industry and moved back to Mississippi. When he began selling the farm's vegetables at a storefront in Quitman, he quickly learned that people wanted his products but were skeptical about their origin.
"They'd drive up, and the first thing they wanted to know was if I grew the vegetables myself. I guess I didn't look much like a farmer," Rowell laughs as he gestures to his shorts and sneakers.
As people learned that he, his parents, and his cousin grow all the produce themselves without chemical inputs, their vegetables began to sell out. People even began coming to the farm to get the first shot at what was available.
The Rowells grow the basic summer vegetables, including squash, okra, cabbage, peas, beans, peppers, potatoes, and greenhouse tomatoes, on property that has been in the family since the 1800s. They also sell honey produced by the bees they added to the farm in 2016 to help with pollination of their crops.
"When the okra came in, I'd have people waiting at the gate at 6 a.m.," says George Rowell, Stuart's dad. "I'd sell it faster than I could gather it."
While many of their customers come from nearby, social media draws clients from as far away as Mobile, Alabama. The popularity of the farm doesn't surprise Christy King, Mississippi State University Extension Service agent in Clarke County.
"This is the closest thing to a farmers' market that Clarke County residents have," she says. "The farm also offers a pick-it-yourself option. If you are a family trying to teach your kids where food comes from, this is great. When people bring their children to the farm, they have an opportunity to teach them about food production."
King got to know the Rowells when they'd bring in samples of soil for testing. The Extension Service Soil Testing Laboratory evaluates soil samples to help farmers and homeowners properly apply fertilizers and troubleshoot fertility problems. They also have called on King for issues with weeds or insects that they can't solve.
"A couple of our specialists have gone out and helped them with questions," King said. "Most recently, we helped them successfully remove an unusual weed from their pea patch."
Stuart says the original plan was to sell their produce to farmers' markets and retail stores, but their customers changed that.
"The farm grew around our customers," Stuart explains. "We just followed what the market dictated, and we will continue to do that."
The Rowells plan to make the farm available for agritourism events and other educational uses. To start, they are working with King to offer cooking demonstrations this summer. Using the curriculum from Extension's Cooking Matters program, King will use produce from the farm to create quick, easy meals that families can prepare at home.
"This is a fun, hands-on way to introduce people to vegetables they may have been hesitant to try," King says. "They will get tips and recipes for using the different vegetables available at the farm."
Stuart and his family also understand the farm has the potential to connect young people to the land—something many members of recent generations have lost.
"This has been my goal for this business," Stuart says. "I want the farm to help people learn about their food."
To keep up with what's happening at the farm, search for Rowell Farms on Facebook.