An Engineer's Perspective
Ottis Bullock, Marion County timber producer, uses Mississippi State University Extension Service education to enhance his growing operation.
Extension streamlines transition from aeronautics to timber management
Story by Nathan Greogory • Photos by Kevin Hudson
During his tenure as an engineer at Boeing, Ottis Bullock helped build machines that went into the air and to the moon, but he always had an interest in the trees that grew from the ground where he came of age.
As the lead engineer on the Apollo Lunar Roving Vehicle, Bullock ran the company's advanced composites division, managed the assembly of wing parts for commercial jets, and headed up a design and integration project for the International Space Station. However, when Bullock retired in 1996, his goal was to manage 900 acres of loblolly and longleaf pine trees in his hometown of Columbia.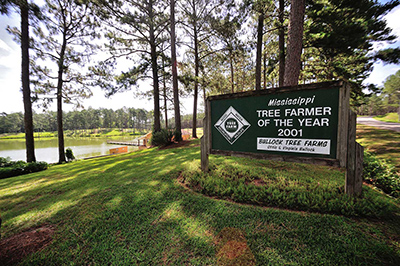 The tree farm began as 19 acres Bullock inherited from his father. He procured adjoining parcels, including 100 acres that are still growing their first generation of pine trees, while working for Boeing.
"They wanted me to stay on, but my wife and I put this tree farm together over the 32 years I was there," Bullock recalls. "My heart was set on coming back to manage it, so that's what we did."
Bullock, one of the creators of the "Moon Buggy," the vehicle used to drive around on the moon and collect soil samples on Apollo missions 15, 16, and 17, says the Mississippi State University Extension Service became a valuable resource for him when he retired and transitioned to timber management.
"I went to every seminar and field day that the Extension Service had close to home, and these courses were where I learned the basic skills and techniques tree farmers ought to know," Bullock says. "Extension courses and publications taught me how and when to thin, burn, and use chemicals to control undesired brush."
The 2001 Mississippi Forestry Association Tree Farmer of the Year has other MSU Extension connections, as well; two of these include foresters Dr. Glenn Hughes and Butch Bailey. They, along with several other Extension professors, regularly teach short courses on various aspects of the timber-management industry.
"We teach seminars about how to protect your land from disease outbreak, how to write your own timber management plan, and how to market your timber to get the best price for it," Bailey says. "One reason Mr. Bullock is one of the best tree farmers in the state is because he has done a lot of the work himself. He writes his own management plan, and, for years, he cut his own timber, hauled it to the mill, and sold it."
Hughes, who took an interest in Bullock's operation early on, says Bullock applies his professional expertise to his farm.
"Ottis brings the engineering mindset to his property," Hughes explains. "He's good at diagnosing and solving problems. His perspective and experience permeate how he manages his land and have made him very successful."
"When you live with that little tree from the day you plant it to the day you cut it, you learn a lot."
Ottis Bullock
Bullock says a key to his success is knowing when to schedule thinnings and selecting the right equipment for each thinning based on how much timber should be harvested.
"Proper thinning is more important than dollars," he says. "Another thing I've done that has paid off is to mark off the spots where trees come out of each thinning. I also do a prescribed burn on up to 400 acres a year, with some plots on a 2-year rotation and some being burned every 3 years."
Bullock has been quick to share what he has learned about timber management and marketing; he often offers advice to fellow landowners.
"I've never accepted a cent from any of them," he says. "I've got people that would rather take my advice than registered foresters. Maybe part of that is because I don't charge them anything, but I think they also know experience is a good teacher.