Doing the "Heart" Work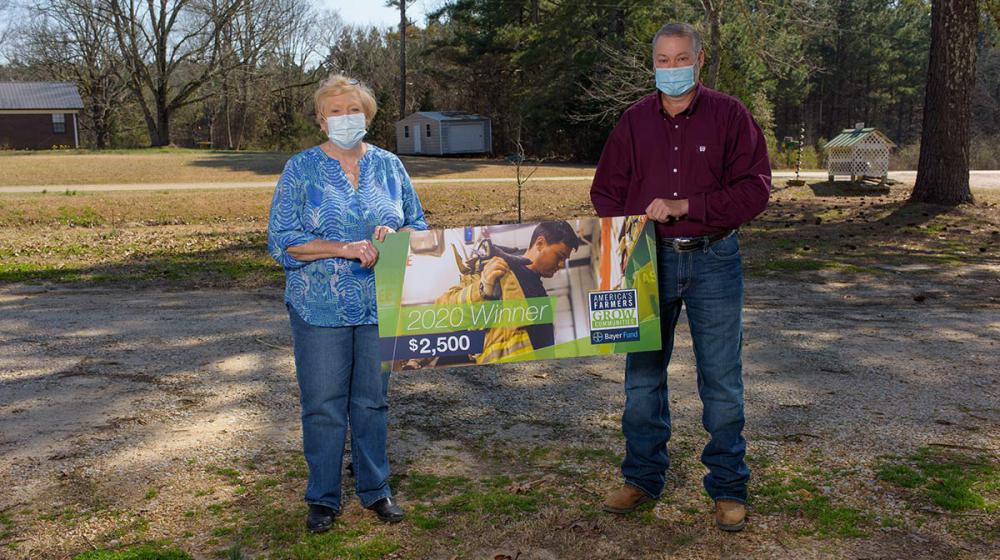 Dot Fleming decided to channel a $2,500 donation from the America's Farmers Grow Communities program to Calhoun County's 4-H club.
Full circle
Volunteer gives back to 4-H program
Story by Keri Collins Lewis • Photos by Kevin Hudson
As a farmer for more than 37 years, Dot Fleming understands the law of the harvest. So, when she had the opportunity to channel a $2,500 donation from the America's Farmers Grow Communities program to the nonprofit of her choice, she immediately chose Calhoun County's 4-H club. She says she wanted to give back to the program that nurtured her family and that she has supported for years.
The Fleming family has been involved with 4-H, which is delivered by the Mississippi State University Extension Service, for decades. From educational programs that helped with their Vardaman dairy and row crop operations to 4-H, Dot and her husband, Rocky, invested time both as learners and as volunteers.
But 4-H has always had a special place in their lives. For years, Dot helped 4-H'ers get show cows, helped them prepare those cows, and took them to shows.
"I considered that my vacation, because a dairy is a 24/7 operation, and shows were my break," she remembers.
Their son, Will, participated in 4-H through high school, showed livestock, and twice traveled to Washington, D.C., to receive congressional awards.
"We made lifelong friends through 4-H," Dot says. "Will had so many experiences he wouldn't have had if he hadn't been in 4-H. It's meant so much to me!"
Now married to Kiley and working at Helena Agri-Enterprises, Will lives close enough to his parents for Dot to keep the grandkids after school—and keep them involved in 4-H.
Ella Grace, 11, Wiley, 7, and Forrest, 6, started in Cloverbuds as soon as they were old enough.
Then, the pandemic hit in March 2020. The Calhoun County Fair was canceled and, along with it, the opportunity to replenish funds in the account used to purchase supplies for the very activities Dot's grandchildren enjoy.
Calhoun County coordinator and long-time Extension agent Trent Barnett explains the pandemic's impact.
"Proceeds from the county fair concession stand supply the 4-H county fund," he says. "Volunteers run the stand, and, in 2020, no county fair meant no money."
Thankfully, Dot won that $2,500 donation from the Bayer Fund.
"She saved the day!" Trent exclaims. "So many children have been blessed because of her support of 4-H."
Dot says the 4-H grab-and-go cooking kits now available to 4-H'ers during the pandemic are teaching her grandchildren to try new things.
"The older two are picky about what they eat, but they've liked what they've made," she observes. "4-H teaches us to try new things, to think, and to be creative. It's a learning experience for all of us."