Soil Health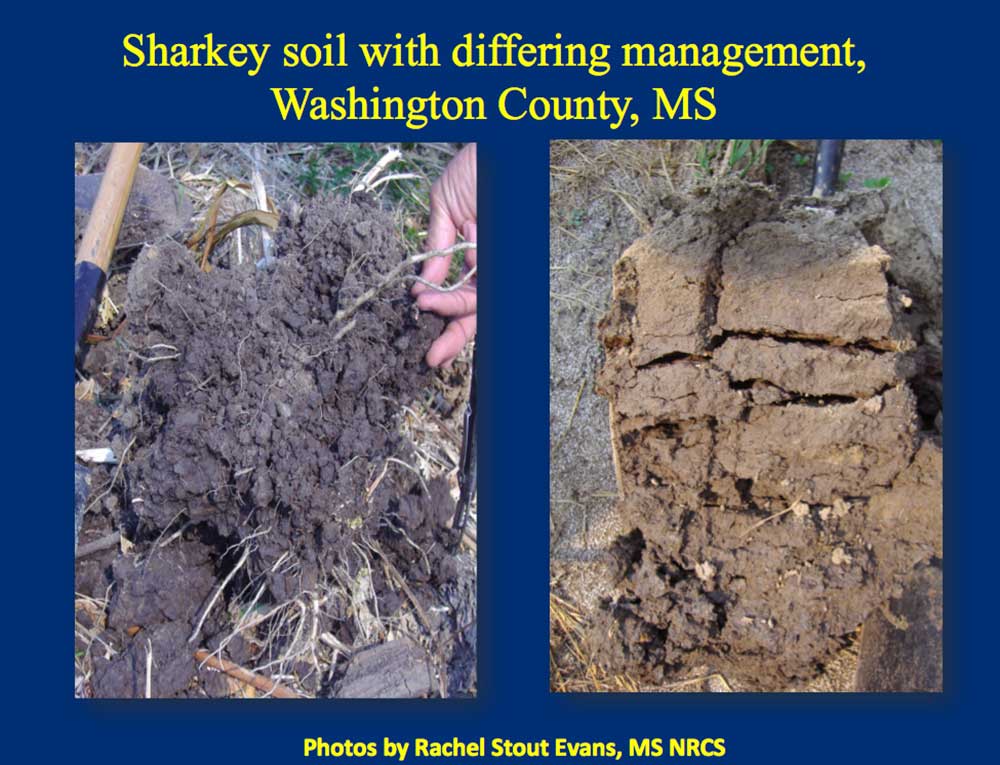 Soils are the foundation for agricultural production. They provide plants with mineral nutrition, water storage, and physical support for growth. Soils sustain productivity, maintain quality of air and water, and provide habitat for many organisms.
Soils differ across landscapes because the soil is a site-specific product of five fundamental factors – parent material, local biology, topography, climate, and time. Biological, chemical, and physical processes are continuously occurring. About 380 different soils are recognized and identified in the Mississippi landscape. Management practices such as tillage, land-forming, clearing, or drainage influence these factors and processes.
Soil health is the continued capacity of soil to function as a vital living ecosystem that sustains plants, animals, and humans (NRCS). Maintaining and building healthy soils is the foundation for developing sustainable farming systems to supply food and fiber to the world.
Healthy soils provide a multitude of services that simultaneously benefit agriculture and the environment. Moreover, healthy soils benefit all farmers, from small vegetable gardeners to large row-crop operations. Benefits of healthy soils include the three P's:
Production increases: Healthy soils are typically more productive due to having more organic matter and soil organisms. These increased organic components improve soil structure, aeration, water retention, drainage, and nutrient availability for plant growth.
Profit increases: Soils are healthier when tillage is reduced and fertilizer is used efficiently, meaning fewer passes over fields and no excess fertilizer inputs. Profit margins can increase when labor, fuel, and crop inputs are optimized.
Protection of natural resources: Increasing soil cover year round can sequester carbon from the air and store it in the soil, benefitting air quality, soil health, and wildlife and plant diversity. Increased organic matter enables soil to hold more water and reduce runoff. Favorable soil water retention combined with nutrient management practices prevents nutrients from contaminating water bodies, protecting water resources and aquatic habitats. Additionally, reducing trips across fields reduces emissions and improves air quality.
Recognition of soil as the fundamental component for food security represents a significant shift for agriculture production. It's important to understand that maintaining and rebuilding soil health, particularly organic matter, takes time. Inorganic nutrients are often required for ensuring sufficient crop yields and food security. However, when inorganic and organic nutrient sources are used together, their benefits can be complimentary for soil health and the environment.
Five steps are the basis for improving soil health.
Keep soil covered as much as possible.
Disturb soils as little as possible.
Keep plants growing throughout the year.
Diversify plant growth using crop rotation and cover crops.
Maintain adequate and balanced soil nutrients.
Soil health is the intersection of biology, chemistry, and physics in the soil environment. While measuring soil organic matter (and thus soil carbon) is straightforward, measuring soil health is challenging because of the inherent soil diversity and annual climate fluctuations (among many other issues) that affect laboratory measurements.
A good beginning for assessing soil health is a standard soil test. For example, results from the Soil Testing Laboratory of Mississippi State University Extension provide an assessment of current nutrient status (except for nitrogen), soil pH, and whether that pH should be adjusted by liming. Samples identified for row crop production during submission are also analyzed for organic matter.
Soil Sampling Information:
Plant Nutrients and Liming:
Other Soil Health Information

Some of the above information came from the publication, Natural Resource Conservation in Agriculture (P3050).

Publications
News
-
Soil Health, Plant Diseases and Nematode Diagnostic Services, Soil Testing
The Mississippi State University Extension Service is offering another year of free testing for often overlooked nematode pests that frequently cause poor crop performance.
-
Soils, Soil Health, Environment
CLARKSDALE, Miss. -- Growers who planted cover crops for the first time last year will share their experiences with other producers at a cover crop field day.
Listen
Select Your County Office
Related Links
Your Extension Experts