Success Stories
Ben Rushing
MSU Student and RMS graduate
Photo by Laura Daniels
Growing up in Monticello, Ben Rushing said it was easy to see that the doctors in his community were some of the greatest difference-makers. By age 15, he decided he wanted to make that kind of difference, also.
After his junior year in high school, he enrolled in the Rural Medical Scholars program at Mississippi State, where he earned college credit for biology and sociology courses while shadowing area physicians to better understand the importance of rural medicine. Now, as a junior majoring in biological engineering at MSU, he serves as a biology tutor for the five-week summer camp sponsored by the MSU Extension Service.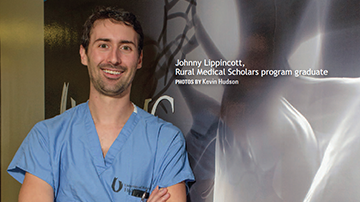 Johnny Lippincott
Rural Medical Scholars program graduate
Photo by Kevin Hudson
He delayed his journey to become a doctor, but Johnny Lippincott has been intrigued by the field since childhood.
"Growing up, I was always interested in medicine," the Tupelo native says. "My dad was a psychiatrist so I was aware of the field. I was a member of a club in high school that fostered students interested in careers in medicine."

News
Watch
Listen
Contact Your County Office
Contacts
Your Extension Experts
Rural Medical Scholars Program Director/Community Health Coordinator