Seafood Wholesaling
Mississippi Seafood Wholesaling
Seafood wholesaling corresponds to "fish and seafood merchant wholesalers." It includes secondary wholesale and processing of seafood products.
An online list of Mississippi seafood wholesalers is posted on the Mississippi Department of Marine Resources website.
An online directory of registered seafood businesses is available on the Mississippi MarketMaker website.
Sales and Employment Contributions
The economic contributions of Mississippi seafood wholesaling since 2006 are shown below. Observe the significant drops in the magnitude of the economic contributions of the industry resulting from Hurricane Katrina in 2005 and the Deepwater Horizon oil spill in 2010.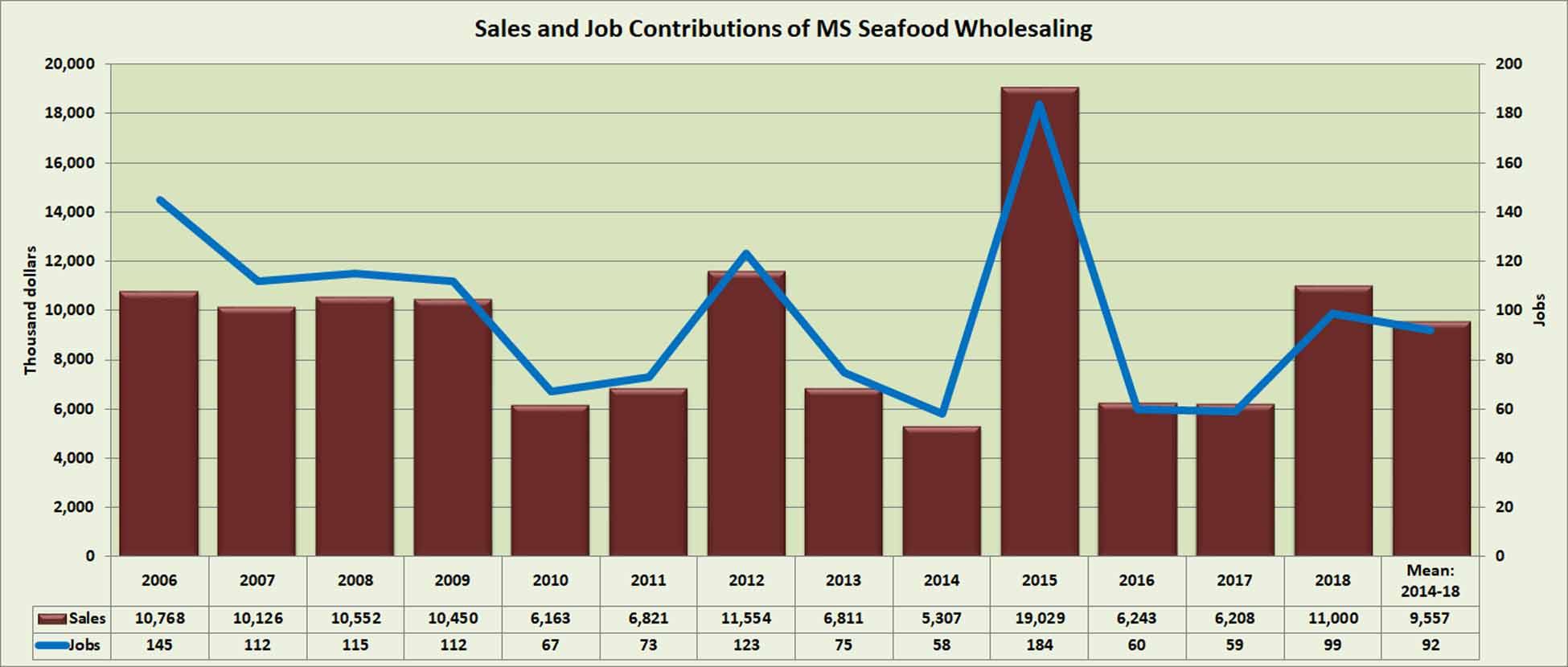 Output or sales are businesses' gross sales within the economic region affected by an activity. The total sales impact or contribution consists of direct, indirect, and induced sales. The industry generated an average of more than nine million dollars in sales contribution per year from 2014 to 2018.
Employment or job impacts or contributions are estimated as a mix of both full-time and part-time jobs. The total employment impact or contribution is the sum of direct, indirect, and induced jobs. The industry created an average of 90 jobs per year during the past decade.
The average productivity of workers in the seafood wholesaling in Mississippi can be measured by dividing total sales contributions by job contributions. During the past five years, seafood wholesaling generated average productivity of $104,000 per worker per year.
Mississippi MarketMaker
Seafood Wholesaling in the United States and Gulf of Mexico Region.
Know Your Local Seafood Wholesalers!
Economic Contribution of Fish and Seafood Merchant Wholesalers in Mississippi Gulf Coast.
Seafood Wholesaling Employment and Incomes in the Gulf of Mexico and the United States.

News
Select Your County Office
Your Extension Experts