Program Overview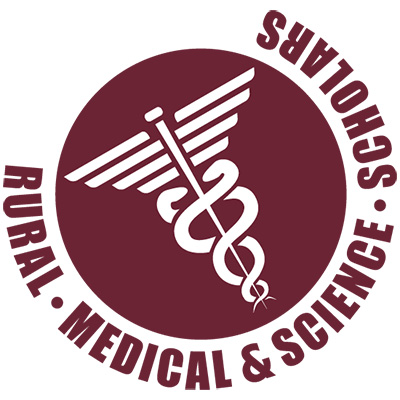 The Rural Medical & Science Scholars program can help you answer that all-important question: Do I want to a career in medicine or is another career path my calling?
Here are a few benefits:
Take real college courses and gain college credits you can use later. Make life-long friends with the same interests and goals.
Participate in practical learning workshops relevant to the life of a health or science-based career.
Take a virtual tour or onsite tour (pending public health guidelines) per UMMC School of Medicine and visit with Dean of Admissions, physicians in practice and students still in medical school.
Experience college in an online and hybrid environment with mentors that will help you navigate the online learning experience and build relationships with your fellow scholars.
Become certified as a Jr Master Wellness Volunteer.
Attend classes online and live on campus for a week at Mississippi State University and get a taste of college life.
As a Rural Medical & Science Scholar, you will be part of a 4-week summer online/hybrid program at Mississippi State University. You will take two college-level courses (Introduction to Health Professions and Applied Public Health Sciences), spend several afternoons a week participating in virtual "shadowing" and participate in practical learning workshops geared to the interests of young, aspiring healthcare professionals, scientists, and engineers. Practical online lab-based learning activities will be integrated throughout the program to enhance knowledge and skill. Workshops pertaining to communication, teambuilding/critical thinking and study skills will help launch your college career.

"Sounds good, but you might be thinking…" I was planning to work this summer." Consider this: You can work or participate in other extracurricular events the second half of the summer, so why not attend the RMS Scholars program and get a jumpstart on college credits for a reduced price including experiential learning activities. Your cost includes a reduction in tuition, textbooks, application fee, and one-week dorm cost for only $2400. So, what have you got to lose? You gain 6 college credits and meet life-long friends in a three-week virtual plus one week face-to-face learning environment that you help pioneer. Program dates are June 1 through June 28, 2021.
Rural Medical Scholars Program: Filling the Gap for Healthcare and Public Health Leaders in Mississippi (PDF)
American Public Health Conference, Atlanta GA.
November 6-8, 2017
Check out the Frequently Asked Q&A for more detailed information.

News
Watch
Listen
Contact Your County Office
Contacts
Your Extension Experts
Rural Medical Scholars Program Director/Community Health Coordinator