Agricultural Economic Development
Agriculture is one of Mississippi's top industries. Agriculture and forestry production and processing is Mississippi's $45.2 billion industry (
Henderson and Barnes, 2016
). These production and processing industries provide a major economic contribution to the state economy, accounting for:
266,392 jobs in the state
15.3 percent of the state's wages and salaries
18.6 percent of all industry sales
17.5 percent of value-added
$3.73 billion in local, state, and federal tax revenue contributions
According to the U.S. Census (2012), the local food system in Mississippi contributes significantly to Mississippi's economy using the many assets and activities across the state, including but not limited to:
10.9 million total acres are in production
133,306 acres is the average county number of acres in production
345 acres is the average farm size of operation
497 farms offer agritourism and recreational activity
$3.10 million in gross revenue from agritourism and recreational activity
$77,600 is the average county gross revenue from agritourism and recreational activity
349 farms sell direct-to-retail or direct-to-institution
1,206 farms sell direct-to-consumer
$4.02 million in total direct-to-consumer sales
94 farmers markets exist across the state (Mississippi Department of Agriculture and Commerce, 2017)
The top 10 Mississippi counties ranked by total farm acreage, average farm size, agritourism and recreational activity, direct-to-consumer sales, and number of farmers markets are:
Total farm acreage: Bolivar, Sunflower, Yazoo, Washington, Tallahatchie, Leflore, Panola, Coahoma, Hinds, and Holmes (Figure 1)
Average farm size: Tunica, Issaquena, Sharkey, Washington, Sunflower, Leflore, Coahoma, Bolivar, Humphreys, and Tallahatchie (Figure 2)
Agritourism and recreational activity: Tunica, Sharkey, Leflore, Coahoma, Quitman, Kemper, Calhoun, De Soto, Franklin, and Benton (Figure 3)
Direct-to-consumer sales: Chickasaw, Greene, Scott, Simpson, George, Tate, Panola, Harrison, Hinds, and Covington (Figure 4)
Number of farmers markets: Harrison, Hinds, Jackson, Forrest, Calhoun, Madison, Neshoba, Alcorn, Washington, and Chickasaw (Figure 5)
These local food system top 10 county review, infographics, and profiles are designed for economic developers, planners, local food system advocates, local governments and communities in Mississippi. The infographics show the attributes of the local food system in each county as well as a state summary. These infographics can be used in the planning for growth of local, regional, or state-level food system expansion and development.
The Top 10 Figures
Figure 1. The Top 10 Mississippi Counties by Total Farm Acreage (2012)
Source: U.S. Census 2012
Figure 2. The Top 10 Mississippi Counties by Average Farm Size (2012)
Source: U.S. Census 2012
Figure 3. The Top 10 Mississippi Counties by Agritourism and Recreational Activity (2012)
Source: U.S. Census 2012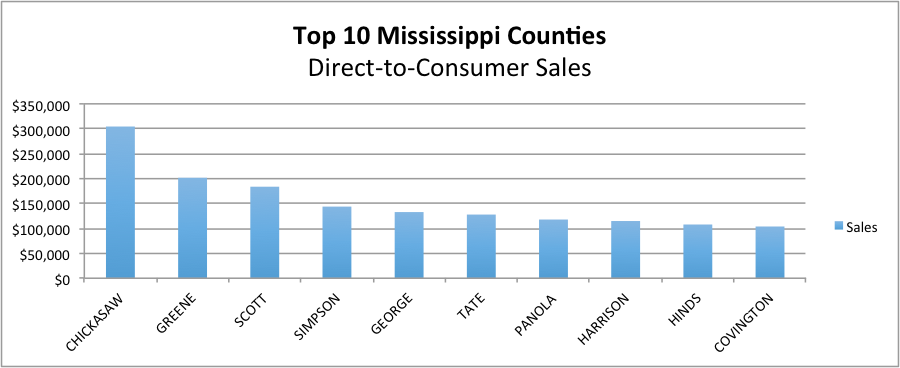 Figure 4. The Top 10 Mississippi Counties by Direct-To-Consumer Sales (2012)
Source: U.S. Census 2012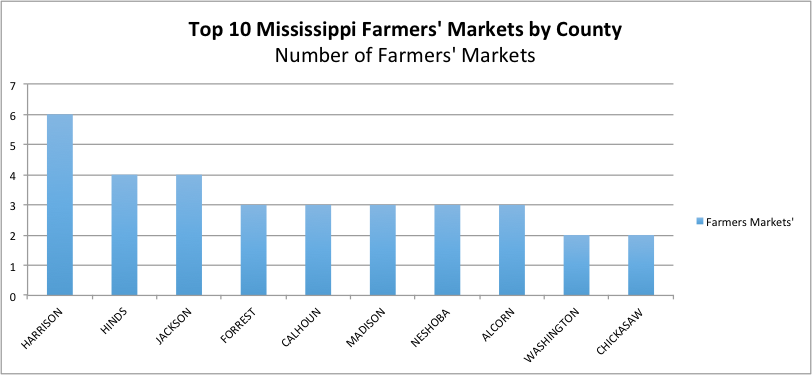 Figure 5. The Top 10 Mississippi Counties by Number of Farmers Markets (2017)
Source: Mississippi Department of Agriculture and Commerce, 2017

Publications
Listen
Select Your County Office
Contacts