Are These Termites or Ants?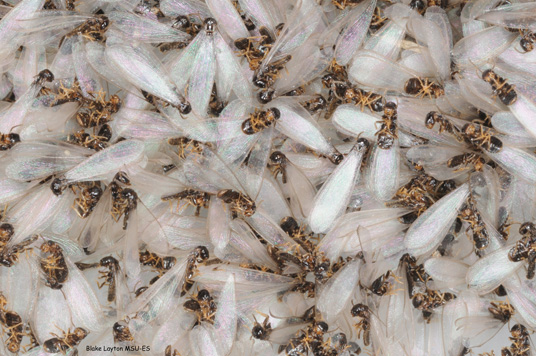 You've found large numbers of insects flying about the house, or perhaps you have noticed an accumulation of dead insects on the floor or on a windowsill. Are these termite swarmers or ants? This is an important question. f they are termite swarmers, it means the building is infested with termites and needs to be professionally treated. Depending on the size of the building, that's going to cost around a thousand dollars or more. If they are ants, some type of treatment may still be needed, but you may be able to do it yourself, and even if you hire a pest control company, it won't be nearly as costly.
So how do you distinguish termite swarmers from ant swarmers? This is really pretty easy, but it can help to have some type of magnifying glass or hand lens. This figure shows the three key characteristics to look for:
How to Distinguish Termite Swarmers from Ant Swarmers
Trait

Termites

Ants

Wings

Front wings and hind wings equal in length

Wings about twice as long as body

(Wings may be missing.)

Front wings notably longer than hind wings

(Wings may be missing)

Antennae

Antennae straight and beadlike

Antennae have a distinct elbow or angle

"Waist"

No waist, abdomen broadly joined to thorax

Narrow waist, abdomen narrowly joined to thorax

Notes:

Termites and ants both shed their wings shortly after swarming, so wings are not always present on swarmers. (Ant workers never have wings.)
Eastern subterranean termite swarmers are black; Formosan termite swarmers are tan to light brown. Ant swarmers also vary in color, ranging from light tan to black, depending on species.

Compare the following pictures of termite swarmers to those of ant swarmers.
Hover and then click on the left or right arrows to progress through the slide show.
---
Dr. Blake Layton, Extension Entomology Specialist
Department of Entomology, Mississippi State University
Phone: 662-325-2960
Email: blake.layton@msstate.edu

Publications
Publication Number:
P2568
Publication Number:
P2765
News
Success Stories
Insects, Termites, Lawn and Garden, Insects-Pests
A dream of the Mississippi Pest Control Association and the Mississippi State University Extension Service is coming true after more than 20 years, thanks to a generous donation by one of Mississippi's oldest pest-control companies.
Watch
Listen
Tuesday, May 28, 2019 - 8:45am
Tuesday, March 19, 2019 - 7:00am
Monday, February 18, 2019 - 7:00am
Select Your County Office
Your Extension Experts