Slow Cooker Barbecue Chicken Sliders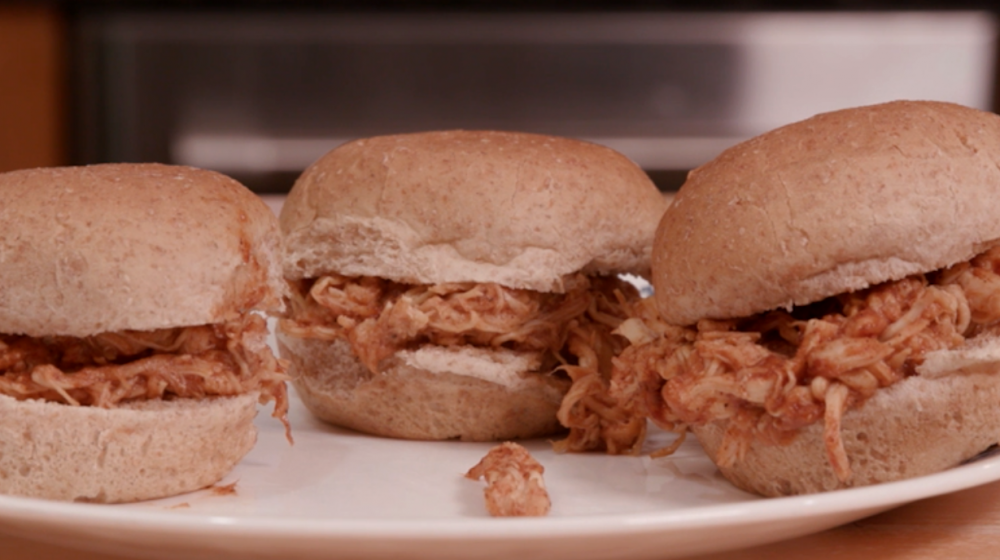 Y'all know I love a good slow cooker recipe. This one is fast and easy, and, depending on your barbecue sauce, can also be healthy. Most sauces and dressings can contain a surprising amount of sugar, salt, and fat. When you read the ingredient label, look for tomato or vinegar as the first ingredient—NOT sugar! Avoid corn syrup, and choose sweeteners that also add flavor, such as honey, maple syrup, or brown sugar.
Video by Jonathan Parrish
Slow Cooker Barbecue Chicken Sliders
Nonstick cooking spray
1 lb. boneless, skinless chicken breasts
3/4 tsp. garlic powder
1/4 tsp. black pepper
1 tsp. chili powder
1 small onion, sliced
1 cup water
1/3 cup barbecue sauce
8 mini whole-wheat buns
Directions:
Spray the slow cooker insert with nonstick cooking spray. Place chicken in the slow cooker and sprinkle with spices. Add the sliced onion and water. Cover and cook on low for 6 hours or until the chicken is done. Drain water from slow cooker and shred chicken with two forks or a hand-held mixer. Mix in the barbecue sauce, and heat for 15 minutes. Assemble sandwiches using extra barbecue sauce and other toppings as desired.
I love to top these sliders with a little bit of coleslaw with a vinegar dressing and serve with a side of oven-baked sweet potato fries!
Thanks to North Dakota State University Extension Service for inspiring me with this recipe!
Follow The Food Factor on Facebook and Twitter!
Posted on:
February 19, 2019
Subscribe to Extension for Real Life
Fill in the information below to receive a weekly update of our blog posts.

Recent Posts
This budget-friendly salad is fresh and easy to put together with fresh vegetables from the garden or grocery.