How to Recycle or Dispose of Hazardous Household Waste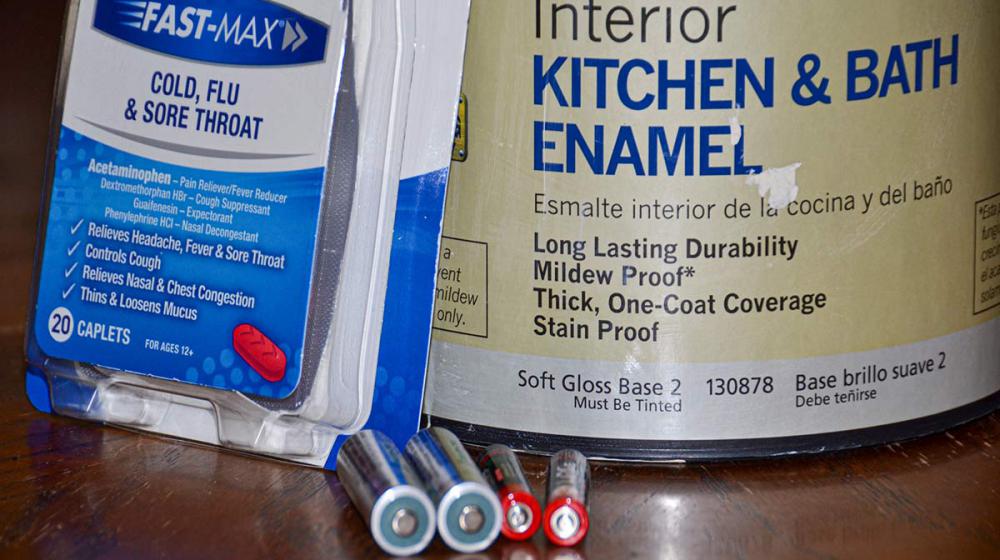 Sometimes getting rid of items you no longer need is tricky. Learn how to recycle or dispose of hazardous materials. Photo by Susan Collins-Smith.
If you've been spring cleaning, you may have come across some items you need to donate, recycle, or throw out. I certainly have!
Donating is pretty simple. Most areas have nonprofit organizations that accept all kinds of items in good shape.
But recycling and throwing away things you no longer need can be tricky. Like me, you probably know that some items, such as paint, household cleaners, pesticides, batteries, and electronics, shouldn't be put out with your regular trash.
But what exactly are we supposed to do with them if we can't throw them out?
Most likely, there is a way to recycle or safely dispose of hazardous household waste. Some communities offer either a year-round or once-a-year drop-off location for these kinds of items. Call your municipality or your waste management company to check. You also can check to see if your community has one of these options by searching the Earth 911 database managed by the U.S. Environmental Protection Agency.
If a drop-off site is not available in your area, check with local businesses to see if they accept these items. For example, local garages or parts stores may accept used motor oil for recycling.
For expired and unused medications, watch for take-back days at local pharmacies, clinics, or law enforcement agencies. Prescription and over-the-counter medications are accepted.
If these collection programs aren't available in your area, the safest way to dispose of medications is to remove medications from their original container, mix them with kitty litter or used coffee grounds, and place them in a sealable bag or container. The sealed bag or container can be placed in your regular trash. If you throw away the prescription container, be sure to remove or cover the label with your personal information on it.
For more information about safe disposal of medicines, read Extension information sheet 1844, "Safe Disposal of Medicines and Personal Care Products" and visit the U.S. Environmental Protection Agency's hazardous waste web page.
Posted on:
April 16, 2021
Subscribe to Extension for Real Life
Fill in the information below to receive a weekly update of our blog posts.

Recent Posts
Removing items that provide shelter and eliminating common food sources for snakes around your house will help reduce the chances of encountering a snake.